Makers Mark + Woodzee
[dropcap letter="L"]et's see, WOOD = bourbon + barrels + shades? It sounds like a wild concoction but turns out wood is all the rage these days. Especially when it's been sustainably AND locally sourced and has all the elements of style that anyone interested in fashion craves.
Introducing Woodzee …
Woodzee, makers of sustainably sourced and repurposed men's and women's sunglasses, RX eyewear and quality home goods, is excited to announce their limited edition collaboration with Maker's Mark, which will also be the first Woodzee collection that is made in America.
We are passionate about the products we make and believe in what they stand for. It's not just made in the United States, it's made better.

–  Luke Winter, Founder.
Woodzee is going against the grain of overseas production with an American-made line of wood sunglasses produced in collaboration with Maker's Mark, the name in small-batch bourbon whisky. Maker's Mark bourbon barrels are made from wooden staves air-dried outdoors for nine months. After the bourbon aged in these barrels reaches full maturity and is packaged into the company's iconic red-wax-dipped bottles, the barrels are recycled by Woodzee to create unique, hand-charred sunglasses.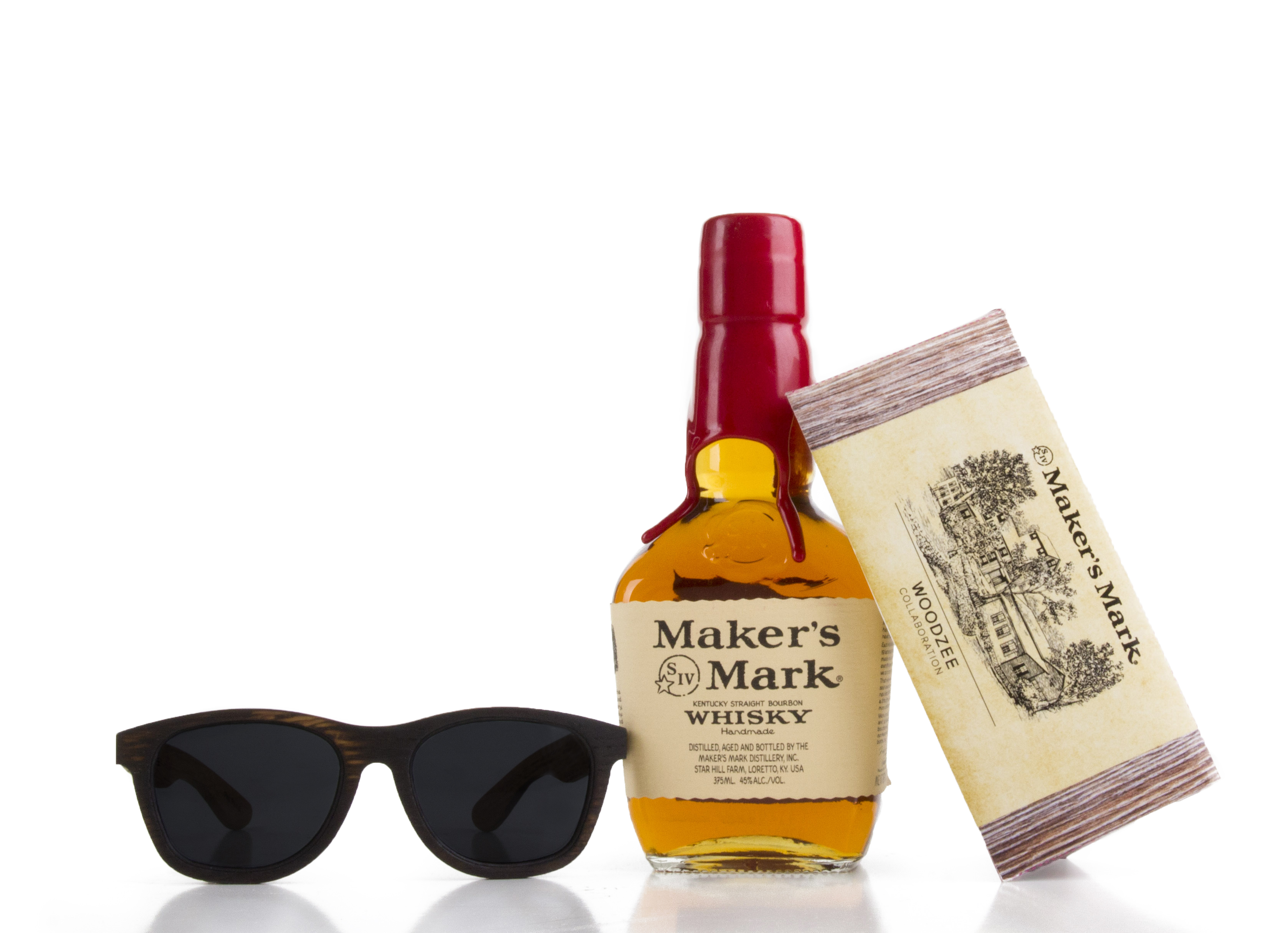 With a majority of apparel and accessories now being produced outside the U.S., it's encouraging to still find products crafted here in America. The entire production of these collaborative sunglasses is completed in California, where Woodzee designs, manufactures and ships the finished product. With a factory in the company's hometown of Chico, Woodzee is able to ensure high standards, fair wages and exceptional manufacturing. These sunglasses are made with nontoxic materials from sustainably sourced American woods, yielding an overall better product. Taking production to the next level, this line of sunglasses also introduces science into the equation with patent-pending IsoShokTM technology and high-quality polycarbonate lenses.
Expanding production to America requires risk-taking and long-term investment, but Woodzee is passionate about the products they create and stands by their mission to make the world a more beautiful place. Giving back a portion of proceeds to a variety of nonprofit organizations, Woodzee works to foster the relationship between style and nature.
Woodzee's Maker's Mark sunglasses will retail for $150 and will be available September 1 at www.woodzee.com. There will be one style available, with more styles debuting in the New Year. Size options are small/medium or medium/large.
[separator type="thin"]
[button content="BUY NOW " color="brown" text="white" url="http://www.woodzee.com/woodzee-makers-mark-whisky-barrel-sunglasses.html" openin="_blank"]
Going against the grain, Woodzee designs, manufactures, and ships these sunglasses from California. Doing so allows us to ensure higher standards and gives us the opportunity to improve our manufacturing process. We are using non-toxic materials, recycled woods, polycarbonate lenses and introducing science into the equation with patent-pending IsoShok technology.
[separator type="thin"]
SYNC UP with the GARWOOD Watch
Get $15 OFF Using CODE "WOODZEE"
[button content="BUY a GARWOOD" color="brown" text="white" url="http://boutique-d.com/collections/apparel-accessories/products/angeleno" openin="_blank"]