Uncommon Cuff: Modernist Circles
Designer, Fernanda Sibilia
photos by Dawn Garcia
Before I give my review of the Modernist Circles Cuff, I'd like to introduce you to the story behind the cuff I hand selected from Uncommon Goods.
Circles of Style
Throughout history the circle has been considered a symbol of perfection, harmony, and wholeness, and this beautiful entrancing gold-plated brass cuff by Argentinian jewelry designer Fernanda Sibilia brings this timeless shape to life in a brilliant new way. Bringing the flair of traditional Latin American handicraft to her modern, hand-hammered metal pieces, she deftly shapes brass pieces into concentric circles that are artfully layered and then electroplated with lustrous gold plate. Handcrafted in Buenos Aires, Argentina.
Available at UncommonGoods.com
My REVIEW
I hand selected this piece to review from Uncommon Goods. Always in search of bold statement pieces of jewelry, this intrigued me. Upon arrival, I took the time to really look at the finest details and it must be said that this is a well made, beautiful cuff.
The PROS: It speaks volumes. Coupled with a simple maxi dress or a boyfriend jean and boho chic top, it would only emphasize the entire look. The artisanship is beautiful as is the attention to detail. I love the way each pieces of brass is woven into the next.
The CONS: It's a bit heavy and if you're like me (petite with tiny wrists), this piece is a bit too large to really pull off. If even an inch was taken off of the overall dimensions, I think it would have even more appeal. For me, it's a bit too bulky. It feels more like superhero armor than a feminine piece of bold jewelry.  I wanted this to be something I really fell in love with but due to the extensive size, I'd have to pass. The other unfortunate aspect of this piece is the care. It requires so much consciousness that it makes it difficult to really enjoy making this a regular wardrobe staple.
The Specifics
Handmade | MADE FROM | gold plated brass
MEASUREMENTS | 3.9″ W x 2.36″ dia adjustable
CARE | Please avoid direct contact with water (salt or fresh), excessive perspiration, and chemicals such as chlorine, sulfur, perfume, detergent, chemical agents, cosmetics or oxidizing cleaning products such as dishwashing liquids. Excessive light, heat or moisture will deteriorate the quality of the plating on the metal. The metal may darken or tarnish with normal wear. After each use, gently wipe with a soft cloth and store in a jewelry box or in a fabric pouch. Do not wipe the metal surface with a polishing cloth because excessive polishing may rub off the plating and is not recommended.
[separator type="thin"]
I did find another piece made by the same designer that I think is a bit more appealing for everyday bold pieces:
$ 145.00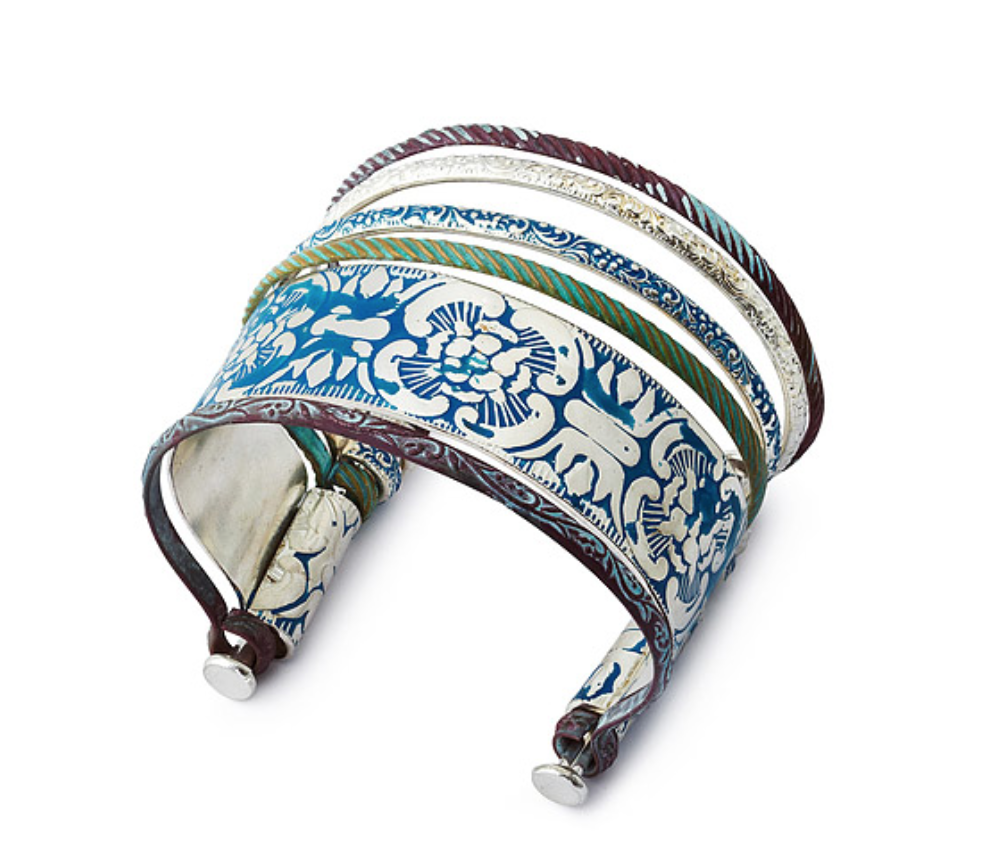 About the Designer:
Crafting each piece entirely by hand, Fernanda Sibilia creates beautiful, easy to wear jewelry that combines functionality with craft. Particular care and attention is paid to the finish of the metals used, highlighting unusual colors, textures, and patinas. Utilizing a vibrant mix of color, the handmade nature means each piece is unique. Fernanda is inspired by organic 20th century design, traditional Latin American jewelry, and the materials she works with.