Artistry, Aviation and Pop Culture collide in Miami for Art Basel
Landmark Aviation + Louis Carreon PRESENT
The Drip Factory Pop Up Studio and Gallery
Flying in on a red eye on Friday night, Louis Carreon spent the day getting canvases and paints and a Uhaul. The hours to follow, he painted 9 of 10 canvases in the hanger at Landmark in hours over 2 days. On Tuesday afternoon, all of the art was installed. With a reveal happening later that evening at STK Miami, Louis painted the 10th painting in an hour LIVE in front of a packed house!
You can read an in-depth interview with Louis, HERE.
GIVE THEM WHAT THEY WANT
The Landmark Aviation & Louis Carreon collaboration artfully blends two contemporary brands fueled by quality, tradition and design.
Landmark Aviation at Miami International Airport presents:
Louis Carreon's The Drip Factory Popup Working Studio & Aviation Gallery
Louis was commissioned to paint a Hawker Jet and reveal a series of custom paintings for a private Gallery in their Lux Terminal. The Private Jet will be for sale during Art Basel as a custom piece of Contemporary Art that commemorates Art Basel, Miami, Aviation and Pop Cultures interest in Outdoor Works and Creative Installations from Contemporary Artists like Carreon.
Landmark Aviation will donate a portion of the Jet sale to Autism Speaks on behalf of Louis.
The Jet cabin will host the Carreon Culture Lounge during the exhibition.
Landmarks Lux Terminal will host The Aviation Gallery with new Works.
Landmarks Private Hanger Way will host The Drip Factory, Working Studio.
View Louis Carreon's latest Works Between December 1-6.
15001 NW 42nd Ave, Opa-locka, FL 33054
INSTAGRAM = @louiscarreon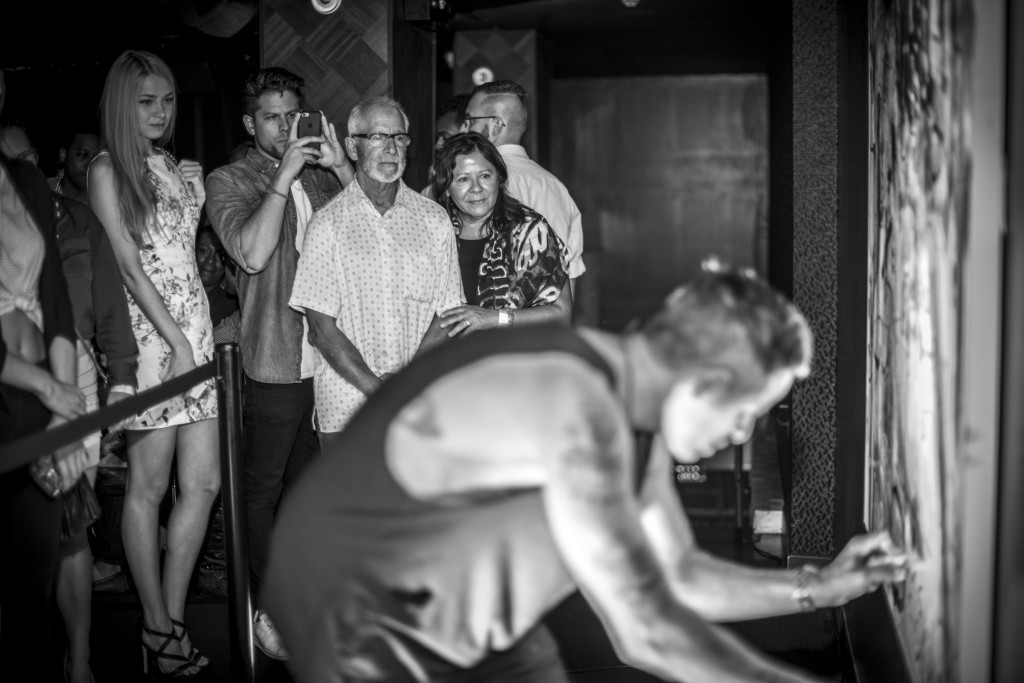 [separator type="thin"]
THE OPENER
[separator type="thin"]
The STORY
Louis Carreon, one of today's premiere American Contemporary Artists, is a Southern California Native who came up during the 90's in LA Street and Hip Hop culture. Through trials and tribulations Louis has risen from the streets, conquered addiction, made his mense in prison and surrendered to art. Taking a world he knows so well and sharing his message through not just his Art, but the creation of Art and the feelings and energy that it takes to create it. The mosaic of methods that express his Art include installations, conceptualism and outdoor works which add depth to Louis' acclaimed Series. Louis' recent works include commissions in Los Angeles for SOHO House and Mondrian an exposition at Expo Chicago, a collaborated with 2015 Champion Chicago Blackhawks and Autism Speaks to paint Stanley Cup for Charity. And the Famous One Mag Mile Building on historical Michigan Avenue hosted The Drip Factory Pop-up Studio. Louis' passion for being of service as well as an increasing international collector base have encouraged him to be more interactive with the Contemporary Art community and his success in 2015 is a great indication that he is being recognized and welcomed with enthusiasm and a paralleled passion.
[separator type="thin"]
Fall in love with being BARE.