5 Sweet Indulgences From Around the World
This holiday season, I've been focused on living healthy but now that winter is in full swing, I think it's high time for something sweet. In search of that perfect culmination of decadence and comfort, below is a list of cocktails and recipes to encourage you to give yourself at least 2 opportunities to indulge. The difference is? They are recipes from around the world.
[separator type="thick"]
Double-Chocolate Hot Chocolate SPIKED
Matt Lewis and Renato Poliafito firmly believe that homemade hot chocolate is superior to any commercial mix. They make their decadent version with both bittersweet and milk chocolate and then top it with marshmallows that they make and sell at Baked.
BROOKLYN | New York
[columns_row width="half"] [column]
INGREDIENTS
5 ounces bittersweet chocolate, coarsely chopped
2 ounces milk chocolate, coarsely chopped
1/2 cup boiling water
3/4 cup whole milk
1/4 cup heavy cream
2 tablespoons Jack Daniel's whiskey
Marshmallows, for serving
[column] [/column]
HOW TO MAKE THIS RECIPE
In a medium bowl, combine the bittersweet chocolate with the milk chocolate. Add the boiling water and let stand for 1 minute. Whisk the chocolate mixture until it is smooth. 
In a small saucepan, bring the milk and heavy cream just to a simmer. Add the chocolate mixture and whisk over moderate heat until hot. Remove the saucepan from the heat and add the whiskey. Pour the hot chocolate into demitasse cups or small mugs, garnish with marshmallows and serve.
[/columns_row] [separator type="thin"]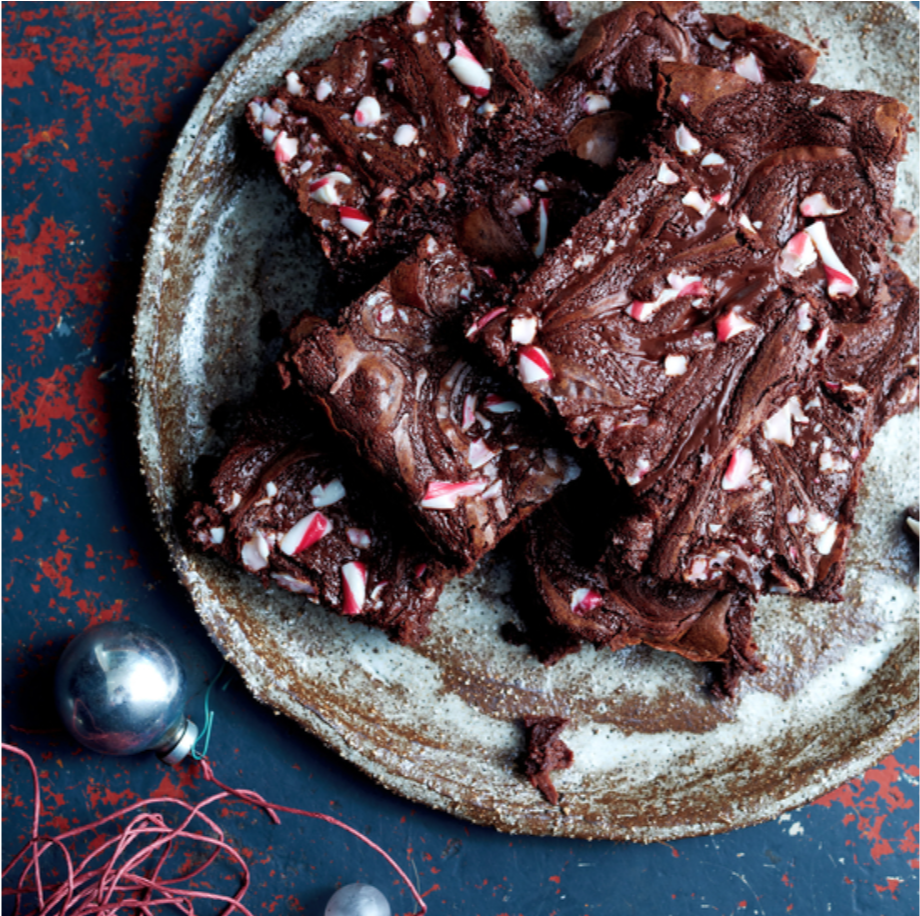 Chocolate-Peppermint Brownies
Imagine a warm chocolate bite chased with that unforgettable crunch of candy cane!
These rich peppermint brownies topped with crushed candy canes are from London's cult-favorite bakery Violet. If you can't find candy canes, use striped peppermint candies.
LONDON | England
[columns_row width="half"] [column]
INGREDIENTS
2 sticks unsalted butter, cut into small pieces, plus more for greasing
1 pound bittersweet chocolate, chopped
2 teaspoons pure peppermint extract
4 large eggs
1 3/4 cups packed light brown sugar
3/4 cup all-purpose flour
1 teaspoon fine sea salt
4 candy canes, crushed (1/3 cup)
[/column] [column]
HOW TO MAKE THIS RECIPE
Preheat the oven to 350°. Butter a 9-by-13-inch baking pan and line with parchment paper; allow 2 inches of 
overhang on the long sides. 
In a heatproof bowl, combine two-thirds of the chopped chocolate with the 2 sticks of butter. Set the bowl over a pot of simmering water and stir until melted. Scrape the chocolate into another bowl and let cool slightly. Add the remaining chopped chocolate and the peppermint extract to the heatproof bowl and melt over the simmering water; remove from the heat and let cool slightly. 
In a medium bowl, whisk 
the eggs with the brown sugar 
until combined. Whisk in the chocolate-butter mixture until glossy and thick. Sprinkle the flour and salt into the bowl and stir until just incorporated. Spread the brownie batter in the prepared baking pan. 
Dollop the peppermint chocolate onto the brownie batter and swirl in with a table knife. 
Bake the brownies in the 
center of the oven for 15 minutes. Sprinkle the crushed candy canes on top and bake for 10 to 15 minutes longer, 
until the edges are set and a toothpick inserted in the center comes out with a few moist crumbs. Let the brownies cool in the pan for at least 2 hours. Cut into squares and serve.

[/column] [/columns_row] [separator type="thin"]
CHOCOLATE CAKE À LA CRÈME DE MARRON (CHESTNUT CREAM)
For chestnut cream and chocolate lovers, this is the business! This cake, so popular with family and friends, is rich in chocolate flavour with an underlying taste of chestnut vanilla cream. Pure satisfaction.
Perfect for any occasions, but something about having this during winter is divine!
Mimi Thorrison happens to be one of my favorite home cooks! 
MÉDOC | France
[columns_row width="half"] [column]
INGREDIENTS
435 grs tin sweetened chestnut purée (available in most supermarkets)
140 ml double cream or crème fraîche
50 grs butter (softened)
5 egg whites
80 grs caster sugar
300 grs dark chocolate , melted
6 tbsp plain flour
[/column] [column]
HOW TO MAKE THIS RECIPE
Pre-heat oven to 150C
Mix the chestnut puree with the double cream/crème fraîche and butter. Melt until smooth. Whisk the egg whites in a bowl and gradually add the caster sugar (when the egg whites start becoming firm) to make a meringue mixture.
Mix the chestnut mixture with the chocolate and flour and fold in the meringue mix. Spoon into a lined caked tin (24cm approx.) and bake for 50 minutes. Let the cake set at least 1 hour. I usually bake it well in advance so it becomes like 'velvet' in texture by the time I serve it. Serve with whipped cream.
[/column] [/columns_row] [separator type="thin"]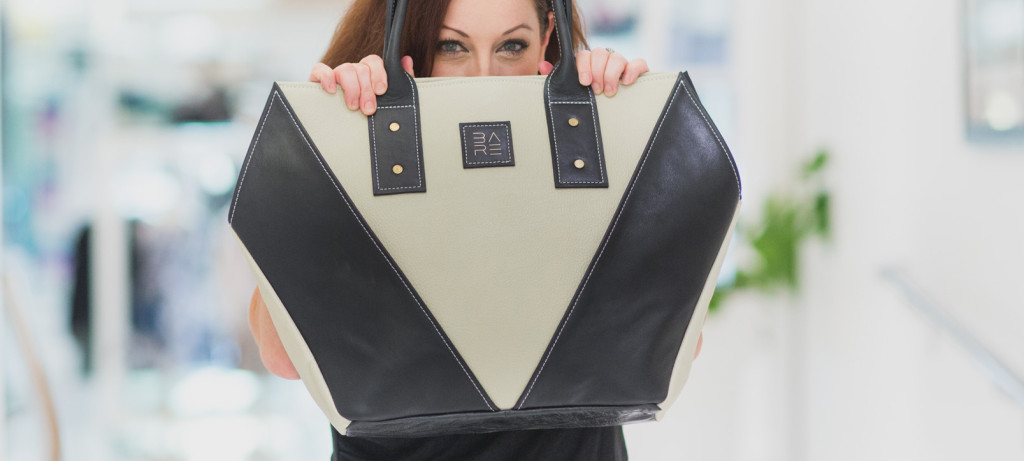 [separator type="thin"]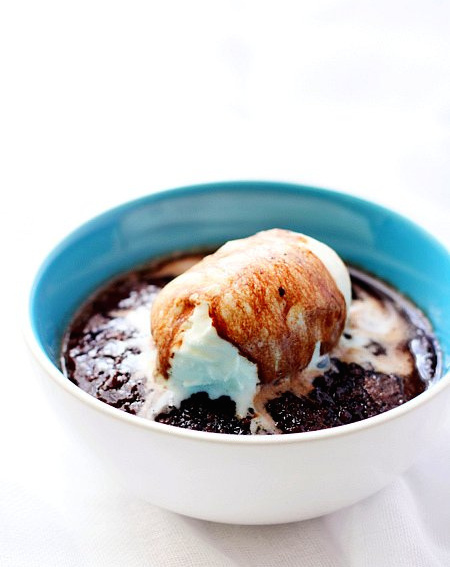 Spicy Self-Saucing Chocolate Puddings
Citrus and Candy is a collection of recipes, food photography and stories. It's all about discovering, (and rediscovering), old recipes, particularly those with a bit of nostalgia thrown in; classic home cooking, comfort food and well, trashy and super indulgent desserts. It's deeply rooted in anything with chocolate, peanut butter, banana, salted caramel and coffee.
MALAYSIA + LONDON
[columns_row width="half"] [column]
INGREDIENTS
125ml milk
1/2 tsp ground cinnamon
1/4 tsp ground nutmeg
1/4 tsp ground cloves
a dash of fine chilli powder (adjust to your preference)
50g dark chocolate
85g unsalted butter
15g Dutch-processed cocoa powder
75g self raising flour
25g almond meal (can also use hazelnut meal)
75g light brown sugar
75g caster sugar
1 egg, lightly beaten
SAUCE
180ml water
40g unsalted butter
75g light brown sugar
20g Dutch-processed cocoa powder
[/column] [column]
HOW TO MAKE THIS RECIPE
Preheat oven to 180°C and lightly grease four 1-cup (250ml) capacity bowls, ramekins or teacups.
In a pot over low heat, add milk, spices, chilli, chocolate, butter and cocoa powder and stir until completely combined.
In a mixing bowl, sift together the flour, almond meal and sugars and lightly stir together. Add the milk mixture and lightly beaten egg and whisk until combined.
Divide mixture amongst the pudding bowls and place on an oven tray.
In another pot over low heat, add water, butter, sugar and cocoa and stir until butter has melted and is all mixed together. Spoon sauce lighty and evenly over the four puddings. You don't have to use all of the sauce if you don't want to (just enough to cover the surface). Carefully transfer puddings to oven and bake for 25 minutes until cooked through.
Rest for 5 minutes then serve and proceed to attack. Feel free to serve with ice cream and your favourite chocolate sauce.
[/column] [/columns_row] [separator type="thin"]
Chocolate with Orange and Rosemary
From the Contestant of Master Chef, Chef Reynold Poernomo, a sweet and complex dish to round out your need for a little decadence.
AUSTRALIA
INGREDIENTS
[columns_row width="third"] [columns_row width="third"] [column]
Ganache:
Ice Cream:
[/column] [column]
Soil:
Jelly:
[/column] [column]
Tempered Chocolate:
Honeycomb:
Garnish:
[/column] [/columns_row]
HOW TO MAKE THIS RECIPE
Preheat oven to 165C.
To make the ganache, place cream, glucose and agar in a saucepan and bring to a boil over high heat. Remove from heat, add chocolate and gelatine and stir until melted and combined. Pour into a 15cm square, paper lined tin and set aside in the fridge to set.
To make the ice cream, place milk, cream and rosemary in a saucepan and heat to just below boiling. Meanwhile, place egg yolks and sugar in a bowl and whisk to combine. While whisking, slowly add hot cream mixture until incorporated. Strain mixture then cool down over an ice bath, then churn in an ice cream machine. Set aside in the freezer.
To make the soil, place almond meal, butter, flour and cooca powder in a food processor and process until fine crumb. Transfer to a tray and place in the oven to bake until golden. Remove from oven, add sugar and toss to combine. Set aside.
To make the jelly, place orange juice, sugar and gellan in a saucepan and bring to a boil over high heat. Allow to boil for 15 seconds, add citric acid and remove from heat. Pour into a shallow tray and place in the fridge to set. Finely chop and set aside.
To temper the chocolate, place chocolate in a bowl and place over a saucepan of gently simmering water to melt. Heat chocolate to 40C then turn out onto a clean, dry surface. Work chocolate until it thickens then return to the bowl and reheat over simmering water, again, until temperature reaches 30C. Pour tempered chocolate onto acetate. Break into shards and set aside.
To make the honeycomb, place honey, glucose and sugar in a saucepan and set over high heat. Cook until mixture reaches 166C. remove from heat and allow to settle Add bi-carb soda and whisk through quickly to combine. Immediately pour onto a silpat mat and once cooled, break into pieces. Set aside.
To assemble, cut ganache into rounds using a 7.5cm cutter and place a round in the centre of each serving plate. Use a 1.5cm cutter to cut out and remove a smaller round from the centre. Fill the middle with cubed jelly, soil and a spread of ganache. Garnish with tempered chocolate shards, honeycomb, mint, rosemary and fennel fronds. Serve with ice cream.