Oh Valentine's Day, You Deserve Some Ideas
Sure it seems like a day that was invented by a card company to encourage consumer spending (and yes, it is) BUT if nothing else, it reminds us to think outside the box, live with a bit more abandon, tap into the bolder side of yourself – AND – get a little more clever with the gifts and experiences you plan for the weekend of love. The ideas below are things you can do … at home.
Look, we know this holiday tends to ooze of expensive gift giving, big gestures and fancy dinners and while that's lovely, we think that maybe, in the spirit of love, we'd encourage you to dig deeper. Much like a drawing you get from a child, it's the thoughtful gifts you NEVER forget.
Honestly, ask yourself: Do you even remember the gifts you've gotten over the years? Do you still have them? Do you even know where they are? Exactly.
So, we'll start with cocktails and wrap up with a few ideas for what to do … For him and her.
TUSK AT DAWN
Amarula Cream Liqueur Cream Liqueur shaken with Grand Marnier, Bacardi Superior and fresh espresso.
Method
Add all ingredients into a cocktail shaker filled with ice. Shake and double strain into a chilled martini glass.
INGREDIENTS
30ml Amarula Liqueur
15ml Grand Marnier Liqueur
15ml Bacardi Superior Rum
30ml Fresh Espresso
TOOLS
Jigger
Cocktail Shaker
Strainer
Fine Strainer
PRODUCT CHECKLIST
Amarula Liqueur
Bacardi Superior Rum
Grand Marnier Liqueur
RHUBARB SOUR
De Kuyper Sour Rhubarb shaken with fresh lemon, sugar and egg served in a rocks glass.
"Here's to alcohol, the rose colored glasses of life."

F. Scott Fitzgerald
INGREDIENTS
60ml DeKuyper Rhubarb
30ml Fresh Lemon Juice
15ml Sugar Syrup
Dash Egg White
TOOLS
Jigger
Cocktail Shaker
Strainer
GARNISH
Grapefruit Slice/ Maraschino Cherry
Method
Add all ingredients into a cocktail shaker filled with cubed ice. Shake to strain into a rocks glass filled with cubed ice.
Love Your Beer (or his)
Personalize his favorite craft beers
Total Cost: $25-45 (depending on the brew)
So, he loves his craft brew and that is the perfect excuse to make drinking them a little more fun. This year, instead of springing for something he might pretend to love, make something you know he'll appreciate. Create your own labels. Individualize each beer with a note (some funny, some sweet, some down right naughty) – and honestly, we suggest getting a variety pack to mix it up. Lastly, guys love chocolate too … get him his favorite kind.
It's the Little Things (literally)
a jar of hearts (but not the heart-wrenching Christina Perri kind)
Total Cost: $10-20 (depending on the fabric)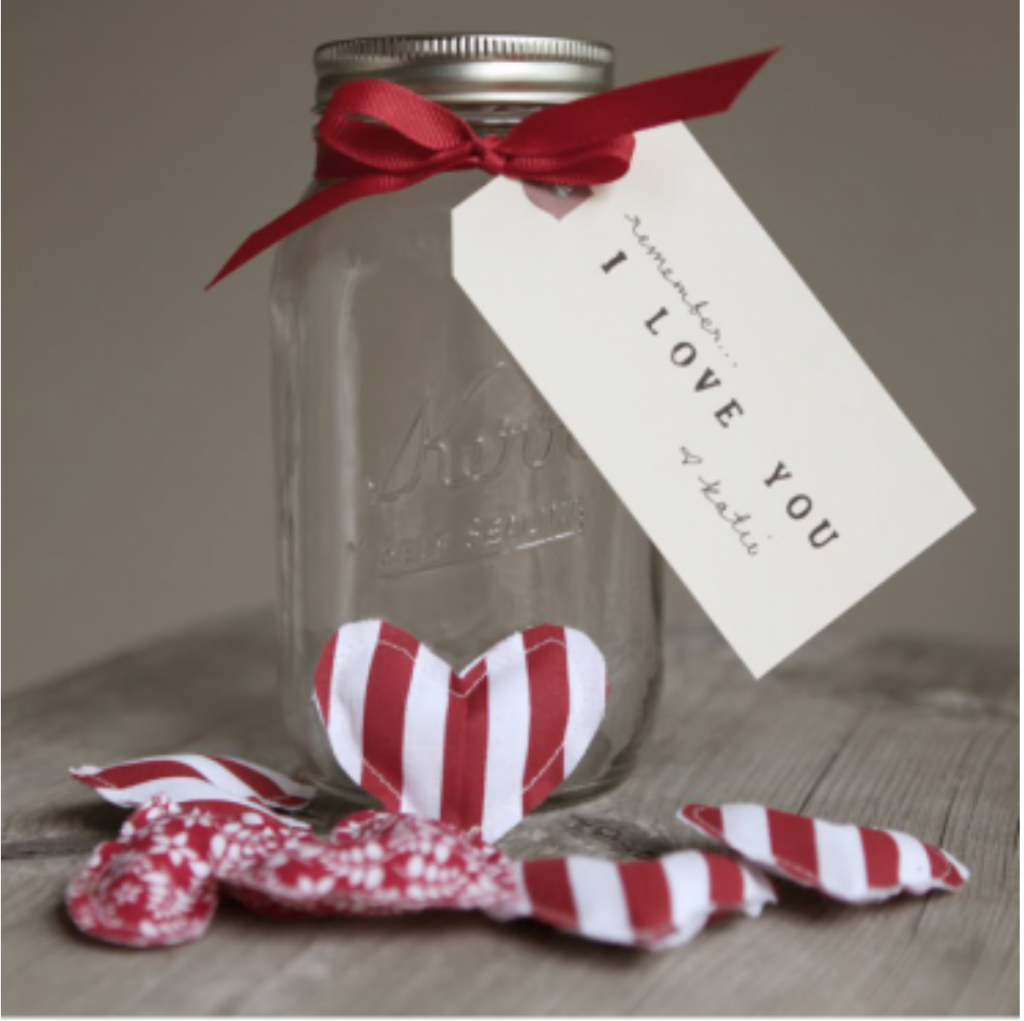 No we don't mean "little things" as in "code" for diamond earrings or even jewelry for that matter. We mean literally do something that is all about the little things.
In spite of what you might think, romance often has more to do with thoughtfulness (for a woman) than it does expense (assuming you have yourself a quality gal). This year, get sappy.
Buy a mason jar (a jar that is made for homemade jam like your grandmother would make)
Get a 4″ square of a really playful fabric (if you don't have any, any Joanne's Fabrics store will do but if you can, take a run to a highend craft store)
Buy ribbon. Get a really good one – advice: 2″ width silk/sateen
4 large pieces of white paper.
Cut 1″x3″ pieces of that white paper (you'll need 30 pieces)
Write down 15 different things you love about her + 15 of your favorite memories together.
One of her favorite kinds of chocolate.
She'll be so happy you took the time to put this together, you'll be the hero this year. (Plus you'll make the other guys look bad). Win/Win.