Martin Short Gives Us the Giggles
Pacific Symphony + Segerstrom Center for the Arts
[dropcap letter="T"]o say that
Martin Short
 (known for 
SNL
,
Father of the Bride)
attempted to kill tonight's audience with laughter for over an hour would be putting it mildly. Though no ambulances were called to the
Segerstrom Center
in response to reports of laughter-induced cardiac arrest, it was clear that Short had honed a craft which boasted such a broad array of comedic range, it transcended all else.
It's a fact of life that people love to laugh. Nothing will make you feel more alive than a good chortle. Studies have actually shown that giving into a case of the giggles actually helps to relieve pain, reduce stress, and encourage relaxation. However, there's something to be said for coming across a quip so ingrained on that fine line between reality and parody that it's all they can do to keep their feet firmly planted on the ground and their hearts from giving out.
Just prior to Martin Short's performance, a montage of his various past roles plays onto a screen hanging above and behind seated members of the Pacific Symphony Orchestra. It is not a sold-out show, but rogue chuckles consume the empty air all the same as scenes of Short in various garb flash across the screen in seconds-long clips. It isn't long before chuckles soon give way to snorting, then full-blown laughter as more familiar roles like Short's eccentric Franck Eggelhoffer (Father of the Bride) light up the room and faces alike. A booming voice, suspiciously familiar after our stroll down memory lane, begins: "And now, a man who needs no introduction, Martin Short!"
Brown-gray locks slicked back, and dressed smartly for the evening, Short enters from stage-right, a smile brighter than the sun on his face as he waves to an applauding crowd. Short immediately doles out a geographic practiced rendition of All I Ask (Is You Love Me), sneaking the line "Costa Mesa altitude" in to where "New York" used to be, and a comical interlude where Short pretends to have a heart attack on stage and is brought "back to life" by performers dressed as medical staff hiding stage-left.
Pretending to "die" isn't the only surprise of the evening. Many of us remember Short in his first breakout role as the one of the titular characters in ¡Three Amigos! (1986). It is at this point in the evening that our host takes to the audience, plucks three older gentleman from their seats, bestows them each with a gaudy, black satin sombrero, and has them perform arm-crosses and hip pumps to the film's ballad. It's a funny moment, if a little awkward, but most importantly sets a precedent: the laughter has become tinged with a nervousness that any one of us could be next!
The biggest surprise of the evening arrives when, following a projection of Short as the hard-hitting, morbidly obese journalist Jiminy Glick embarrassing a series of celebrities—Steve Martin and Tom Hanks, to name a couple—comes out in full "Jiminy Glick" garb. He attempts to rattle the cage of tonight's pseudo-guest conductor/performer, an ever-smiling Pat Sajak of Wheel of Fortune. Glick's questions come in at rapid-fire pace, his voice undulating on a spectrum that ranges from baritone to high-pitched squeaking. A platter of donuts sits on the table between the two men, but it isn't long before Glick has devoured a "healthy" portion of the plate and scoots his armchair into his guest's personal space, knees touching. Sajak for his part is a good sport about the whole affair, even going so far as to raise his legs up and onto Glick's lap. Mind you, the audience is in stitches by this point, with even the quieter moments punctuated by the guffaws of an attendee still recovering from sentence to sentence. Finally, Glick asks if Sajak would like to join him in getting a massage, and the two take their leave.
[columns_row width="third"] [column]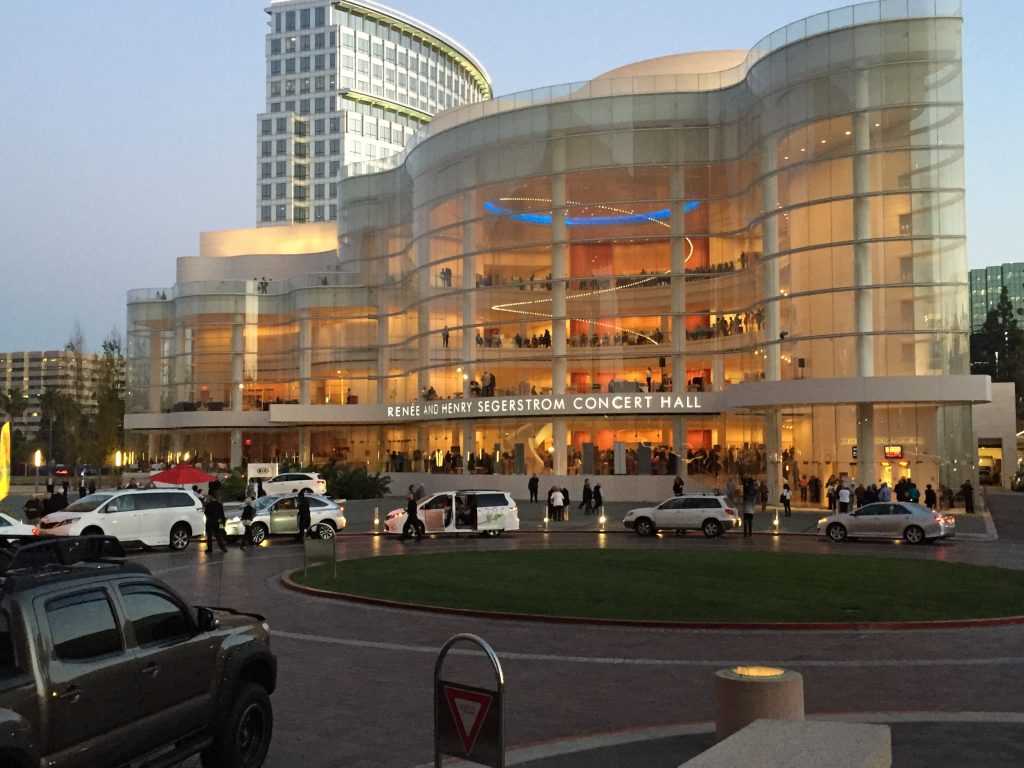 [/column] [column]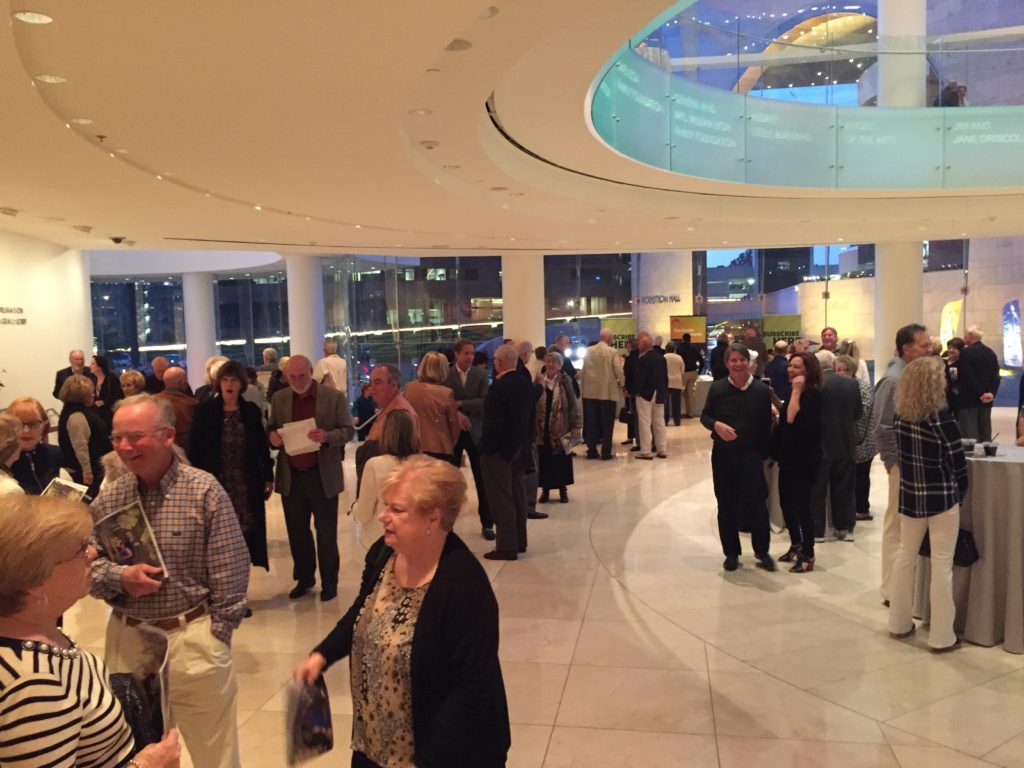 [/column] [column]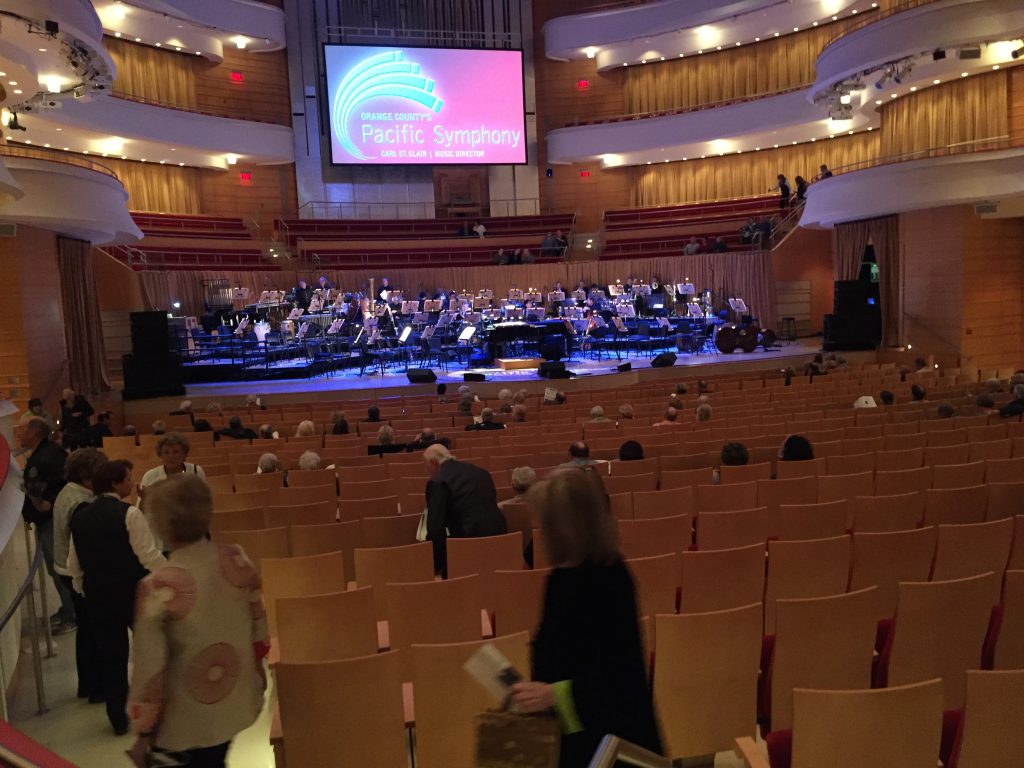 [/column] [/columns_row]
In retrospect, it is apparent that it's not so much the material—song and dance, humorous tirades, etc.—that cement the evening as one of the funniest for many in attendance, but the mastery of comedic cadence that emanates from Short, moment to moment. Unlike other comedians where a performance can feel as if it's in the throes of a nervous canter, Short embodies 'funny' itself. This spontaneity of feeling exudes in whatever Short does, whether it be broadway, film, or television, and to dumb it down by claiming he's just good at his job would be to subscribe to the gravest of misgivings.
To touch on another highlight of the evening, 2016 marks the 25th anniversary season of Pacific Symphony's Principal Pops conductor Richard Kaufman. Celebrating the evening with him is longtime friend Pat Sajak, who not only lends his best vocals to a rousing rendition of Ernest Thayer's Casey at the Bat, but accepts the baton for a patriotic showing of Stars and Stripes Forever on repeat as well. (At times it was a little too rousing as it was difficult to decipher Sajak's words over an exuberant orchestra.)
Also joining him onstage is daughter Whitney Claire Kaufman. No stranger to musical performance, Kaufman has engaged audiences worldwide as a vocal soloist with Disney in Concert and Symphony Pops Productions. Here she belts out numbers from Meet Me in St. Louis ("The Trolley Song") and Pocahontas ("Just Around the Riverbend") to toe-tapping and nostalgia. Finally, she touches our hearts with a final tribute piece to her father, the titular number from the star-studded film Two for the Road, starring Audrey Hepburn opposite Albert Finney.
"It's always a tremendous blessing as a conductor to have the opportunity to stand in front of an orchestra," says Richard Kaufman. "The 25 years have flown by, and I am so appreciative of the great kindness of the audiences, and the spirit they bring to the shows we do… and frankly, most of the time I feel the same energy as if it were the first performance I was going to conduct!"
Here's to another twenty-five years, Mr. Kaufman.
[separator type="thin"]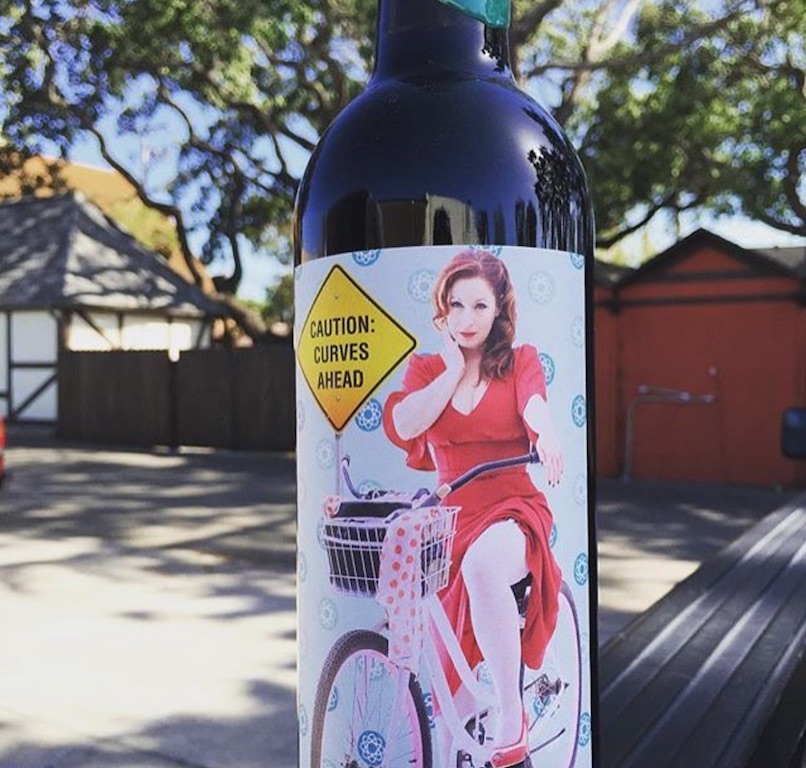 PINUP WITH PURPOSE
Donate to AIDS Lifecycle by supporting Team Bicycling Betties and get a Limited Edition 2013 Bordeaux blend from Sort This Out Cellars in Santa Barbara as a thank you! DONATE HERE
[separator type="thin"]
ABOUT PACIFIC SYMPHONY
It's an unpredictable and undeniably fun time when multitalented and multifaceted comedy legend Martin Short joins Pacific Symphony for a hilarious evening of song, dance, and laughter. Short, a celebrated comedian and actor, has won fans and accolades in television, film, and theater since his breakout season on "Saturday Night Live" almost 30 years ago. In addition to his SNL appearances, the Emmy and Tony award-winning actor is best known for his scene stealing roles in "Father of the Bride" and "Three Amigos."
Without a doubt, Richard Kaufman has played an important and beloved role in the history of the orchestra. For the last 24 seasons, he has charmed audiences with his infectious humor, amused patrons with personal reflections about working alongside some of music's most famous stars, and blessed listeners with the concert premieres of more than 30 film scores. Along the way, the Grammy Award-winning conductor has entertained more than a quarter-million Orange County residents—who have used Pops concerts to conjure a memory, capture a moment or maybe even rekindle a romance. [PacificSymphony.org].