Amalfi: Part 2 – Positano
Boutiques + Beauty
written + photographed by Ruth Cuevas
[dropcap letter="B"]outiques. If I were asked to describe
Positano
in a single word, it would be,
boutiques.
This is not to say that Positano is all about shopping, because that oversimplification of this village would not just be an injustice, it would be an outright shame. [columns_row width="third"] [column]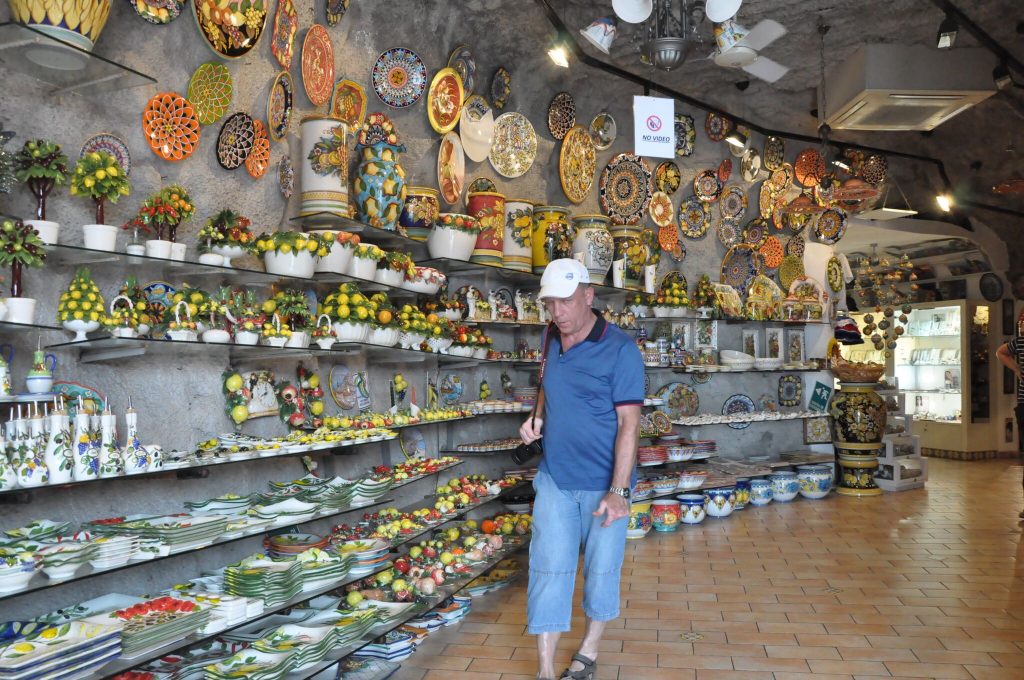 [/column] [column]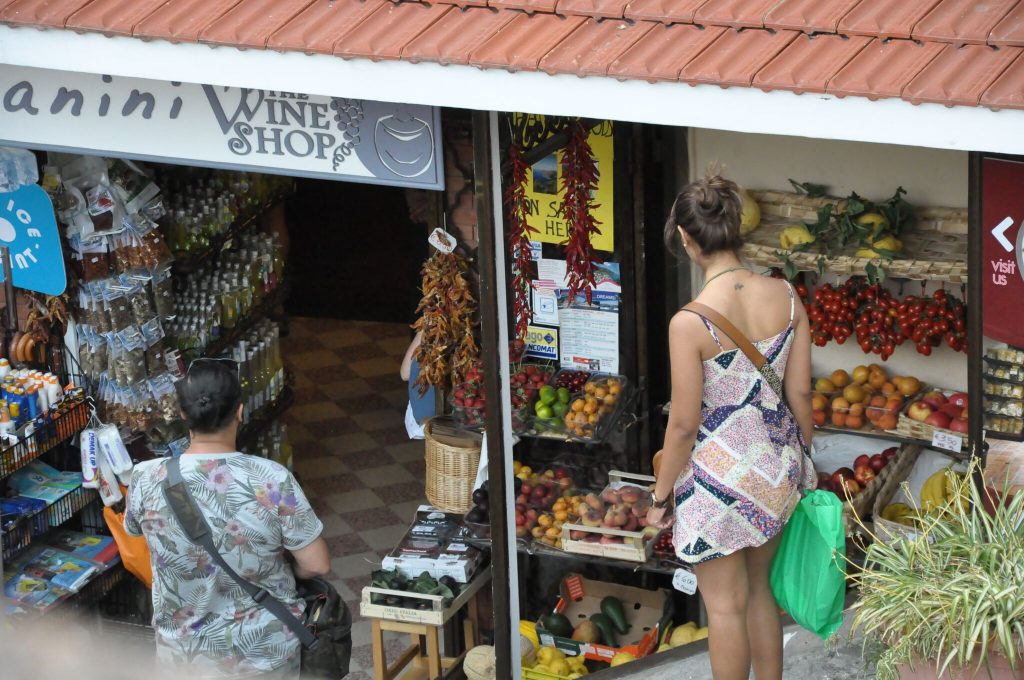 [/column] [column]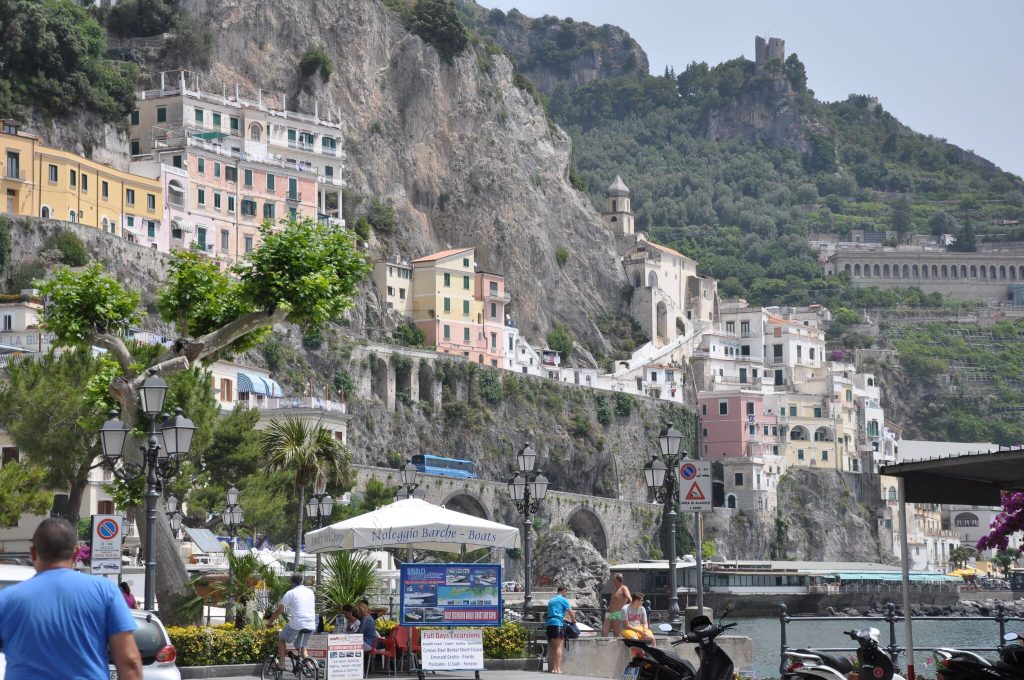 [/column] [/columns_row]
Aside from the town of Amalfi itself, Positano was the only other village I'd heard of before visiting the famed coastline. Positano has been featured in a plentiful range of films and books and, like much of the Italian coastal scenery, even if the name fades it's the spirit you remember. If Positano were a person, she would be female. If I had to describe her, I would say she was graceful, sexy, modern, stylish, coveted, with a face that would never betray her age. While every town that dots the Amalfi coastline is deserving of its own write-up, Positano stands out because … it just does.
[columns_row width="half"] [column]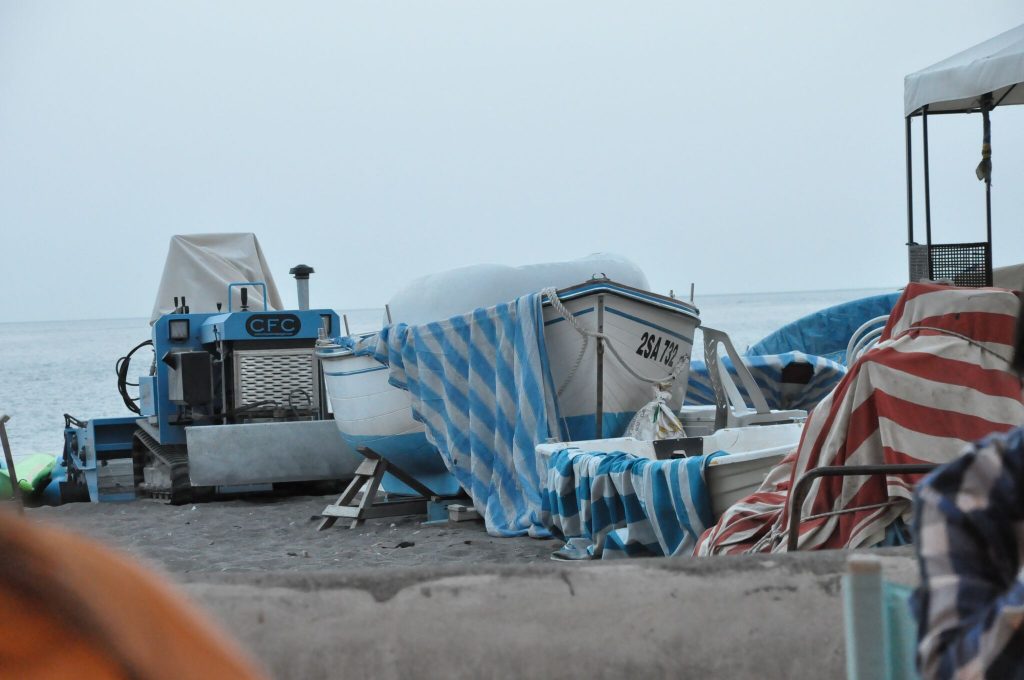 [/column] [column]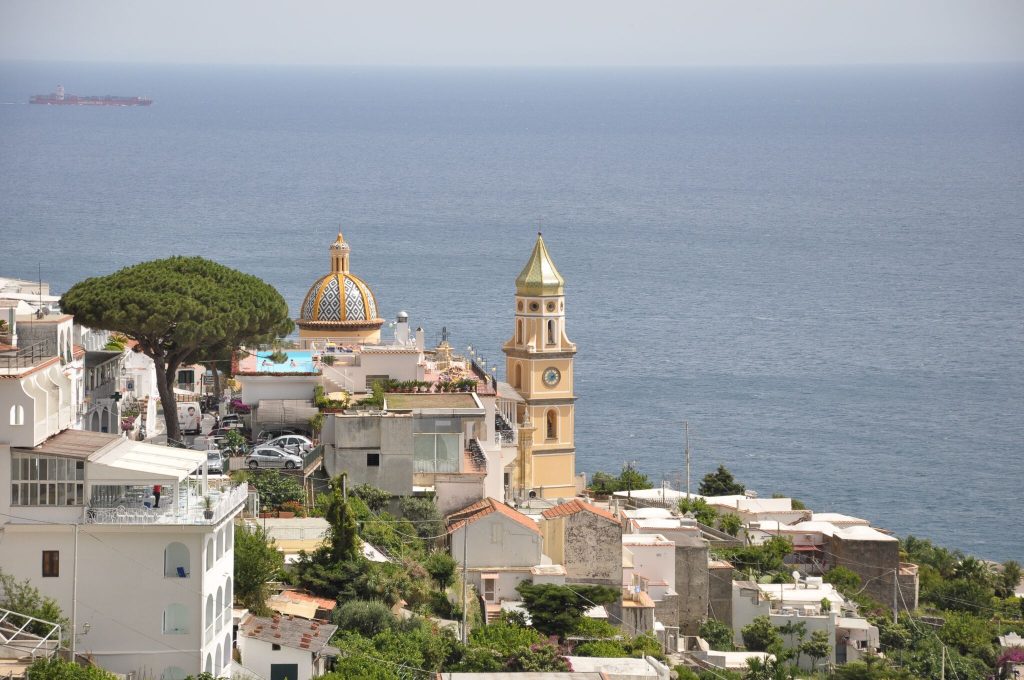 [/column] [/columns_row]
To get to the Amalfi Coast, you must drive at least part of the way. The nearest airport is in Naples, about 60km north. From there, you can take a bus, car or boat to one the larger coastline villages where hotels, shops, and restaurants await your arrival. Traveling between the villages can only be done along the coastal highway by private auto, taxi or bus.  While driving the curvaceous highway is not for the faint at heart, I can promise you that it will be an experience you will always remember, no matter what seat you're in.
The towns along the picturesque coastline all range in size due to both traffic and parking availability, making stopping at every one not so feasible. For that reason, the larger towns like Amalfi, Positano, and Sorrento get the majority of the attention (as well as the majority of the tourists). Our experience began in Naples and cut through a mountain pass towards the southern end of the coast. We stayed in Ravello and travelled back going north, towards Naples. As we drove, we stopped where either traffic would allow or where the beauty was so immense, we could not move forward without taking it in more deeply. Positano awakened each and every one of our senses as she called to us with her majestic terrain.
[columns_row width="half"] [column]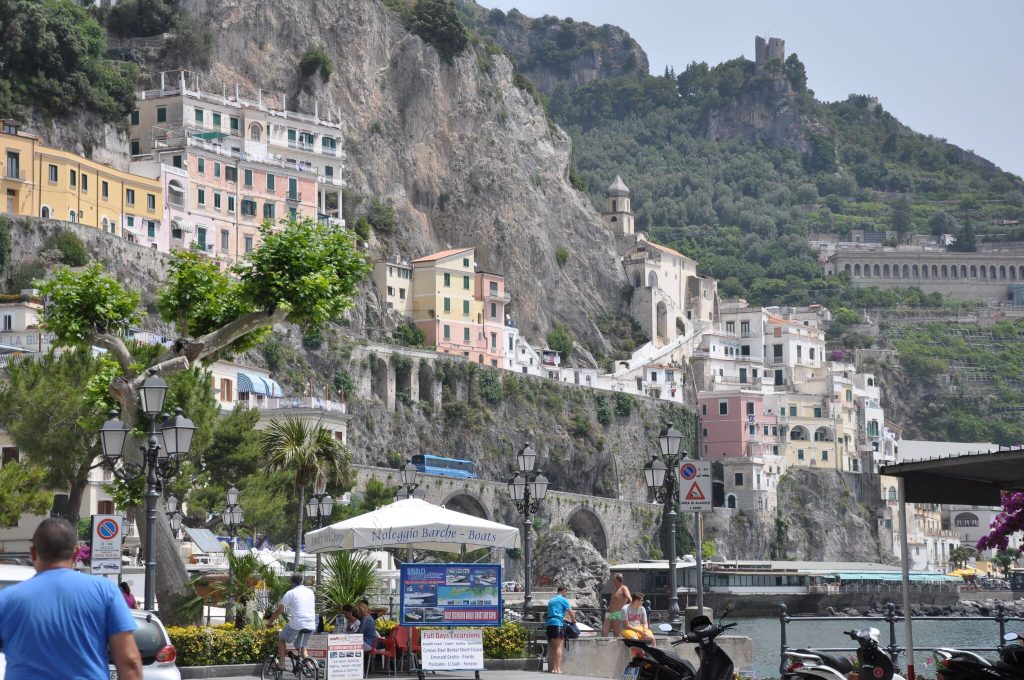 [/column] [column]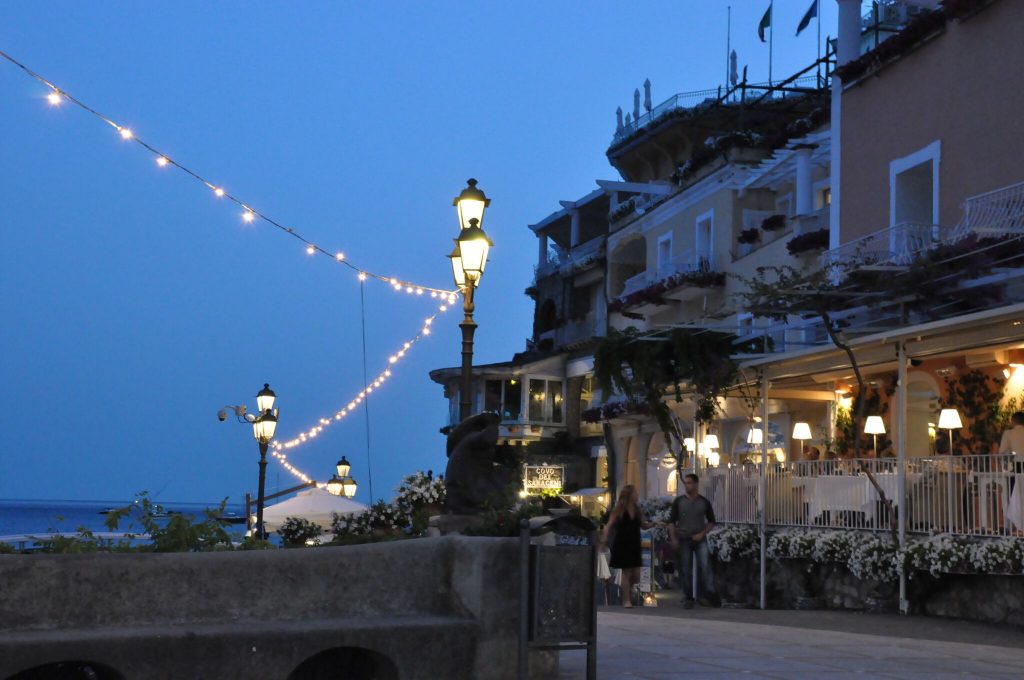 [/column] [/columns_row]
Winding through the coastal mountain ranges, we enjoyed several stops to appreciate the dioramas of villages we had either just passed through or were getting ready to enter. It's no secret that the Italian culture is full of the love of art but I was not expecting to see so many dioramas cut into the hillside highway or the amount of detail that went into making each one. After a brief stop to study a miniature version of the village of Priaino, we hopped back into the car and wound around the hillside a few more times until we were halted by both the color and splendor before us. We had arrived in Positano.
[columns_row width="half"] [column]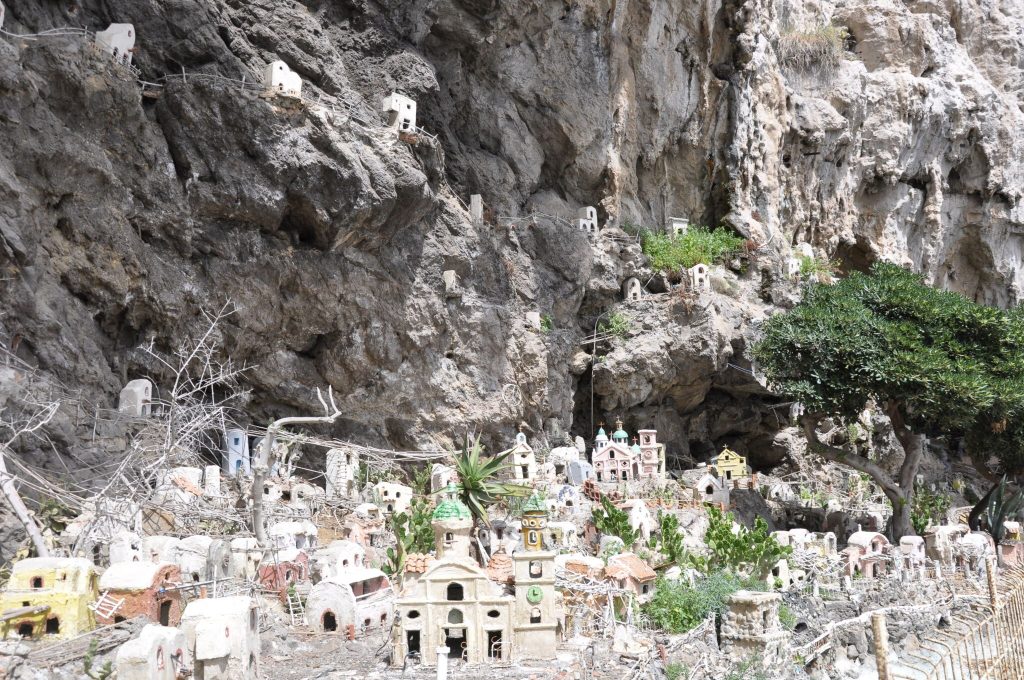 [/column] [column]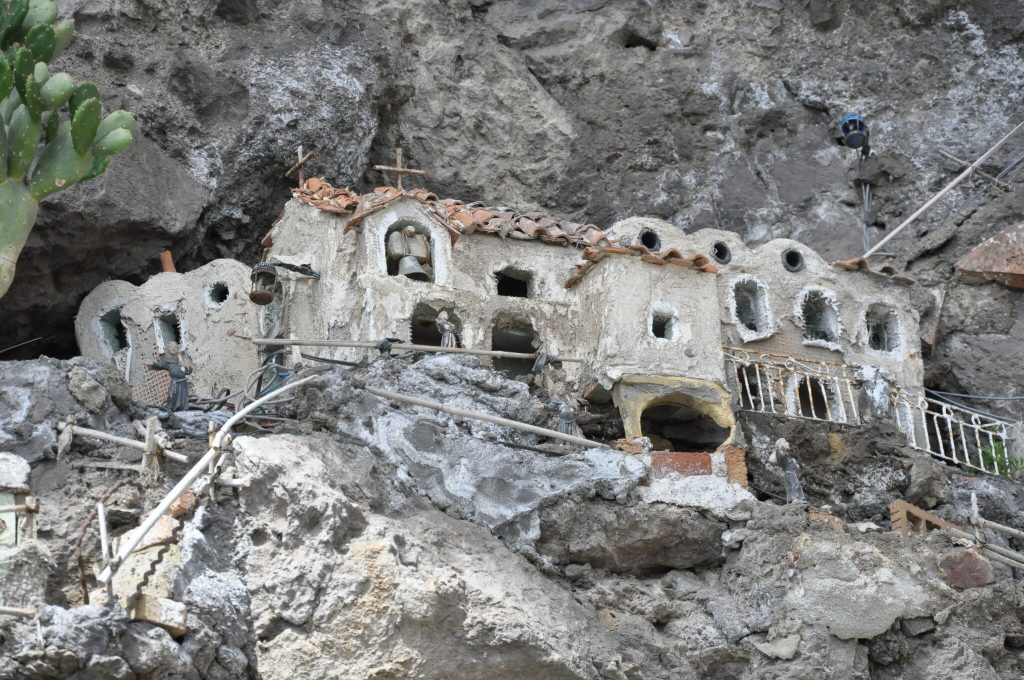 [/column] [/columns_row]
Magnificent villas lined the slopes in their pastel hues. Flowers were everywhere – in trees, in pots, or hanging from balconies. Ivy and bright purple bougainvillea added to the color and texture as they wrapped around some or most of the property walls. Scattered between the houses were stepped lemon groves. Homes appeared to be straddling each other up the mountainside but not in a chaotic or disorganized way because the amount of color above was juxtaposed with the calm, emerald waters of the Mediterranean Sea below. As we stood looking down on Positano, we could feel the tranquility in the air so quickly, we found a road and made our descent.
[columns_row width="half"] [column]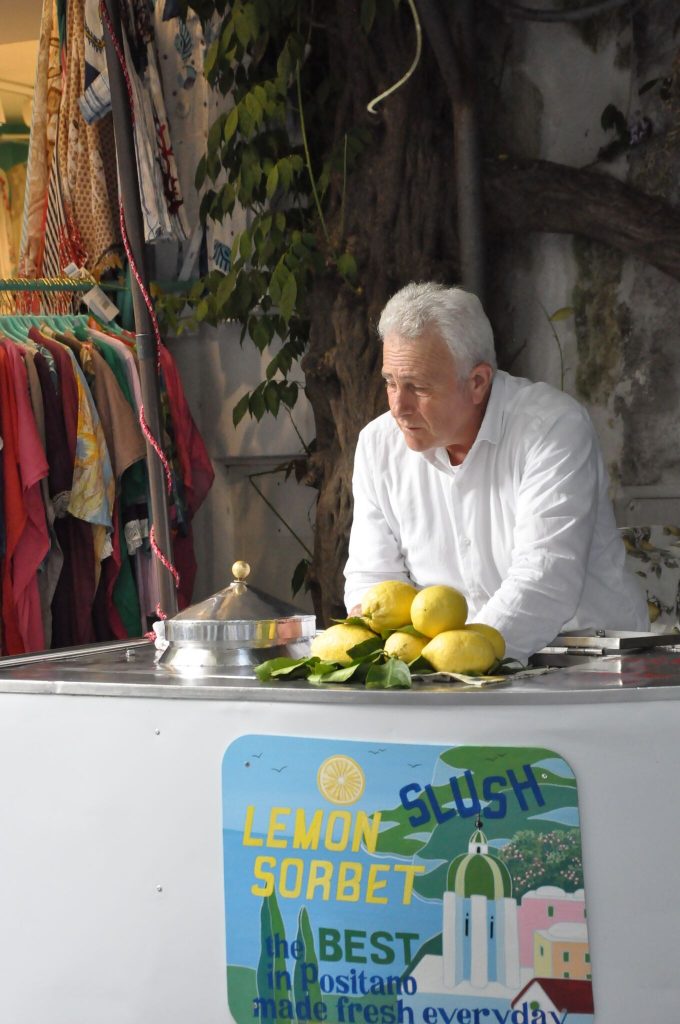 [/column] [column]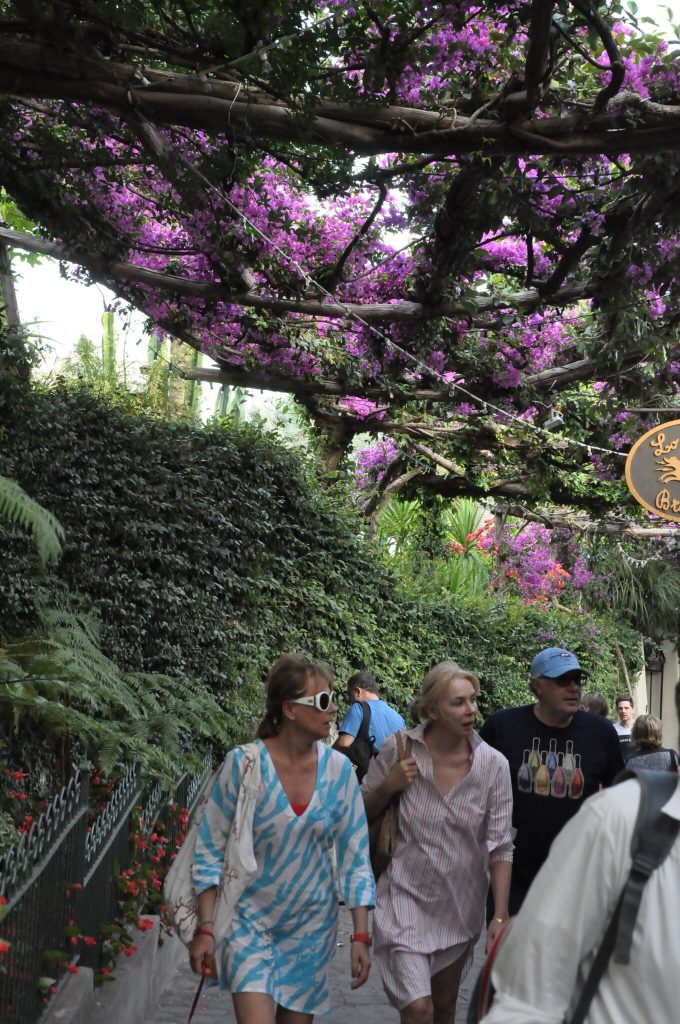 [/column] [/columns_row]
It is clear why this town has received the amount of fame that it has. The air is clean and perfumed with citrus and flowers. Each of the roads from above curve down into the heart of Positano, like the vines that travel along the walls of so many of the villas. The waters below, are calm and inviting … the way a big, soft bed invites you to come and forget your worries in a deep sleep. Along the beach, stands the Covo Dei Saraceni. From the street level below, you can see vines growing inside and throughout the dining room ceiling in a way that was breathtaking there, but at the same time assured me that there was no way I could ever pull-off this same "look" in my own home.
There are not a lot of roads that will take you from the main coastal highway above to the heart of Positano, which is found at the end of one of the arterial roads that lead to the sea. While there is no shortage of hotels, guest houses or bed and breakfasts, it is highly encouraged that you book early because prices increase or decrease depending on whether or not you go during peak season (August). In addition, the prime locations fill up fast. Because of the city's design, you don't need to be on the beach or have direct access to the sea to have a magnificent view. In fact, you might be better off with a hotel that is just a few minutes' walk from the beach in exchange for less tourists and a better menu.
[columns_row width="half"] [column]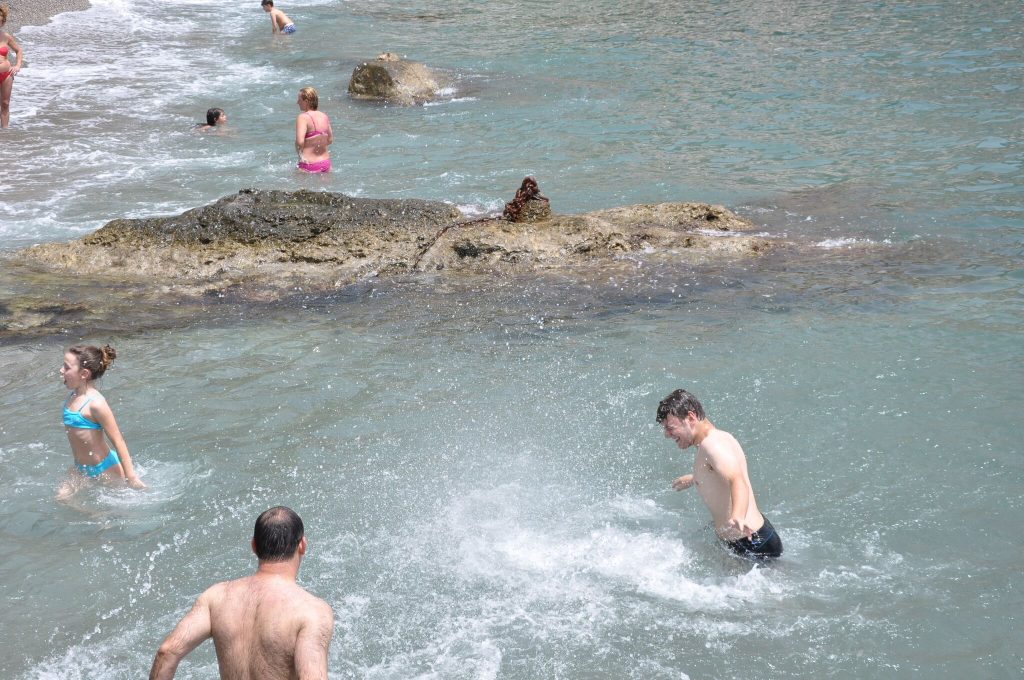 [/column] [column]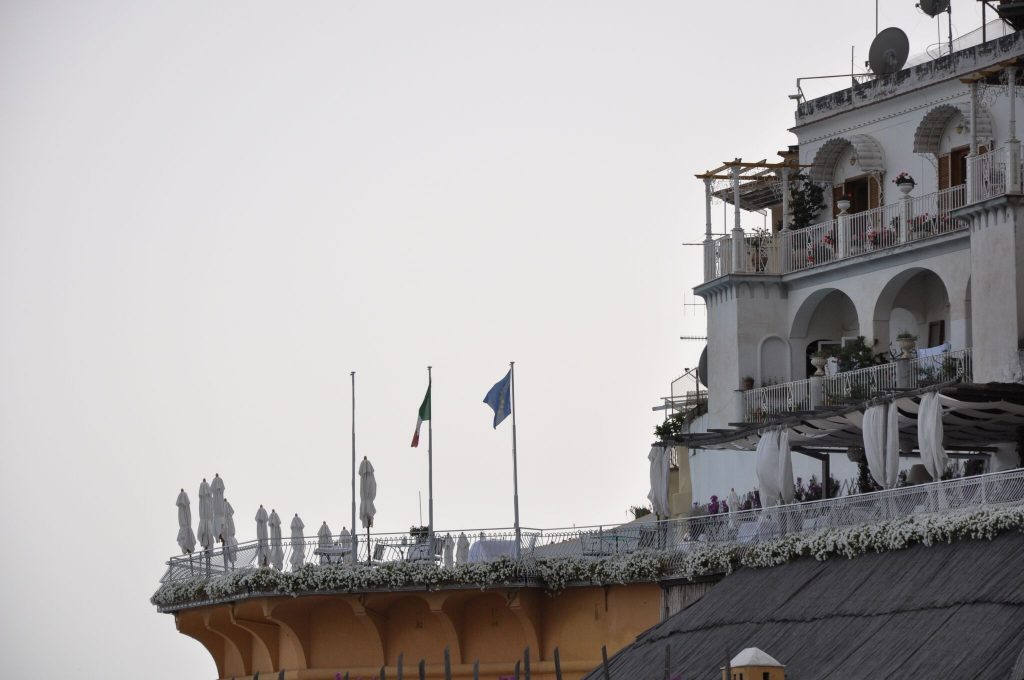 [/column] [/columns_row]
It is in these walks through the village streets that you can feel the spirit of Positano. As you stroll down the pedestrian paths, you are greeted by the local artisans who proudly showcase their goods but, leave you alone unless you ask for assistance. Lace, linens, shoes, leather goods, clothes, food, lemons, candy, chocolates, pastries, hats, Murano glass and restaurants all line the bougainvillea canopied promenades. If you'd like more of a hands-on Italian experience, try one of the various cooking classes, where chefs will teach you how to make your own pasta, sauce, and tiramisu: Positano Home Cooking + Ristorante Max.
[columns_row width="half"] [column]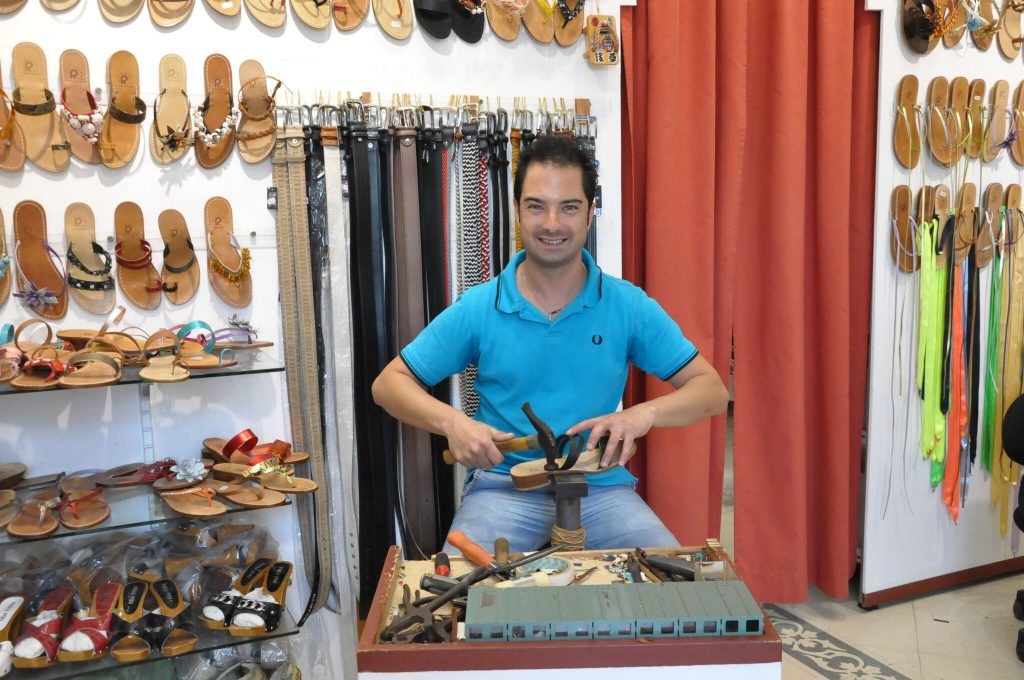 [/column] [column]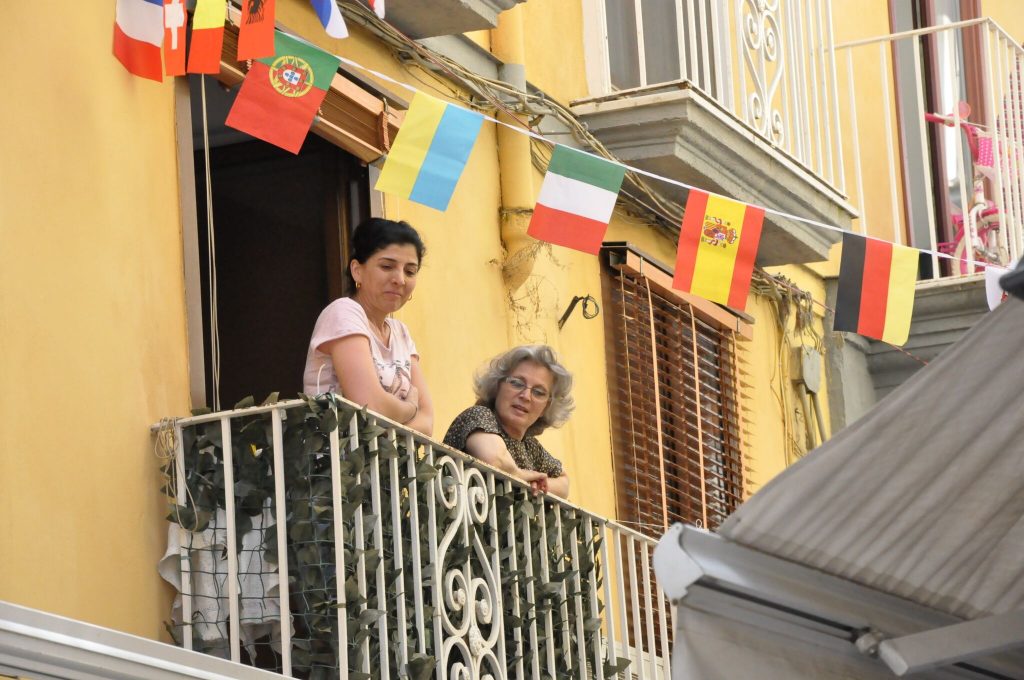 [/column] [/columns_row]
As a lover of shoes, it was hard to walk past the cordwainers without at least taking a quick peek inside. I met Ernesto (above) and his mother at Artigianato Rallo. Here, inside their small shop, leather soles lined the walls. Ernesto and his mother are one of many of the generational crafts makers found in Positano. I wanted to try one of their masterpieces and asked about a pair.  Without measuring, they knew my precise size! I tried to question their guess but before I could reach for something to measure my foot, Ernesto brought out a beautiful pair of supple, black leather ballerina slippers. Like Cinderella, I tried the shoe and it was a perfect fit! Rarely, have I found a pair of shoes that is comfortable, classy and durable from the very first wear.
[columns_row width="half"] [column]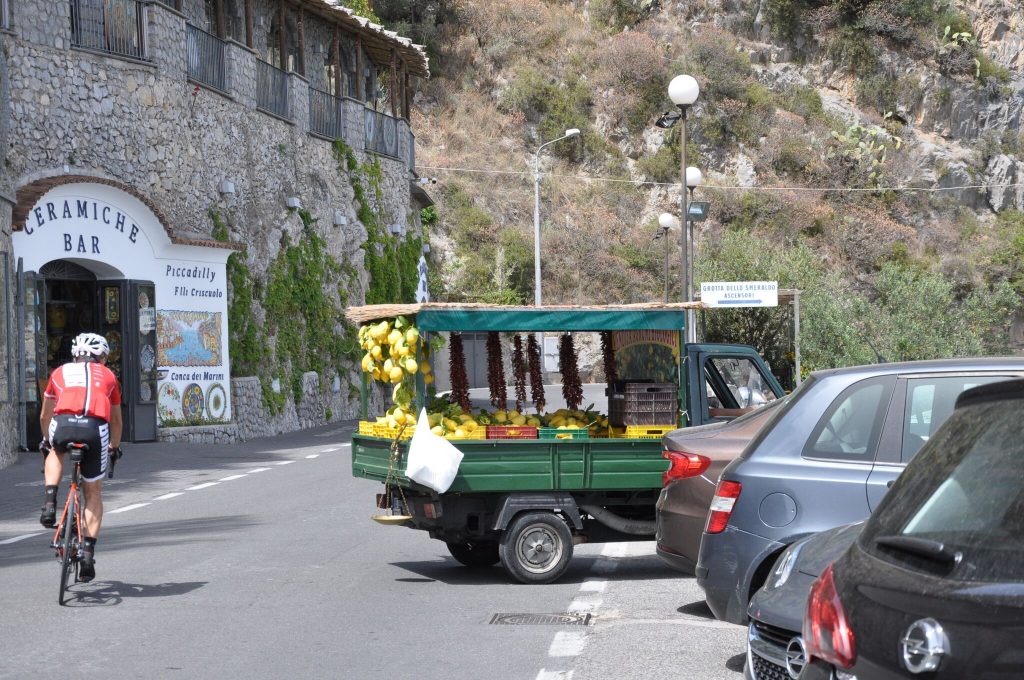 [/column] [column]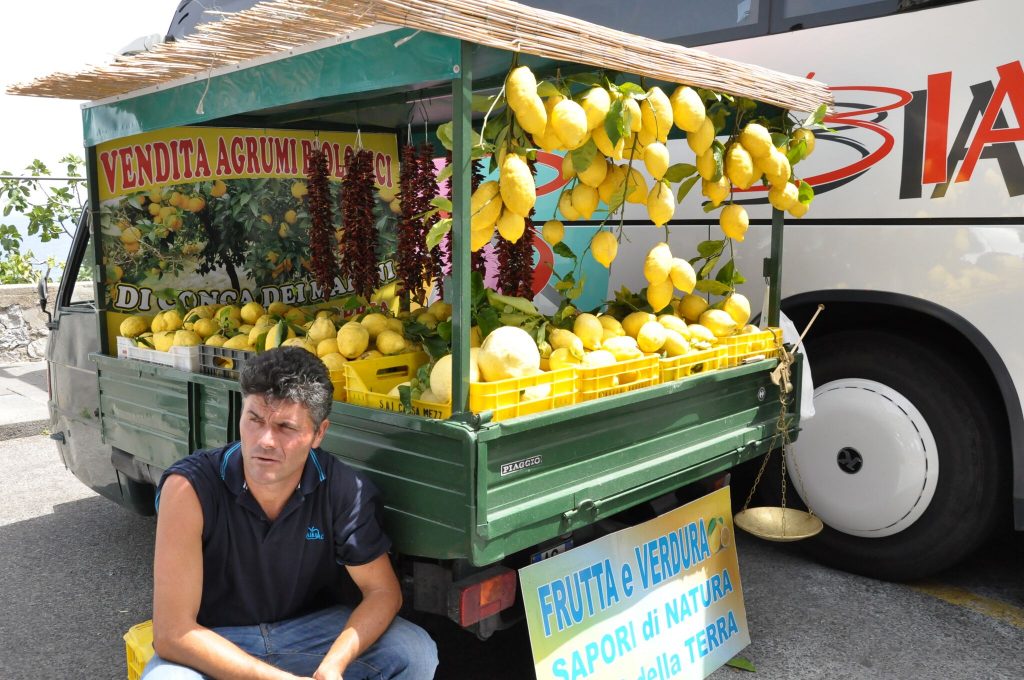 [/column] [/columns_row]
For 150 euro, you can take a two-hour cruise with Cassiopea Positano excursions. The exact route is determined by price, time of day and the condition of the sea. It is possible for a couple to take a private boat with just a captain, and cruise alongside the coast or to the nearby island of Capri. There, you can indulge in your day or continue your excursion on the vast sea. A popular option is the sunset cruise, complete with a glass of wine for your journey. There are so many opportunities to view Amalfi from the sea and prices vary depending on the size of the boat and level of privacy you prefer.
[columns_row width="half"] [column]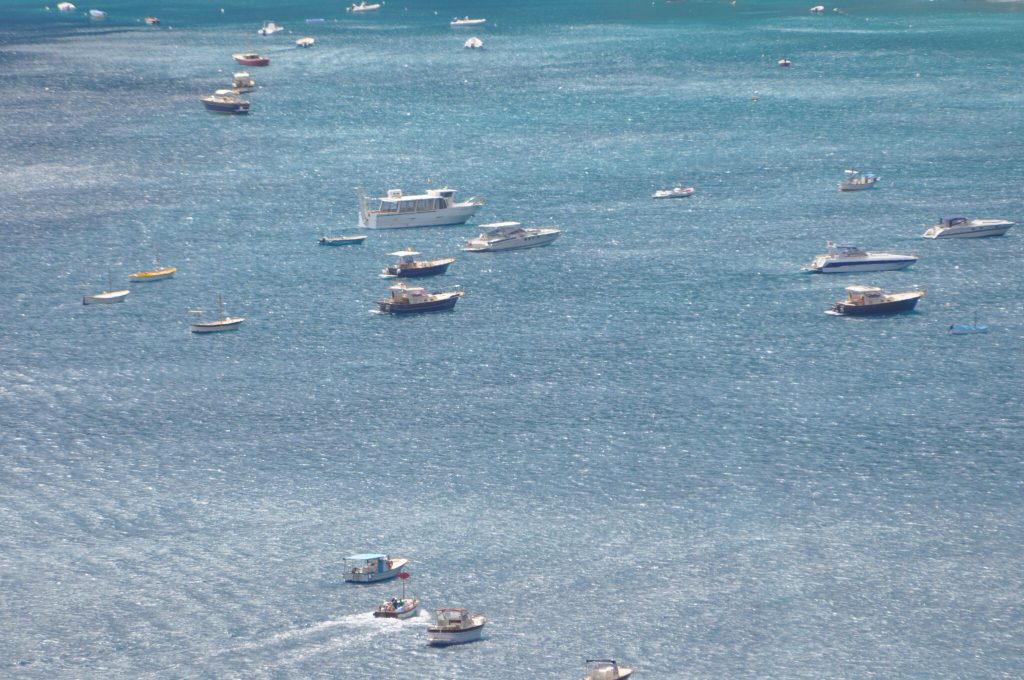 [/column] [column]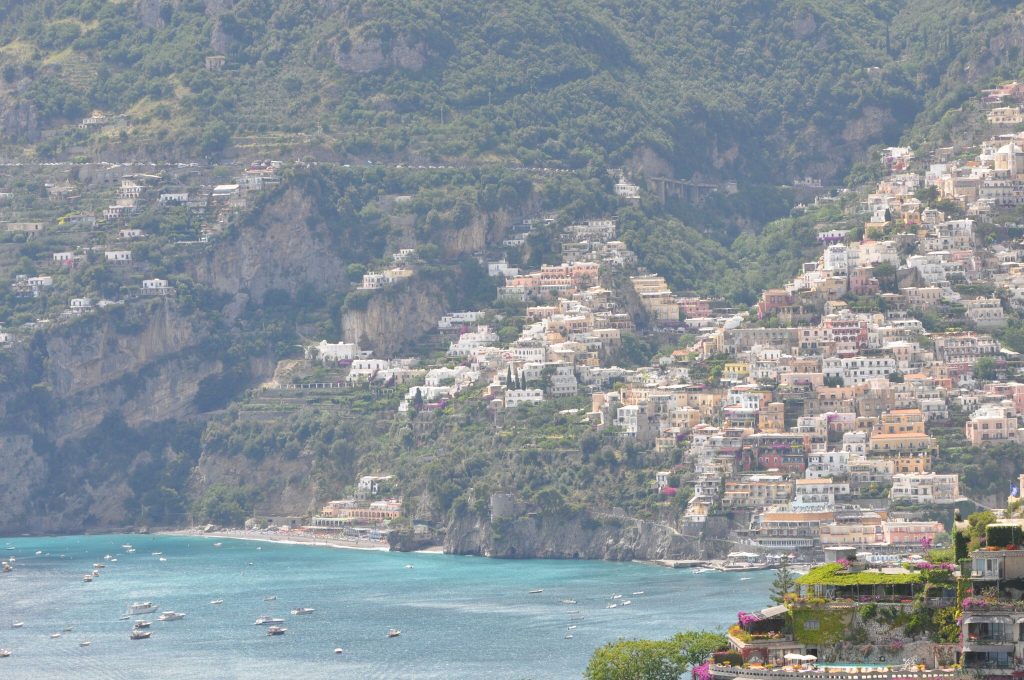 [/column] [/columns_row]
As the sun slowly hits the water in the distance, music begins to float through the air. Grab a bench along the sand, a gelato and enjoy the acoustic sambas that perfectly complement the extraordinary backdrop that is Positano.  While there are certainly activities for the entire family to enjoy, the villages along the Amalfi Coast are best enjoyed by lovers.