WSWA 2017
An Industry Observation | Distribution
photos by Dawn Garcia
[dropcap letter="O"]rlando, Florida was once the place I thought of as a childhood memory (aka coming to Disney World when I was 13) but turns out it has more to offer than theme parks. The food scene in Florida has widened, the various stops in the area have set themselves apart and most notably, the terrain is so much more beautiful than I remember. That said, I'm here not to simply explore the city but rather explore the world of wine and spirits, discover new brands
or
get the lowdown on brands I'm already loyal to, and learn as much as I can about how the process of distribution and financing works.
As the WSWA show gets underway, I stroll through countless aisles, noting worthy visual appeal, interesting packaging, and spirits that actually taste good. But I also noticed something else. There are new brands with lofty visions and a good too many struggling with an identity crisis; Crossover spirits that find themselves in a sea of less obvious pools of alcoholic certainty. This year I came with a clear idea: Rather than focus on wines, I lean into a quest for some divine spirits with a story I want to tell. Amidst the hundreds of brands present, the constant (at least for me) has been veering towards the more noted tried and trues such as bourbons, whiskeys, tequilas, vodkas and exploring the extensive breadth of aperitifs. I'm hoping for those that will take my palate on a journey. With every country represented in some way, I want to be surprised (and that's not an easy thing to do).
While I sip and savor this time around, I have also gotten to learn more about the convention itself and get a brief education on the hoops and hurdles all spirits have to jump through when they want a proper chance at being introduced to the world of retail (aka grocery and specialty stores) and on-site bars and restaurants in the U.S.
So before I share my articles about brands I was all too happy to stumble upon and the unique events that happened during the week, I want to say that the real area of interest lies in the world of distribution and investors. New brands are navigating their way through a saturated market where larger brands with deep pockets and endless financial backing have an edge. Sometimes however, the strangely riddled world of letting the world know you've got something special requires a plethora of legal steps and may take a long while for small batch labels and craft spirits to get into the public eye. Good news is, eventually they can (provided consumers actually like what they're selling). That's where WSWA comes in. Brand new startups with big dreams and alcoholic concoctions are led through the process in a welcoming environment. There to guide them and help, brands come here in hopes of making the right connection and solidifying their presence in a marketplace that is growing faster than you can say the word "yum"!
[columns_row width="half"] [column]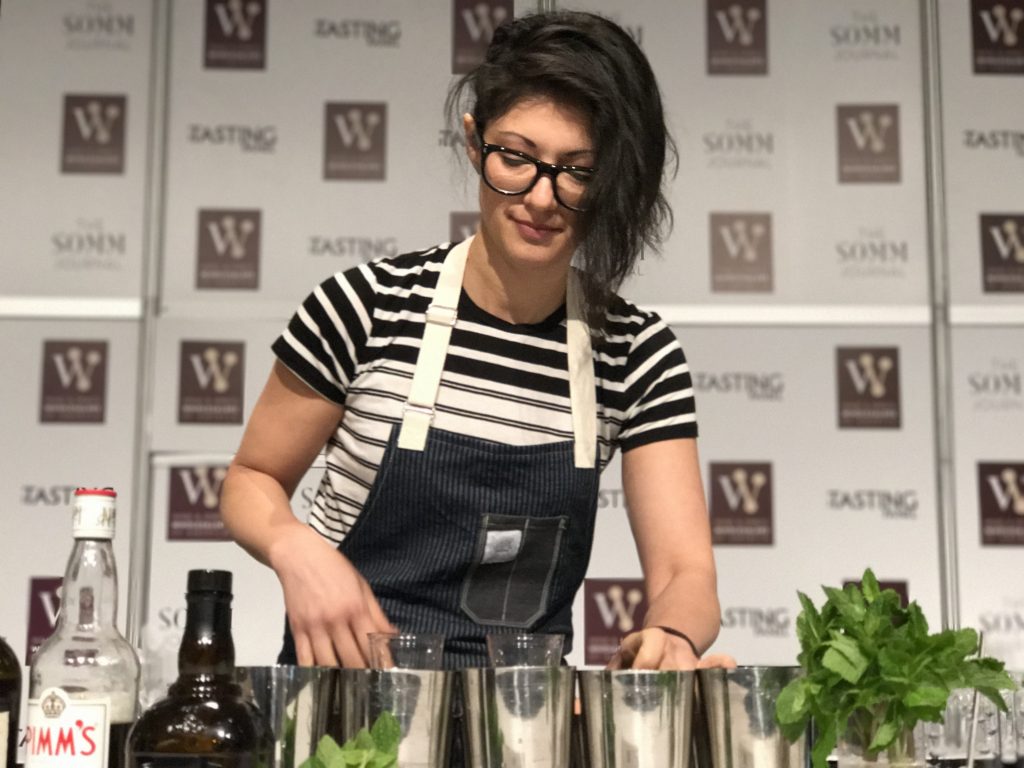 [/column] [column]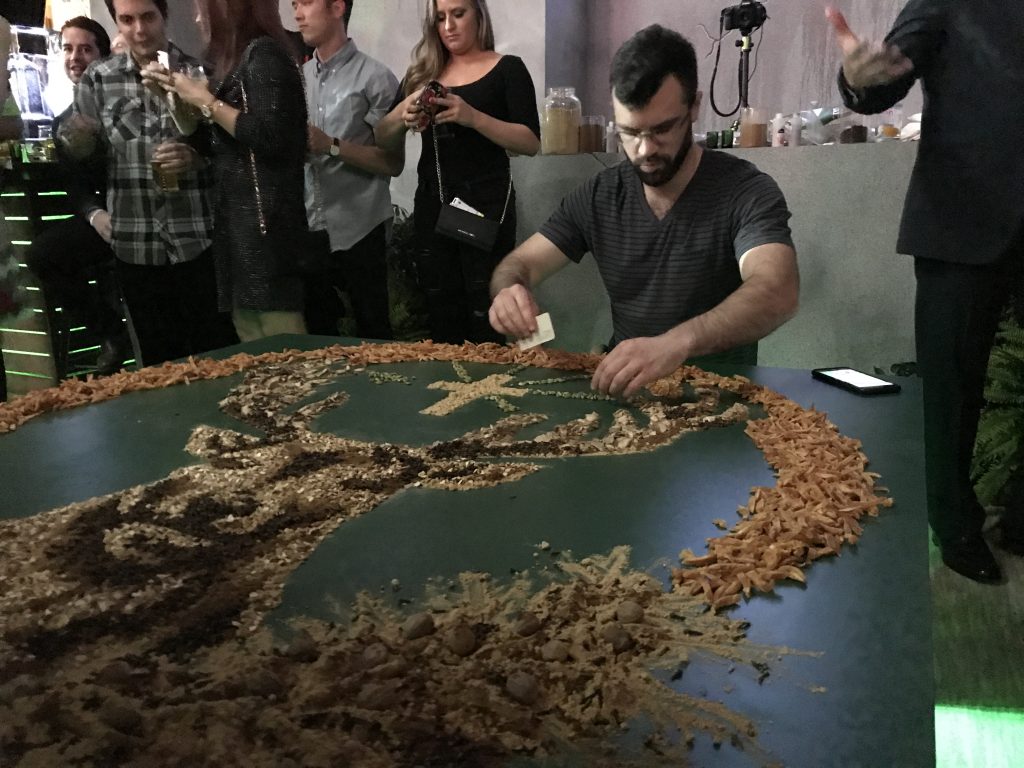 [/column] [/columns_row]
A Simplified Take on Distribution
So here is what I know as an outsider: Each state has their own laws and by-laws that are rather explicit in instruction when it comes to alcohol. Strangely enough, it almost feels like prohibition sometimes when you start peeling away the layers. Larger distillers can acquire the competition, smaller labels attend shows, launch aggressive marketing campaigns, hold tastings, etc., and it can be a long process requiring a lot of patience.
This is where an event like the WSWA allows for a little more transparency, education, access and potential introduction into the marketplace.  Representing wholesalers, congress, regulatory bodies, courts and the like, the job of the WSWA is to hold brands to a higher standard while allowing them the opportunity to be "picked up" in the marketplace. The wholesalers and distributors are also looking at it from a strategists perspective, hoping to find the one (or many) brands that have the potential to disrupt the industry in a good way. That said, with the surge of entrepreneurship and independent contractors eking their way into just about every industry, it seems disruption is on the rise. And that can be really good for those of us who want to drink something new, appreciate the manual labor of handmade craft distilled spirits, and want to support the underdog. (It's like the "Rudy" in the world of alcohol … just bigger, far more complex and often times a tad overwhelming in terms of regulations and subsidies. Still, you rally because we are avid consumers bored with the same ole same ole.)
[columns_row width="half"] [column]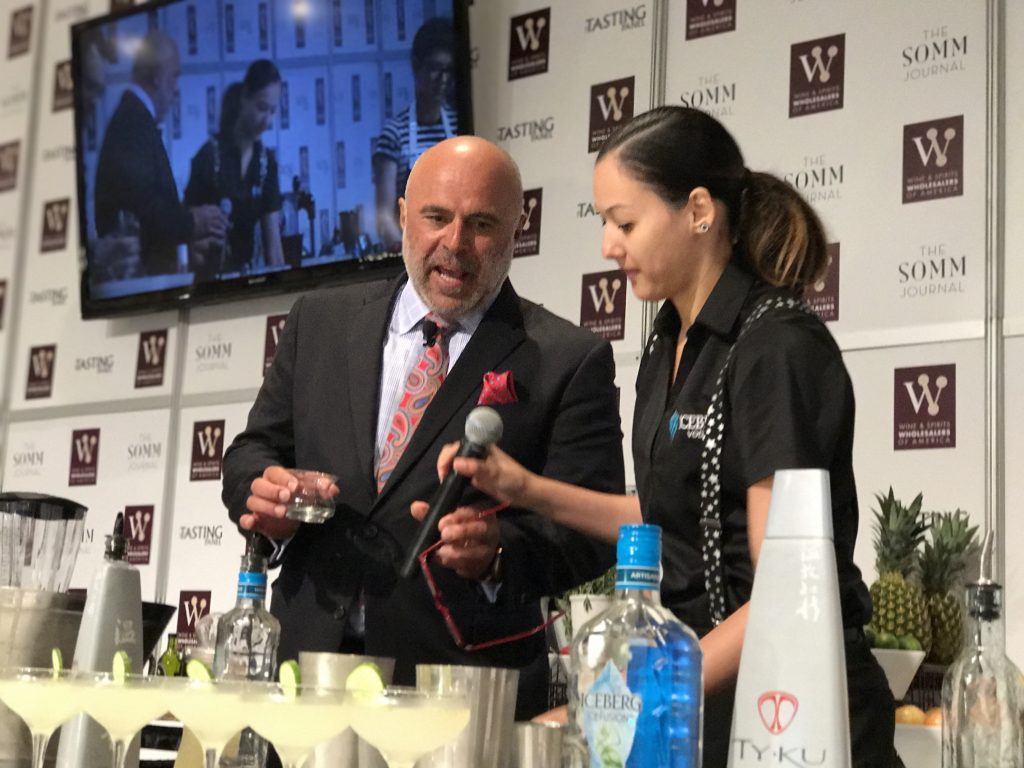 [/column] [column]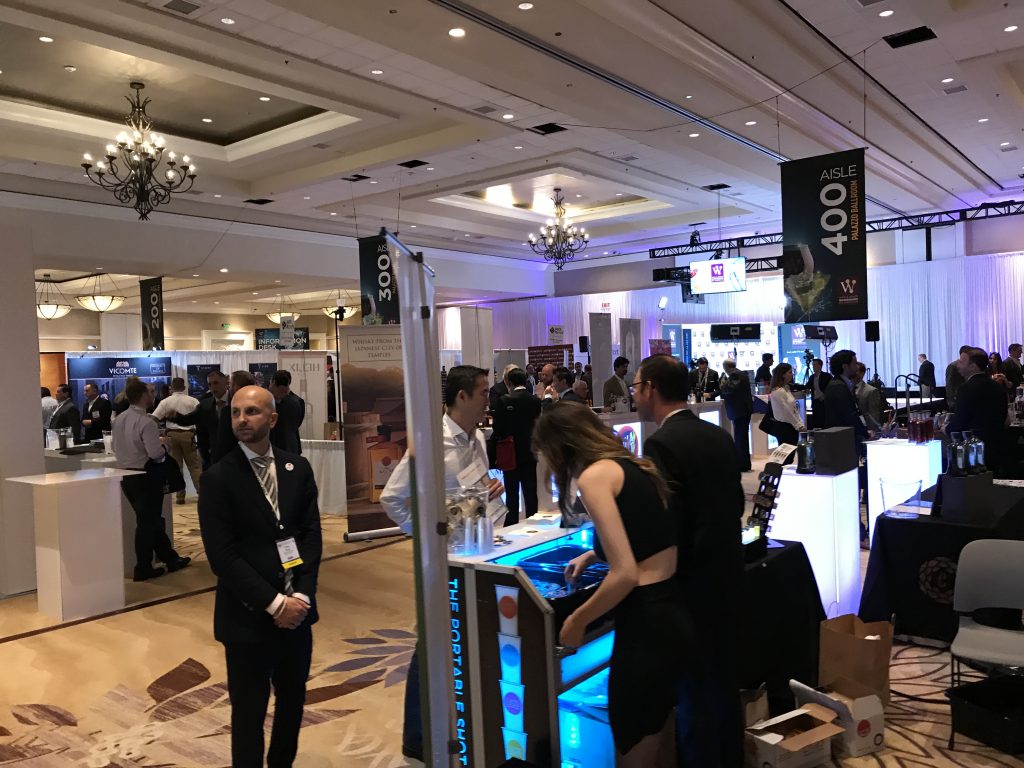 [/column] [/columns_row]
I don't claim to be an expert nor do I claim to have a book the size of War and Peace with alcohol penal codes sitting on my desk as I write this but as an astute observer, as I listened to the stories of so many of the brands represented here today, the US Marketplace is by far the most prominent to want to be in. (We like our alcohol!) That said, I feel for these brands that are inching their way in, ever so carefully, hoping to get a shot at finding their bottles on the shelves of retail locations and being mixed at bars and restaurants around the nation.
A Tale of Starting Out
So why is it so tricky to get distribution? Ok so – say you have an amazing tequila. Your tequila is unlike anyone else's. Consumers love it. Mixologists love it. Hell, everyone loves it and you finally get your shot at being distributed in, say, California. The store agrees to carry the tequila and your insides explode with excitement because you finally won't be the poor sap that spent every last dime of the money you and your friends and family invested on a dream! And just as you want to shout to the hilltops, "I finally did it", there is a caveat. What is it? First you have to comply with each state's legal steps (lots of paperwork, quality control and time) and then it will be time to take meetings, create a presence and hope to find a distributor that will agree to facilitate the transaction. In spite of the daunting aspects though, the reason behind most of the process is to protect consumers and distillers.
That is, in essence, what new brands go through. After spending every last dime they have (unless they've managed to get startup funding), they come here to find someone – or a slew of people if they're lucky – that show an interest in giving them next round funding AND/OR distribution. And the real beauty of the show is, so often they do. It creates a platform for wine and spirits to make an impact and gain some much needed notoriety.
[columns_row width="half"] [column]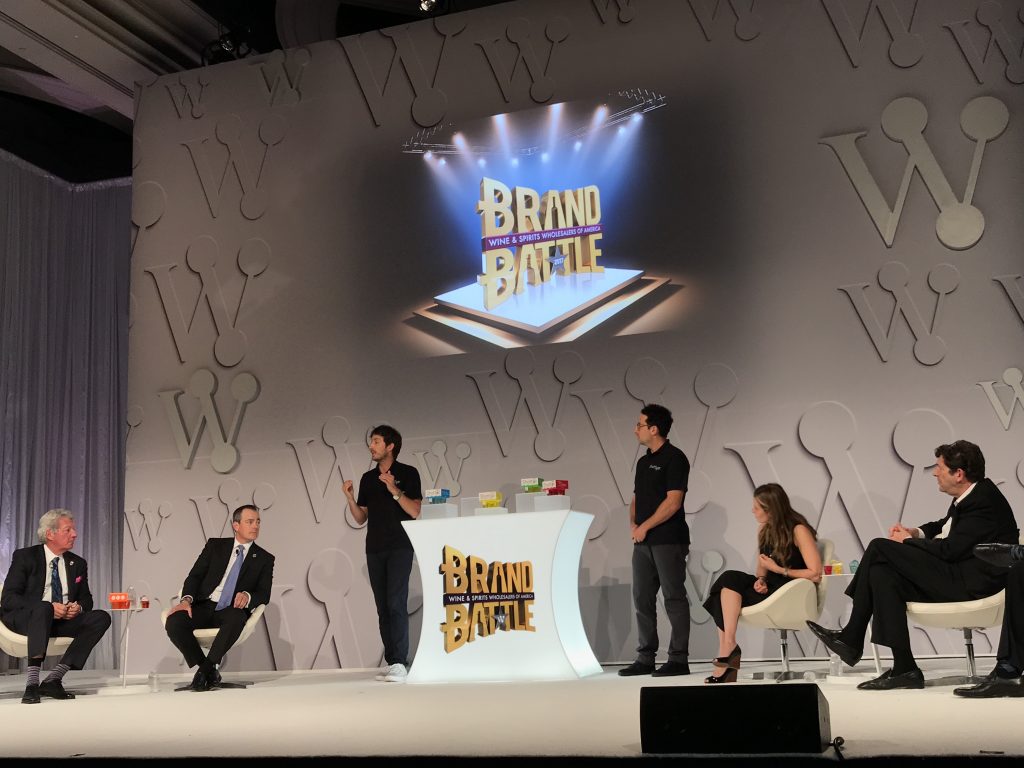 [/column] [column]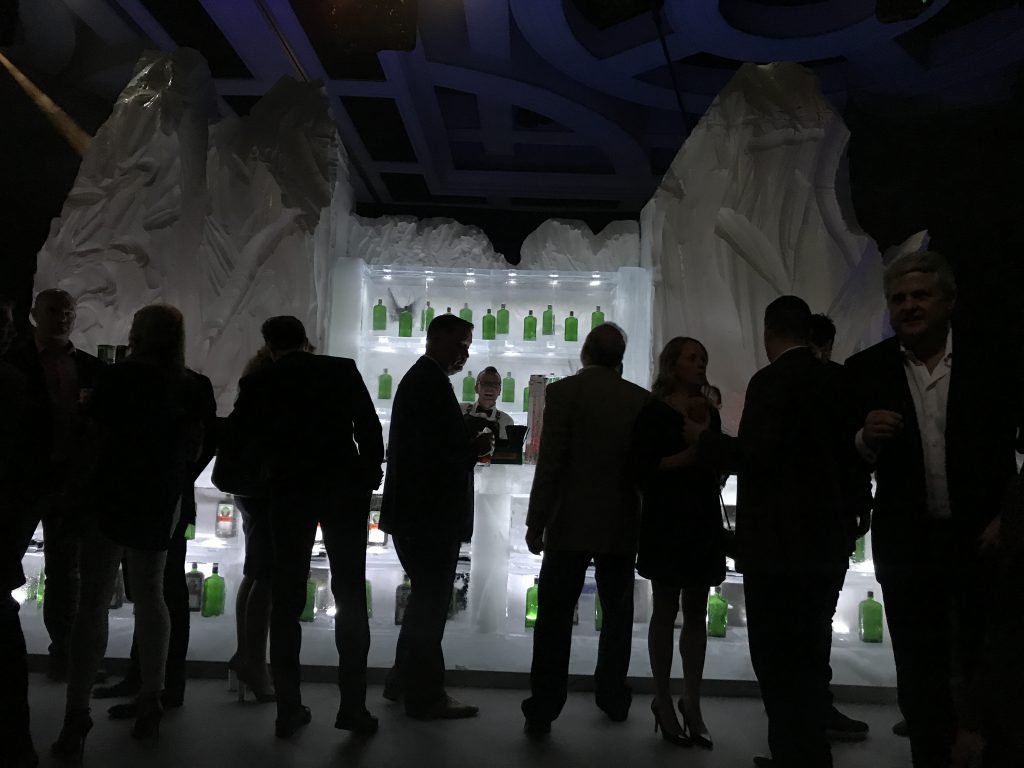 [/column] [/columns_row]
As I continue to explore, it now makes perfect sense to me how once upon a time, mysterious barrels containing bourbons, whiskeys and the like drifted down a river in hopes of bypassing rules and stringent laws by cleverly arriving by stream to a group of bootleggers ready to quench the infinite thirst of the public.  Alas, while the world of spirits is immense and vast, with new brands popping up all over the place, some of which aren't all that impressive, it seems there just may be a place for the innovative and unique spirits to find a place in your awaiting glass and that is promising.
The Takeaway
I love a good underdog story and love when industries are disrupted by innovation, and this past week I've seen a few brands doing exactly that. Much like the days of ole when distillers fought for their right to sell to the public, it seems we are in the midst of a new emergence. As the public demands better brands and more options, they're also finally waking up to the one fundamental thing I've been preaching for over a decade: they're demanding brands that tell a compelling story.
So while hundreds of distributors, restaurateurs and spirit advocates gathered and I sipped, explored and talked to spirit makers, marketing heads, brand strategists and hopeful drinkers, one thing is clear: there is a transition in the industry. The market is ready for refinement, change and a "new normal". While I may have only found a handful of brands I would personally love to see served at some of my favorite bars, restaurants and speakeasies across the nation, I was able to witness a few of them warrant an impressive selection of wholesalers and distributors ready to help them launch into the marketplace and that is something to celebrate.
Next up? The spirits that impressed me, the stories that created an emotional bond, mixology, brand battles and more …