Puttin' on the Ritz … in Orlando
Grande Lakes escapism.
photos ©Dawn Garcia
Orlando is a city often associated with one of the most well-known amusement parks in the world, Disney World, but turns out Orlando has more luxury to offer than may first appear. Among the many city offerings including some rather notable restaurants (K Restaurant, The Ravenous Pig, Azteca D'Oro, Norman's, etc), a revised new area (Winter Park), and a slew of hotels and activities, there is one hotel and resort that speaks to the desire for something more: The Ritz-Carlton in Grande Lakes.
Known by most travelers as a hotel synonymous with luxury, Ritz-Carlton Grande Lakes is a hotel and resort you'll want to book! With their insignia, that once seen, you have an understanding that prestige and elegance are ahead. Five nights at the Ritz-Carlton in Orlando proved to be something well worth its reputation. First and foremost, there will always be things at a hotel in need of some work and while the hospitality industry continues to rise to the occasion of valuing consumers more than they have in the recent past, it's a slow and steady process but one that is improving. The Ritz-Carlton Orlando is fixing up a few things, including their courtyard fountain, but the pool is perfectly ready as are the rich swamplands that surround the entire property. From a gorgeous golf course, to alligator spotting, fishing, to canoeing along the lake, there isn't a shortage of on site things to do, nor wildlife to see.
[columns_row width="third"] [column]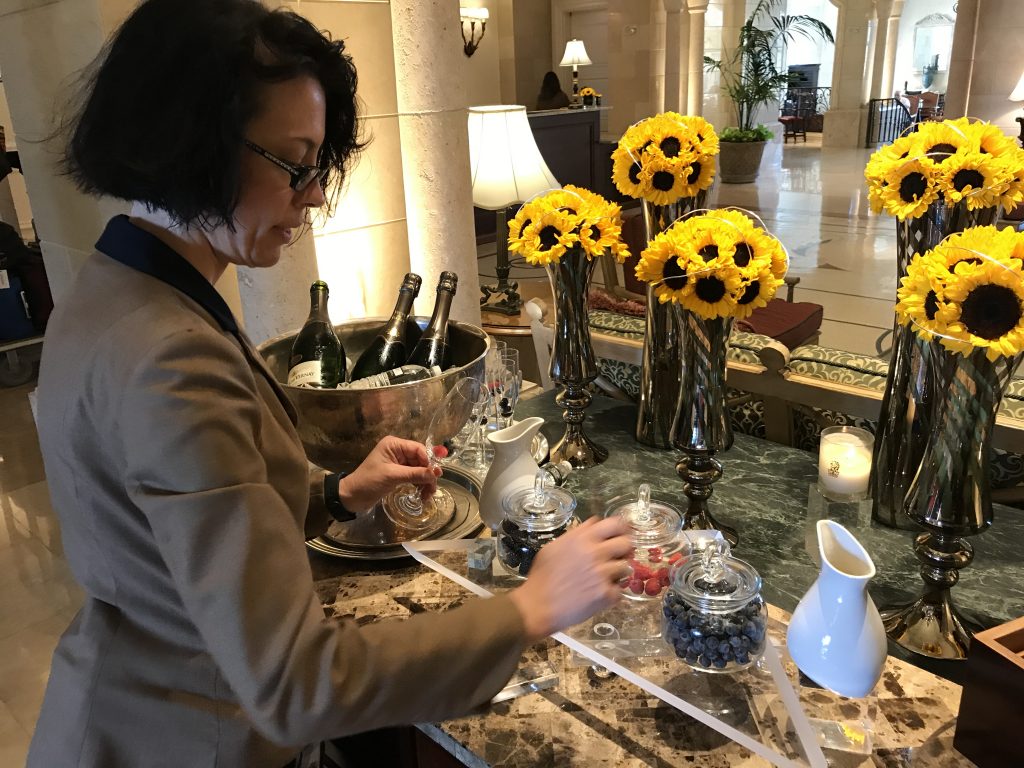 [/column] [column]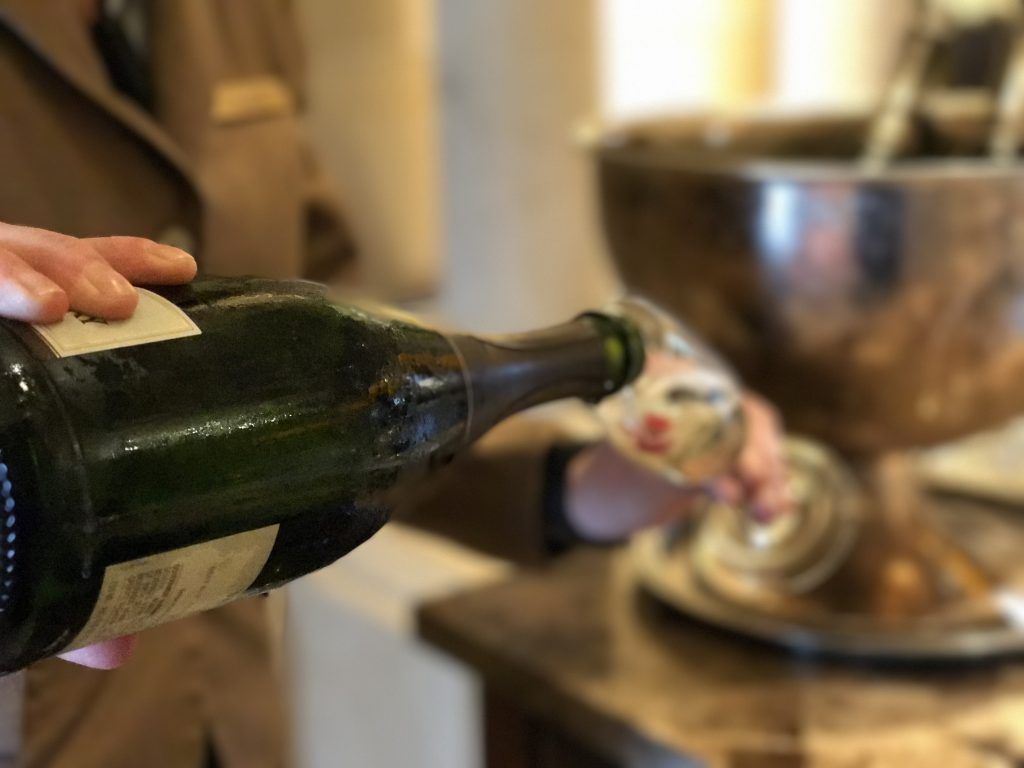 [/column] [column]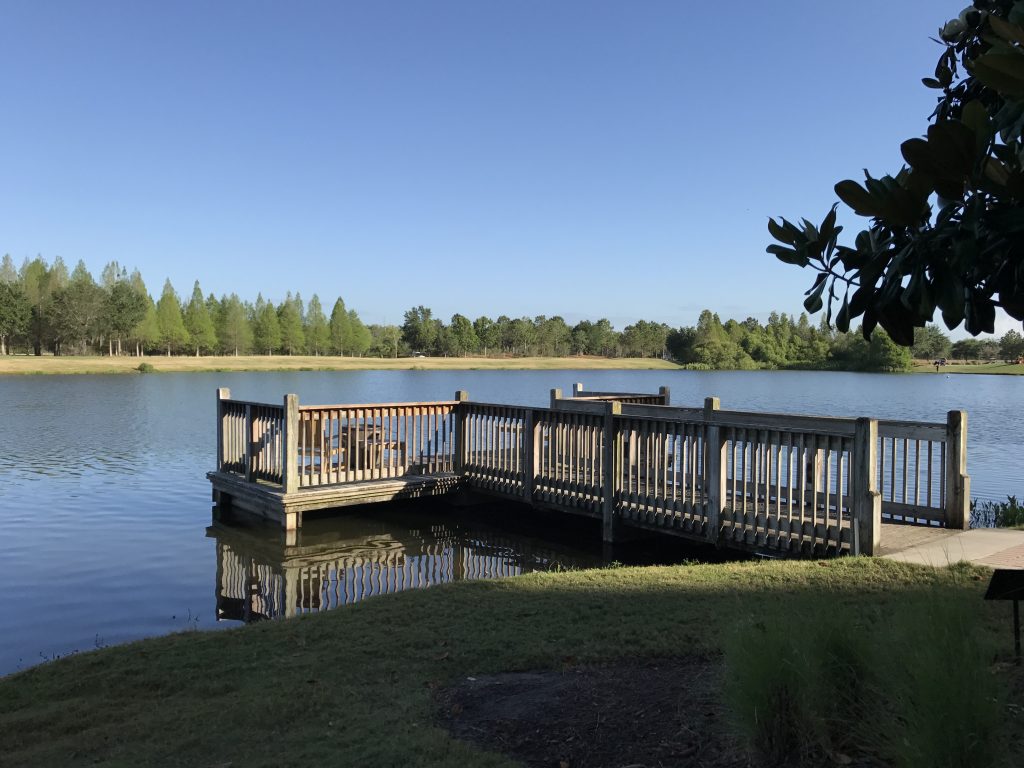 [/column] [/columns_row]
My stay began as I arrived on a Monday evening at the peak of spring. There to explore the latest in the world of wine and spirits, guests are greeted upon their welcome with a glass of bubbly. The check-in desk is to the right of the entry and behind the hotel personnel also happens to be fresh squeezed orange juice in the early morning. The staff is friendly and didn't hesitate to ask every guest if there is anything they need assistance with. Whatever the requests, they'll do their very best to accommodate you.
Situated on the eighth floor, I enter my room that is simply decorated with light shades that emit a sense of comfort and understated design. My room has a balcony that overlooks the golf course and the manmade lakes and lagoons on property. Further into my room is a beautiful bath tub, a large bathroom, and in the living space, a desk that will serve as my remote office. Exploring the property is much like exploring a small town. It's grandiose, has a plethora of options including relaxing at the spa, going for a run around the surrounding lakes and golf course, fishing, dining poolside, eating award winning cuisine, or enjoying a cocktail in the lounge.
4012 Central Florida Parkway | Orlando, FL 32837 United States
[separator type="thin"]
Time to RELAX!
Going to the spa at the Ritz Grande Lakes was something transformative. As soon as I arrived I was greeted by Stefanie and taken into the women's locker room where a designated locker was waiting for me with a beautiful welcome gift from the hotel (ice cold eye pack, candle, and a handwritten note).
My spa technician for the afternoon was Aisha. Not only was she sweet, she was an incredible masseuse, and the tone of her voice was so calming and patient while we transitioned through each treatment. She explained every service including the benefits of each. It was one of the best afternoons I've had in years. So, what should you try?
[columns_row width="half"] [column]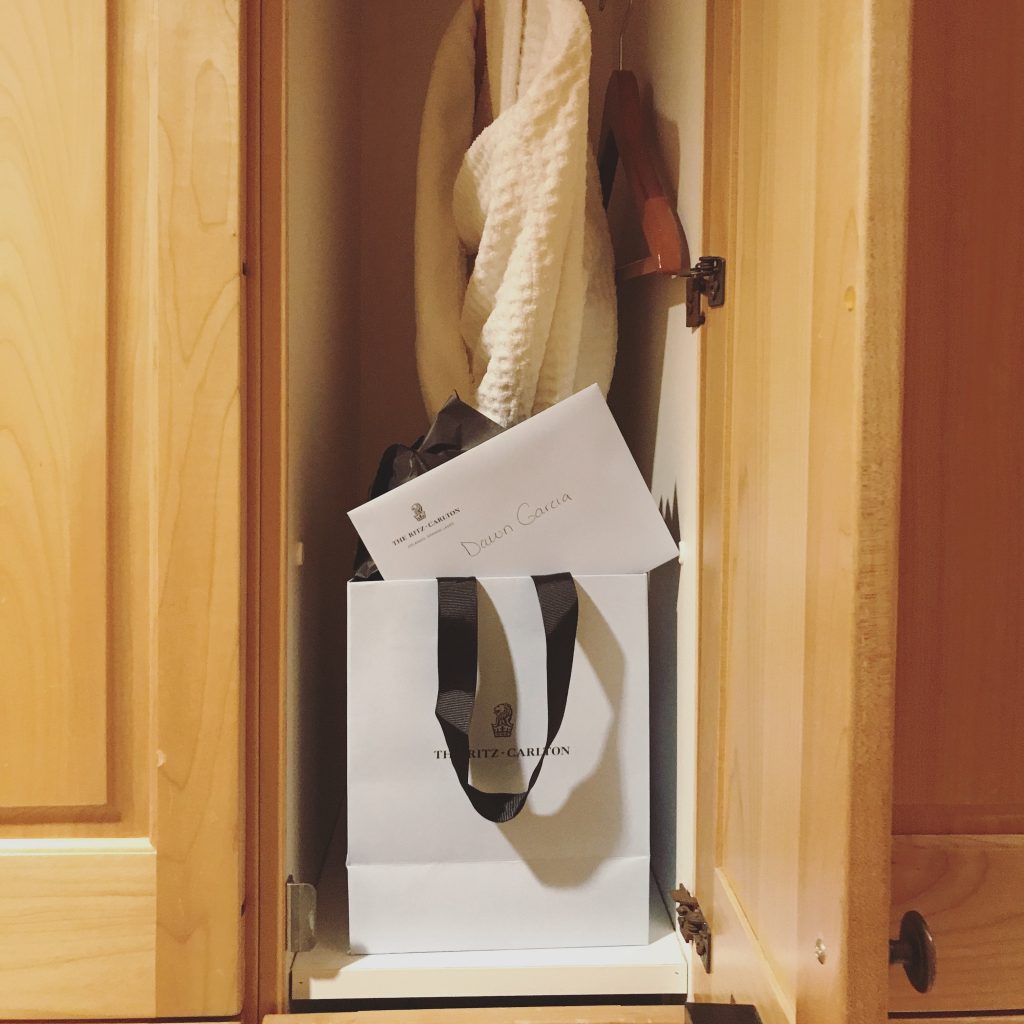 [/column] [column]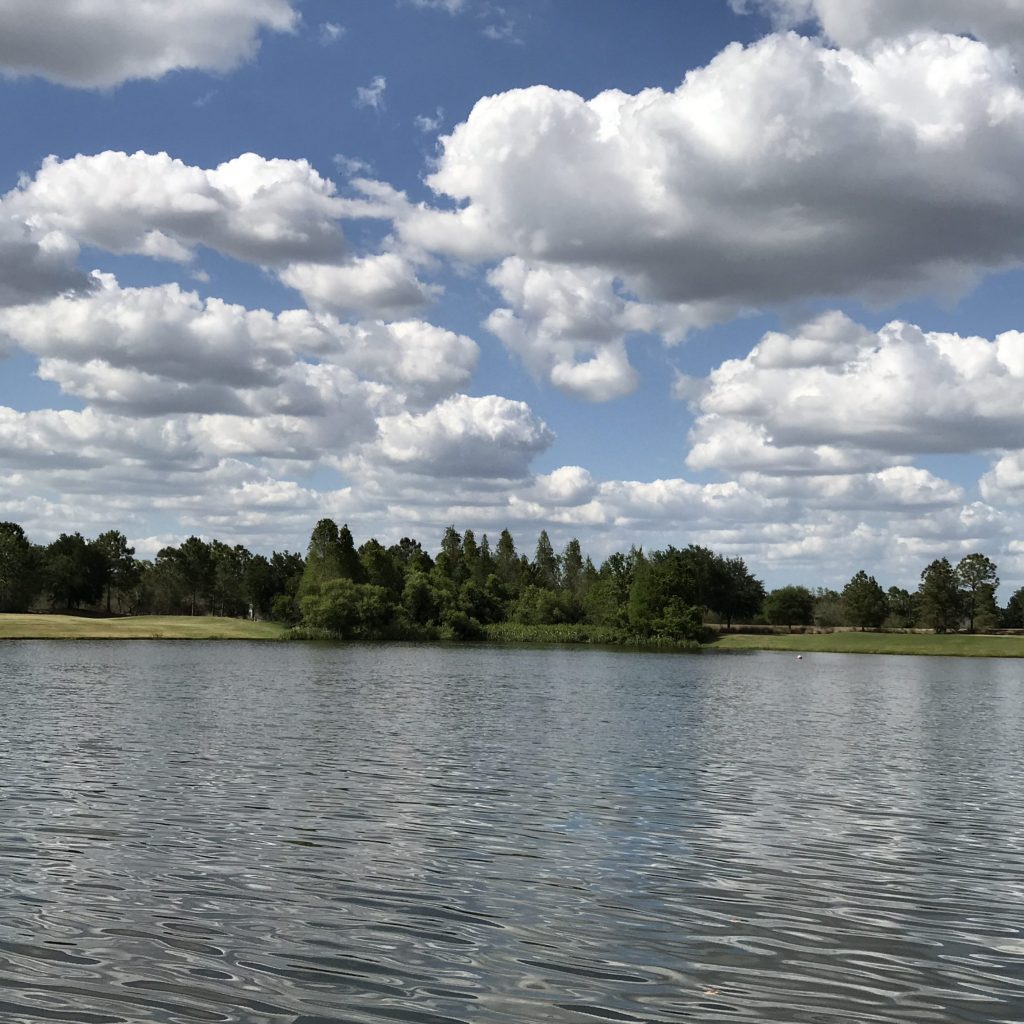 [/column] [/columns_row]
SPA TREATMENTS
[columns_row width="third"] [column]
Grande Citrus Escape
A full on body revitalization from a body scrub, to a citrus soak, to a massage that will rejuvenate every muscle in your body. This treatment is a three-step process that will melt away any stress you've been holding onto and it's easily a slice of heaven for any workaholic like me.[/column] [column]Moroccan Oil Scalp Massage
I'm a sucker for a good scalp massage. Something about the way it taps into every nerve center just sends you into a deep state of relaxation (plus its excellent for stimulating hair follicles!). This forced me to shut my mind off and actually breathe and mentally pause.[/column] [column]KNESKO NanoGold Repair Collagen Face Mask
A brand new mask, this luxurious gold mask feels like a drink on your skin and once its tiny particles of colloidal gold set in, you will feel like a new you, as an added bonus,  you'll look a few years younger.[/column] [/columns_row]
TIPS: Take advantage of the lounge with teas, dried fruits, and water, then find your way to the balcony overlooking the pool. There are lounge chairs and no one is ever there so its likely you'll have the terrace all to yourself! Grab your earbuds or a book, order a glass of champagne, and enjoy a little serenity.
[separator type="thin"]
Time to EAT!
While I didn't dine at the award winning Norman's, I did dine at Vitale, the spa café, and Highball & Harvest. The food options are good and while I enjoyed my morning green smoothie, I also really loved my lunch at Vitale and looked forward to having a glass of wine in the main lounge.
[columns_row width="third"] [column]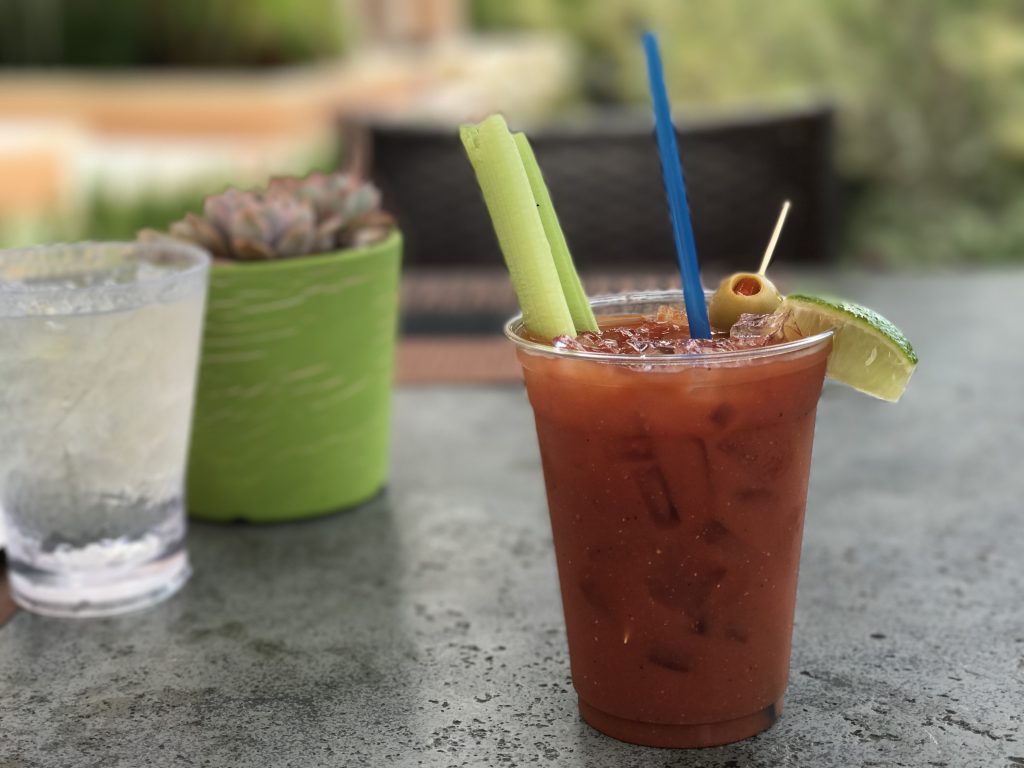 [/column] [column]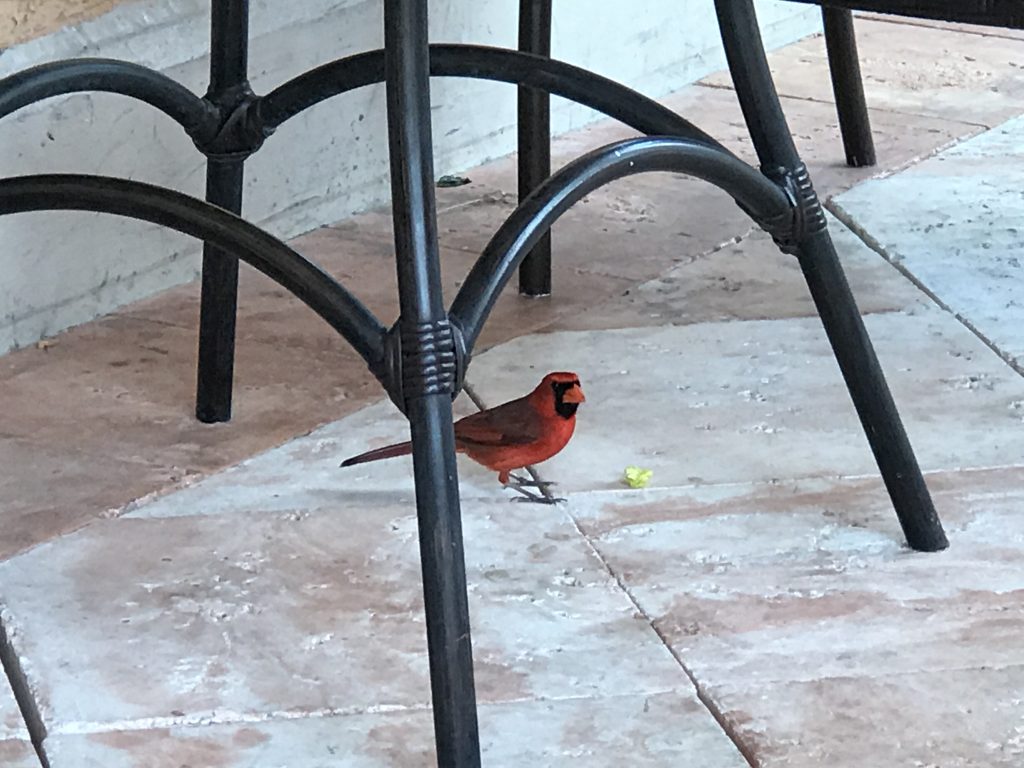 [/column] [column]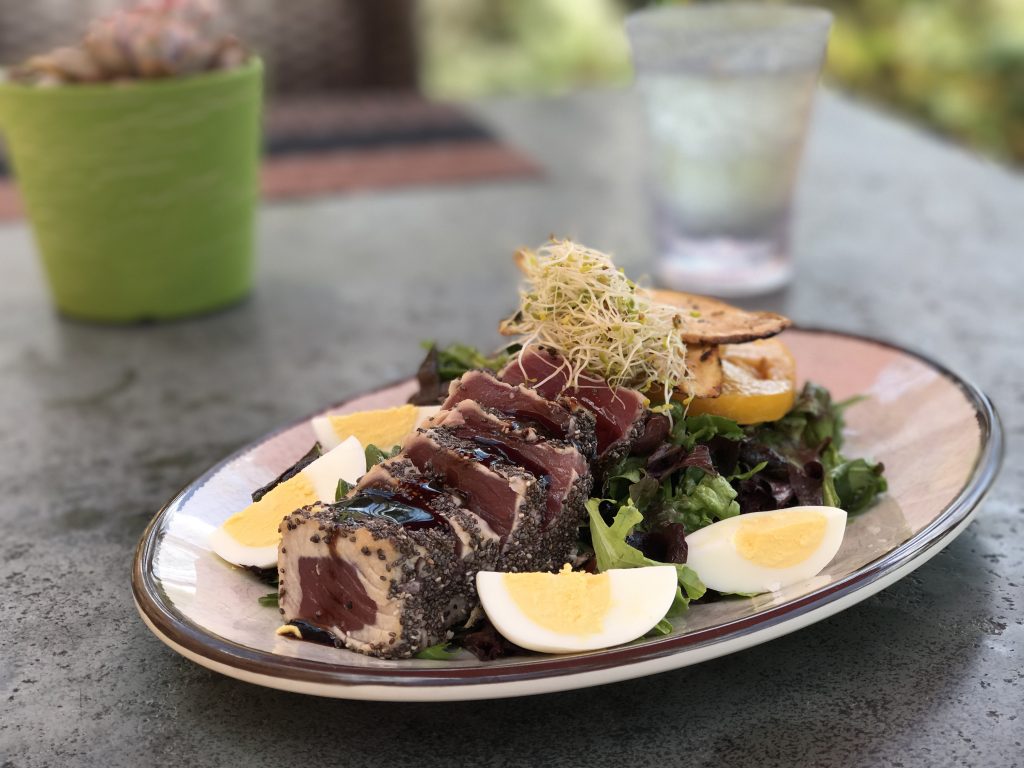 [/column] [/columns_row]
I will say that the staff, including the kitchen chef, were so incredibly nice and service was perfect. I suggest sitting outside, even when it's hot. If you're lucky, you'll be surrounded by beauty, including woodpeckers that have no hesitation in coming to say hello. It was magnificent! I ordered their Bloody Mary and the Ahi Tuna Niçoise salad. On an afternoon while the sun is shining, the Bloody Mary hits the spot! Its well dressed, perfectly balanced, and paired with the Ahi, it is light and awakening. Once the salad arrives, I'm at the peak of my relaxation after hours enjoying spa treatments so every bite is savored. The tuna is prepared sashimi style with poppy seeds and avocado, hints of citrus, and dressing on the salad overall is refreshing. A lovely and healthy way to round out the afternoon. I recommend ordering a glass of champagne and lounging at the spa's salt water pool that will ease you into a well deserved vacation.
The design and layout of the restaurant is understated chic with accents all around that I personally would have chosen were I to open my own restaurant. The thoughtful extras including the small mason jars with each servers names on it to keep track of the day's checks were one of the small details that won me over. (Such a clever way to stay organized!) The décor of the restaurant is warm, welcoming, and certainly something that keeps a conversation going. There is a unique mix of rustic, modern, and industrial which lends to the inviting atmosphere. The menu is one that alternates based on seasons and availability of ingredients, and while not everything was as good as I'd want it to be, the cocktail program is fantastic, their breakfast is delicious, and the local grouper is one you HAVE to try.
[columns_row width="third"] [column]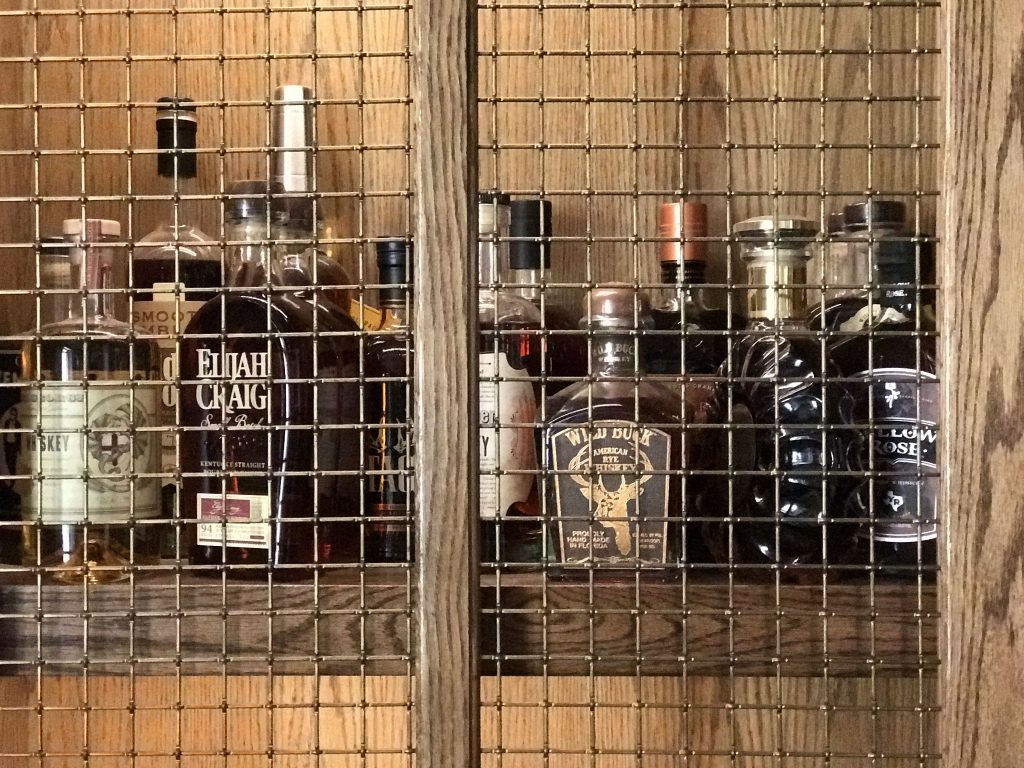 [/column] [column]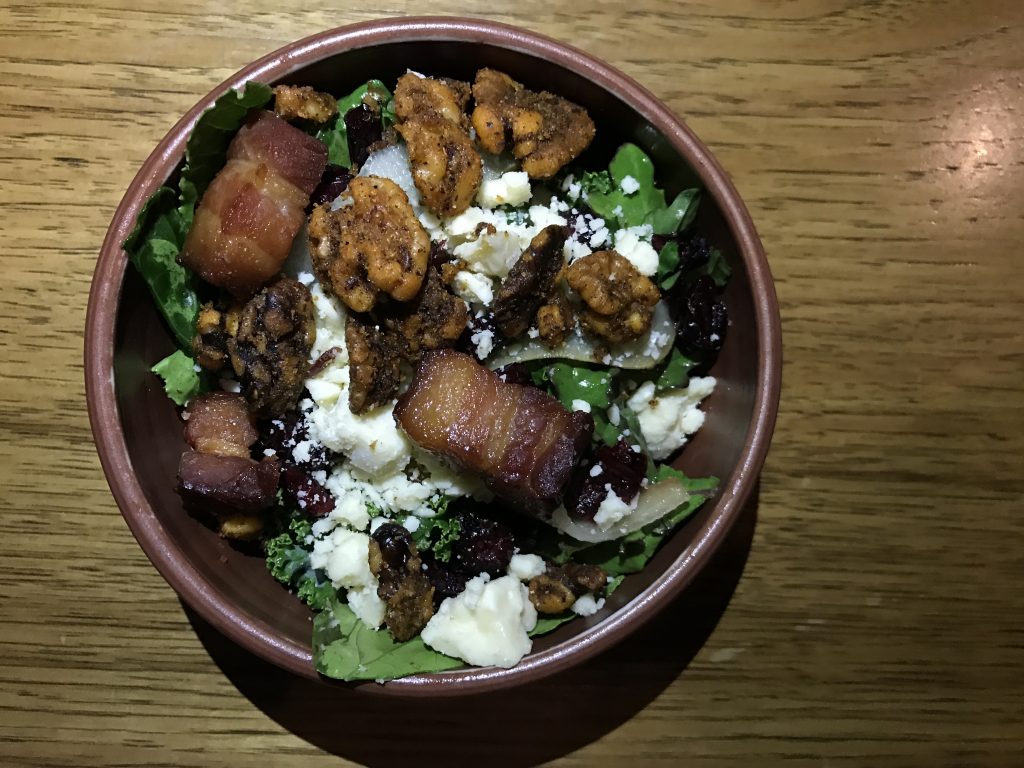 [/column] [column]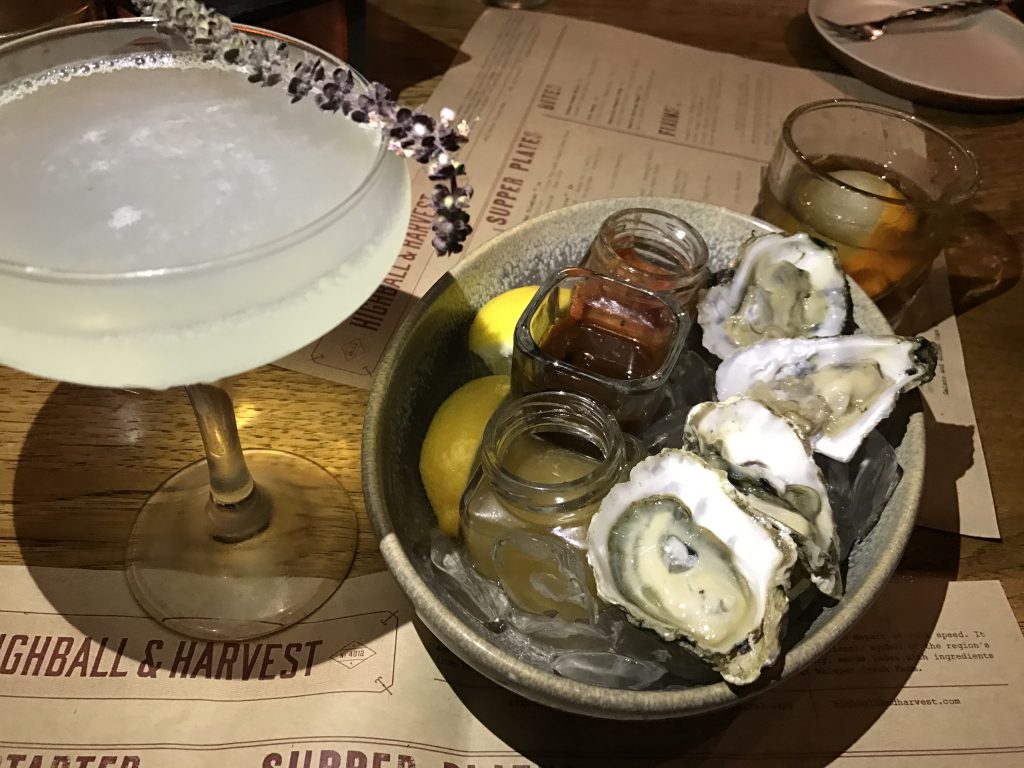 [/column] [/columns_row]
Freshly shucked oysters | 2 of each
Kale Salad | Dried Cranberry / Cider Vinaigrette / Shaved Pear Spiced Walnuts / House Bacon / FL Cheddar. This was a tasty salad with the right blend of sweet and savory, the cheddar and vinaigrette dressed up the kale well.
FL Grouper | Tokyo Turnips / Citrus Braised Black Eyed Peas. You HAVE to have grouper while it's available in Orlando. Available for only a short while, it really is one tasty fish that has a buttery meat and a rather smooth texture. They prepare it beautifully and simply.
Wild Boar Ribs | I had the local ribs which on this evening was wild boar. While this wasn't my favorite, I can appreciate the approach. The meat on the dish that I had was dry, as was the accompanying sausage. Both were overcooked and under seasoned so I didn't get the wow factor I was hoping for.
[columns_row width="third"] [column]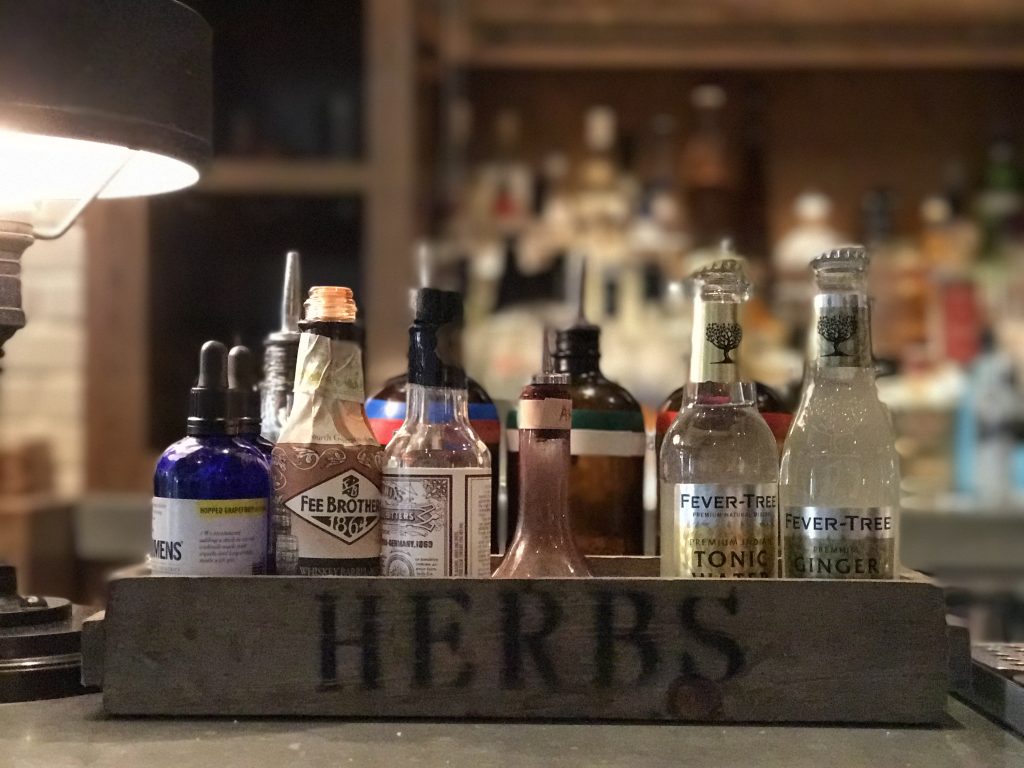 [/column] [column]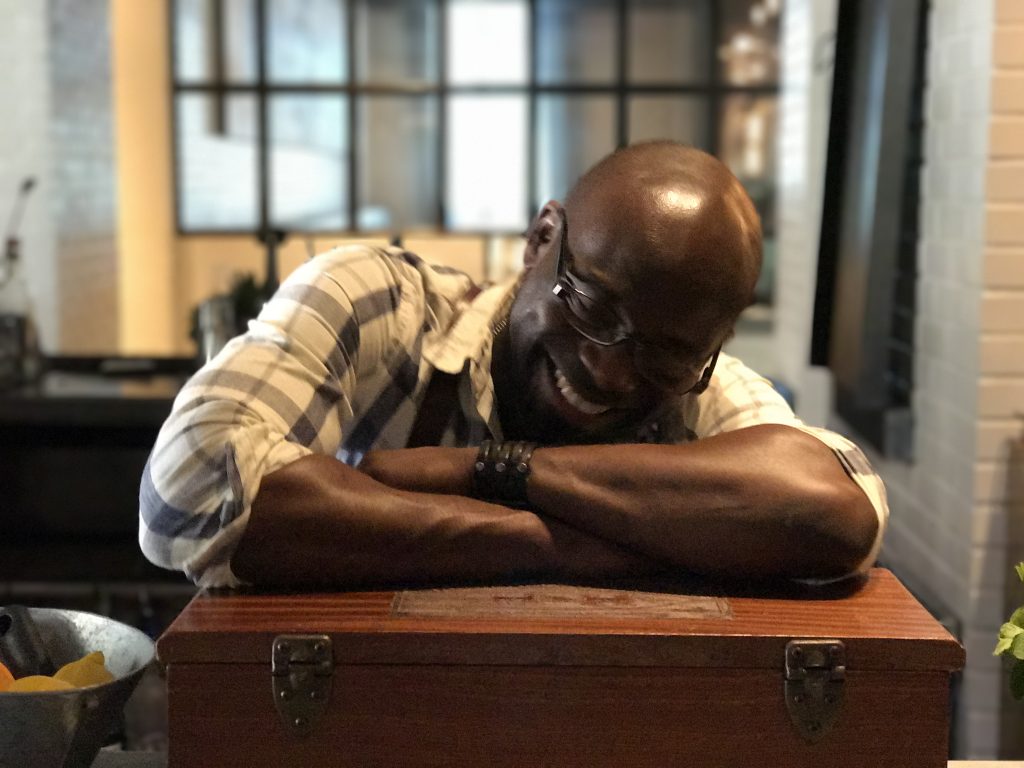 [/column] [column]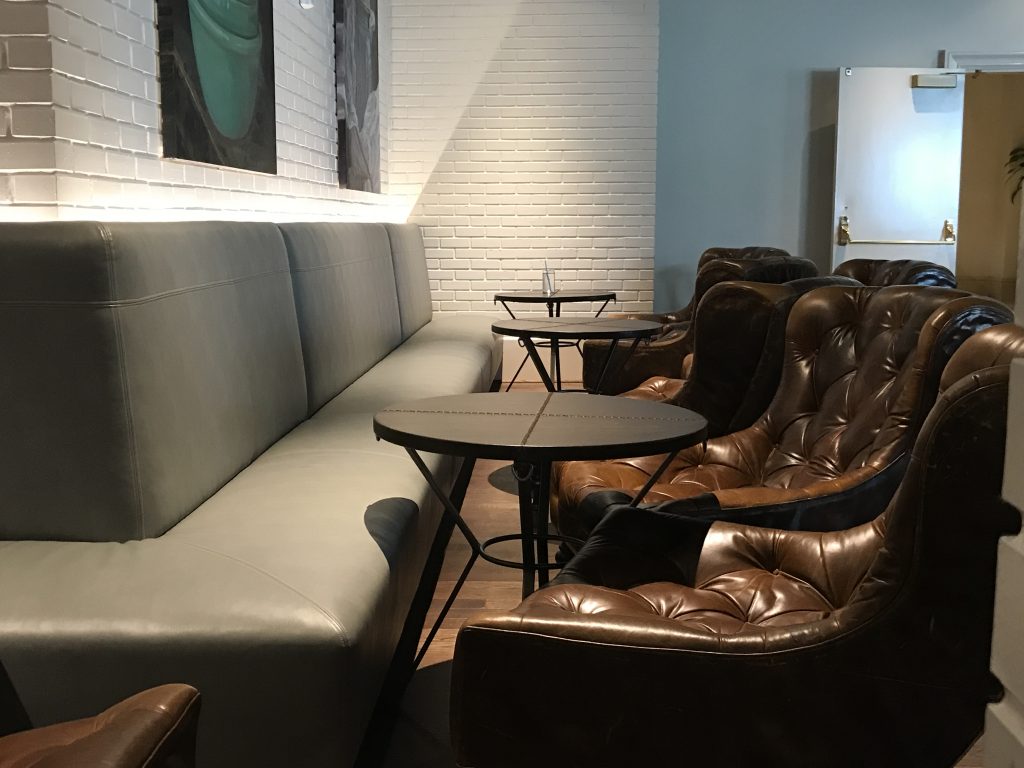 [/column] [/columns_row]
With a healthy selection of wine, beer, and in-house cocktails, there are quite a lot of options. Overall, it was Kevin, the bartender, that really lit the space up. Everytime you see him, he has a smile on his face, willing to help every customer that walks in, and while the rest of the staff was nice, he was the one that really gave each person attention and the utmost service. I'd say he's the real gem of the place.
TIP: Definitely come in for afternoon cocktails and enjoy their bar menu.
[columns_row width="third"] [column]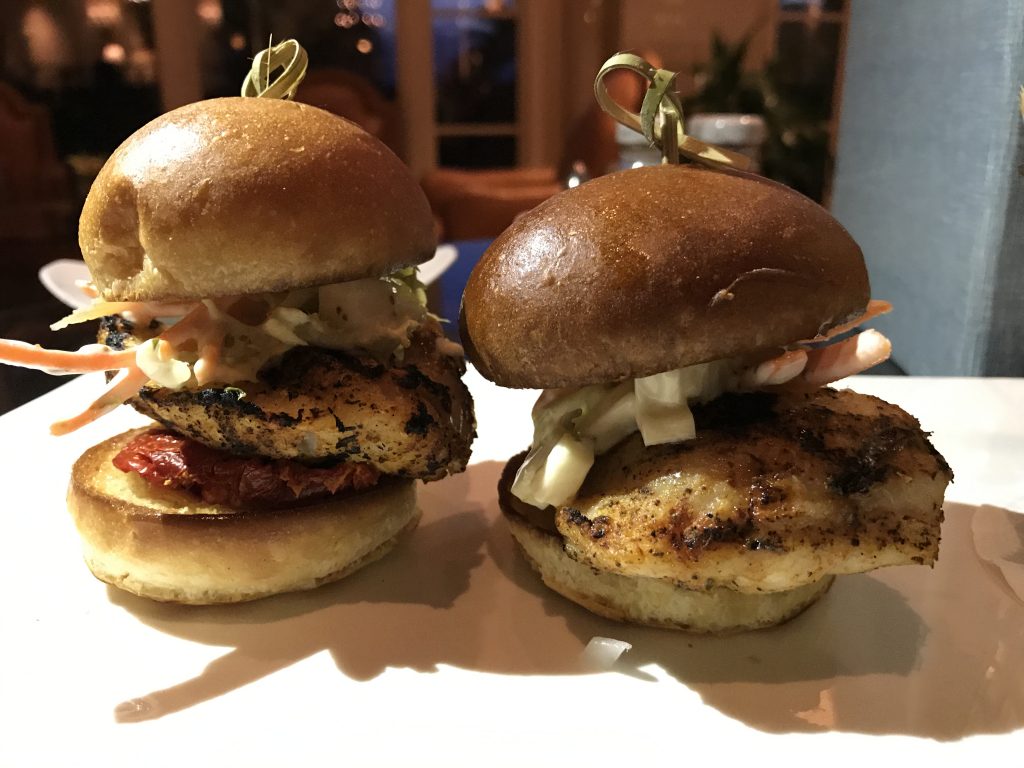 [/column] [column]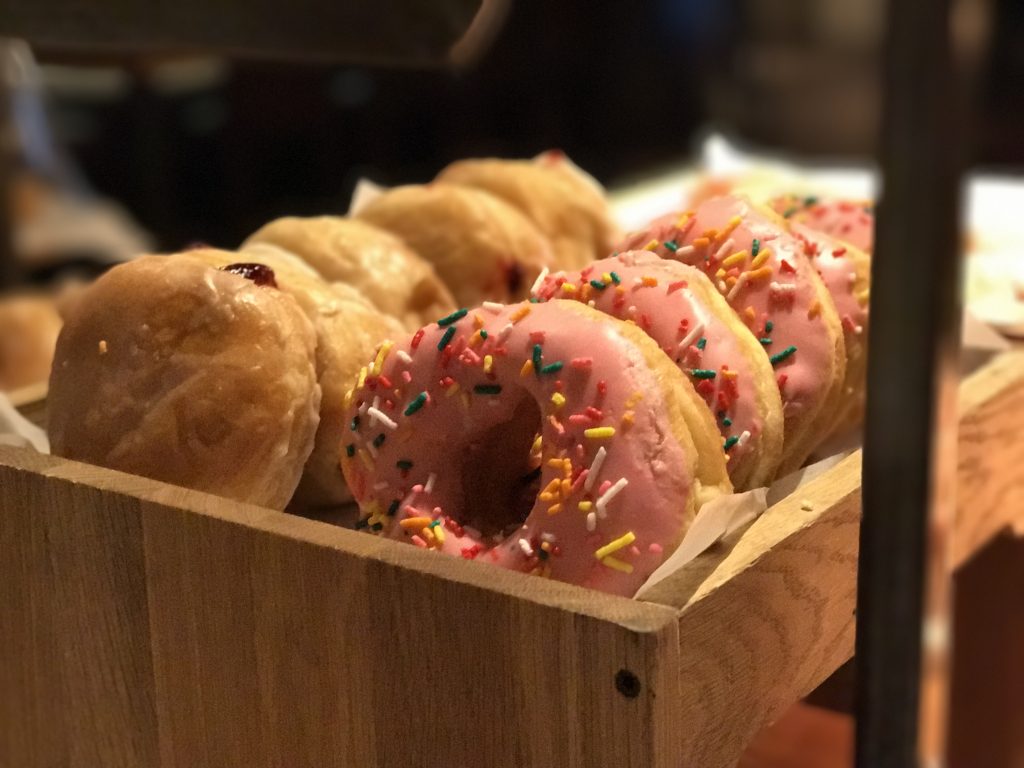 [/column] [column]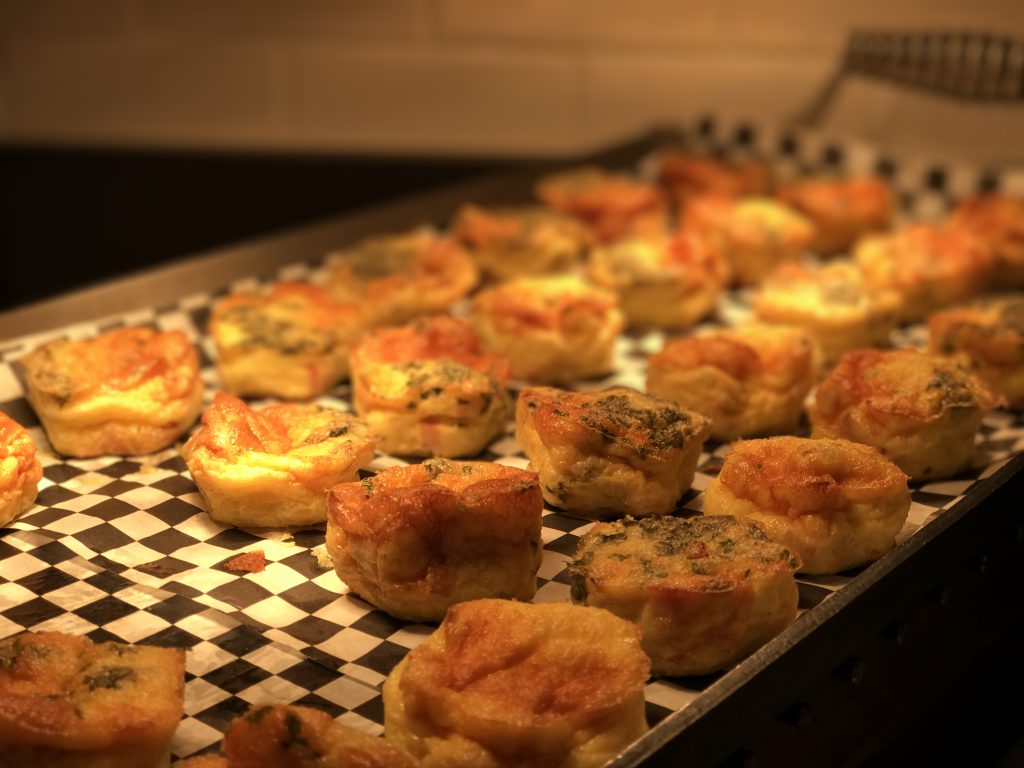 [/column] [/columns_row] [separator type="thin"]
Time for ADVENTURE!
At the Ritz Grande Lakes, not only is there an abundance of options for families staying here (paddle boats, fun activities including visiting the local farm, and more with the Ritz Kids program) there are also a LOT of choices for the grown ups. For the novice golfer, they happen to have one beautiful 18-hole golf course … a few steps away from your hotel room. There is also kayaking, eco-tours, tennis, bocce ball, fishing AND adventure fishing (I highly recommend this).
[columns_row width="third"] [column]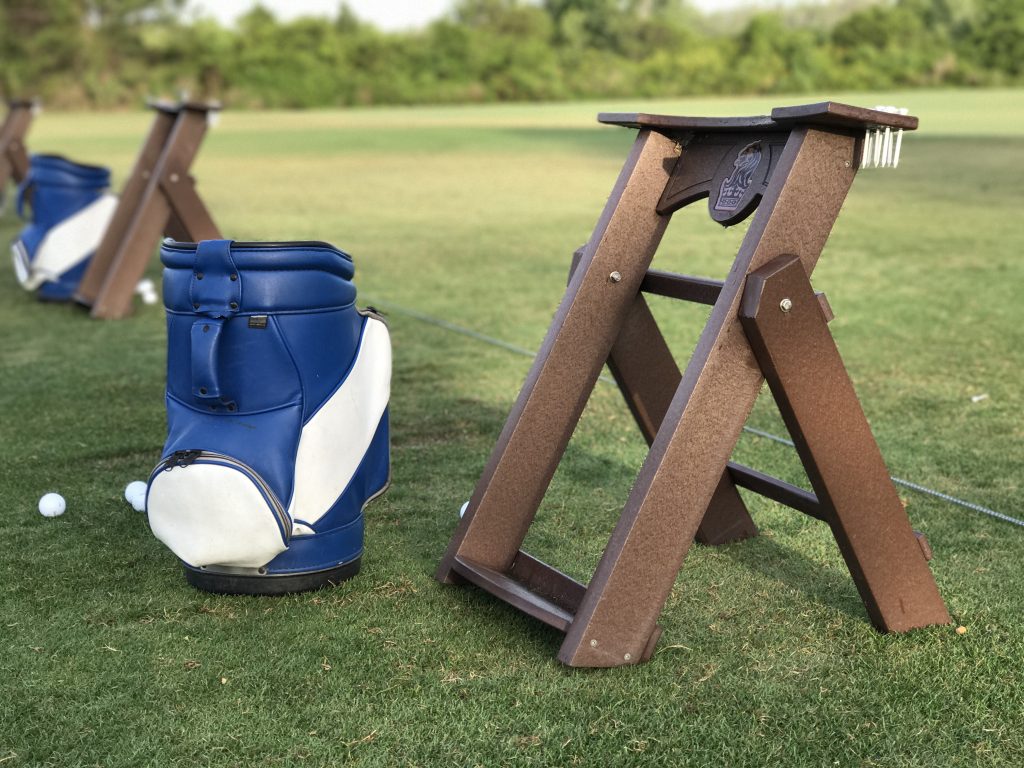 [/column] [column]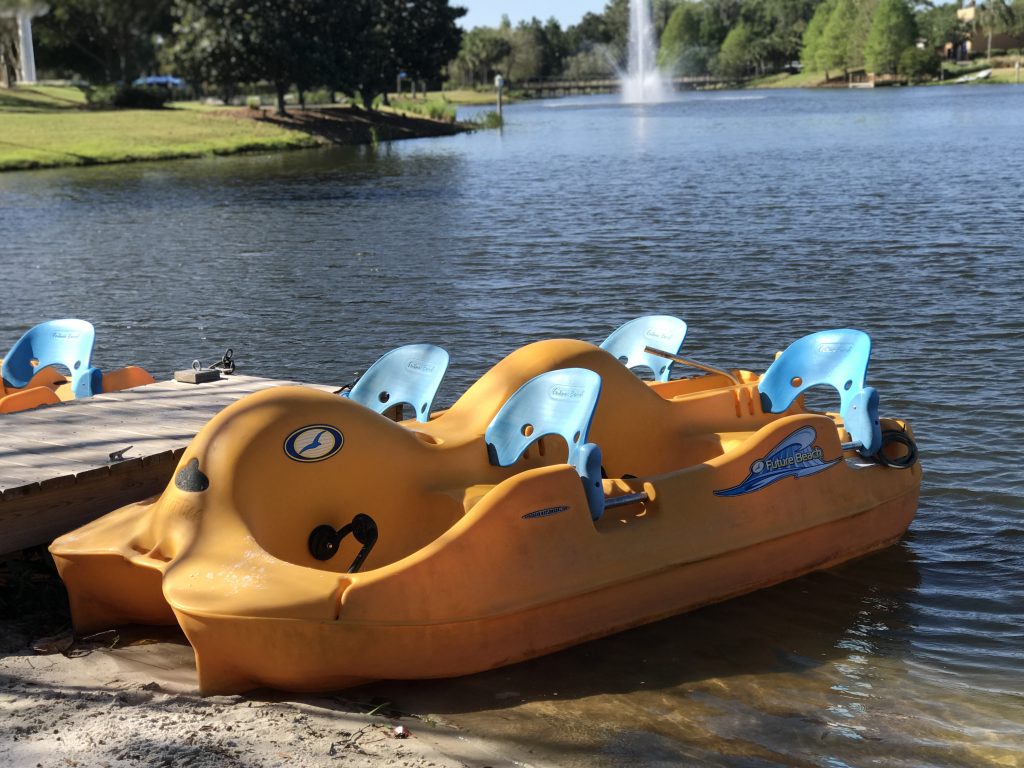 [/column] [column]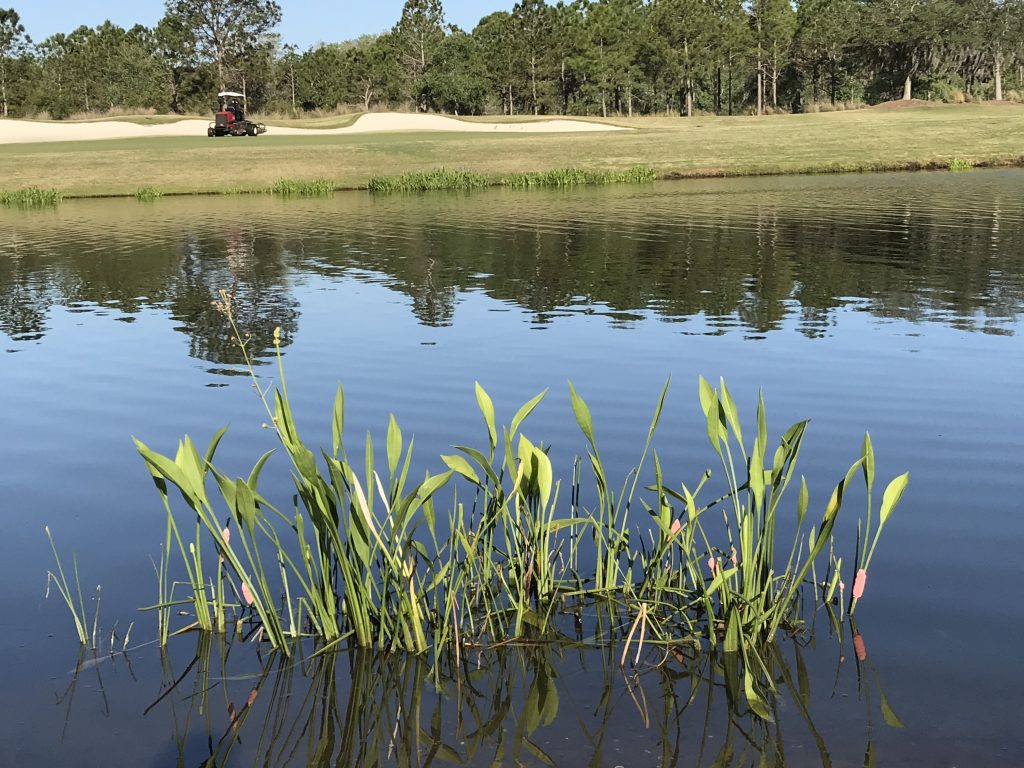 [/column] [/columns_row]
I had the great pleasure of going fishing with the Ritz's very own, Captain Mark Benson. Captain Mark can best be described as the most informative, likable, easy going, patient man on site. We met early in the morning and since this was my first time lake fishing, I was ready to listen to instruction and then see what I was capable of. Mark and I had such a blast! We talked for hours, drove the golf cart around the property, learning about the gorgeous eco-conscious lagoons, saw a few alligators, some beautiful bird species, even came upon a foraging family of deer. We fished in several spots and patiently waited for Largemouth bass to bite. Thankfully, Mark's knowledge of the area proved to be invaluable. As our morning and fishing time almost came to an end, we still hadn't conjured up the mass amounts of caught fish I was hoping for. In fact, we hadn't gotten a single bite. The fish were playing coy! He was determined as was I. Casting my line once again, I almost reached the marsh but instinctively placed my finger on the line and it stopped in the exact right place (this was a miracle). How do I know? Because less than thirty seconds after casting the line, a Largemouth bass bit! I must have hollered out so loud, the golfers heard me over the sound of the club hitting the ball! I was elated and with Mark telling me how to reel it in, I managed to bring that bass in all by myself! I was proud. Mark was too. While it was only a three foot catch, to me it felt like I caught the biggest fish there ever was. This was by far my favorite part of my stay here at Grande Lakes. So much so, I'm officially a girl who has a newfound passion for fishing!
[columns_row width="half"] [column]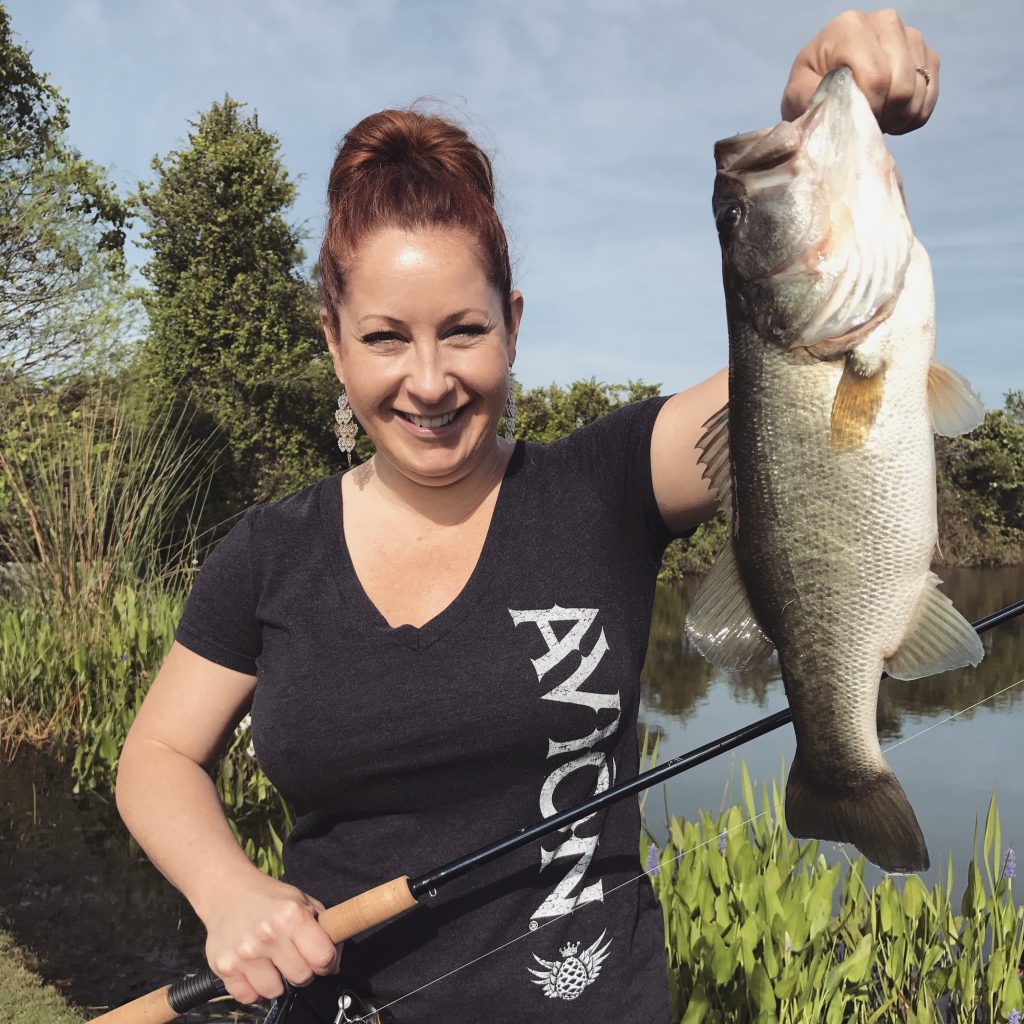 [/column] [column]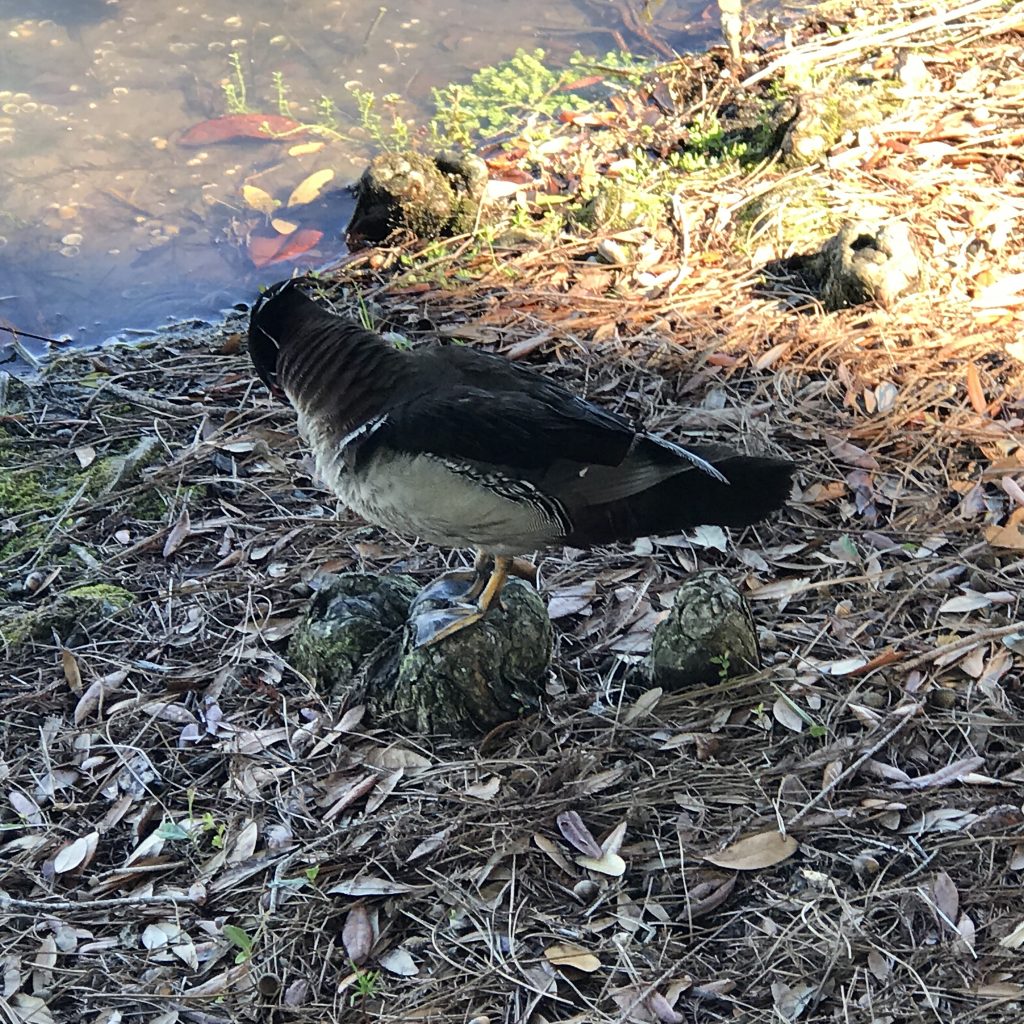 [/column] [/columns_row]
If I had any criticism about the property itself, its one that extends to all hotels and the hospitality industry on the whole: I don't believe they should charge hotel guests for wi-fi. At an average $14 a day (more for increased speed), I hope that they, and all other hotel properties, realize the value of offering something so essential in today's world at no additional cost to the guests. I believe resort fees (and wifi) should be factored into the room rate if need be. Somehow seeing all those additional charges makes a consumer feel nickel and dimed. A simple inclusion could really make a guest feel valued.
That said, the Ritz-Carlton Orlando Grande Lakes is a beautiful property and a wonderful place to call home while you're on vacation, here for a conference or just need a place to escape for a while. I already miss my mornings on the property where I would grab a coffee and walk out to the dock and just sit and enjoy the sounds of nature. It as my refuge for an hour every day …
Thank you to all of the staff and management at the Ritz-Carlton Orlando Grande Lakes for making my five days there a truly memorable escape.