Eating My Way Through Hamburg
Come Hungry
photos by Dawn Garcia
[dropcap letter="T"]raveling abroad and harnessing your hunger by delving deep into the local cuisine is the best way to really get to know a city. So when the time came for travel to Hamburg? Michelin stars, seaside fare, and lakeside dining called my name. While we
explored the many gems
of the city's architecture, design and art, hunger beckoned …
and happily so
.
Hamburg is yet another German city with a wealth of award wining cuisine. In other words, dining here is quite a treat. With a population of 1.75 million, it's an understatement to say Hamburg has hundreds of cafes, bars and eateries. You can't walk too far without stumbling upon some award winning cuisine or posh hidden restaurant. It's impressive how many choices you have here. The restaurants themselves are traditionally gorgeous without exception but on this part of my journey through Germany, two places in particular really stood out: Carl's Brasserie Elbphilharmonie and Restaurant Trüffelschwein.
[columns_row width="half"] [column]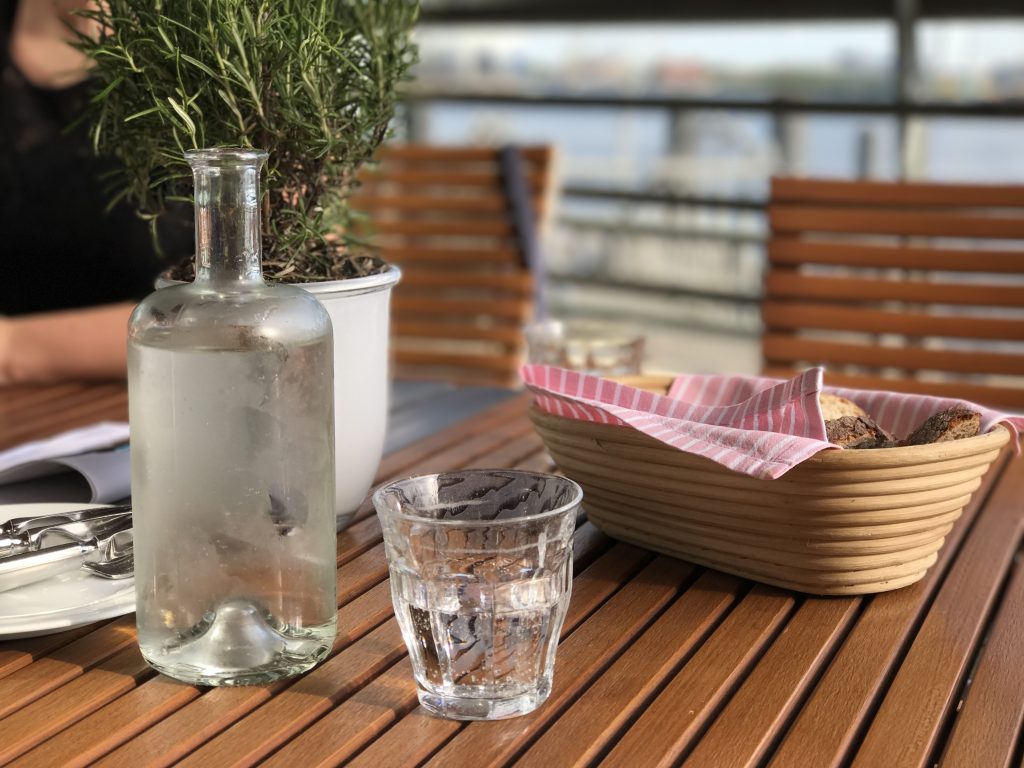 [/column] [column]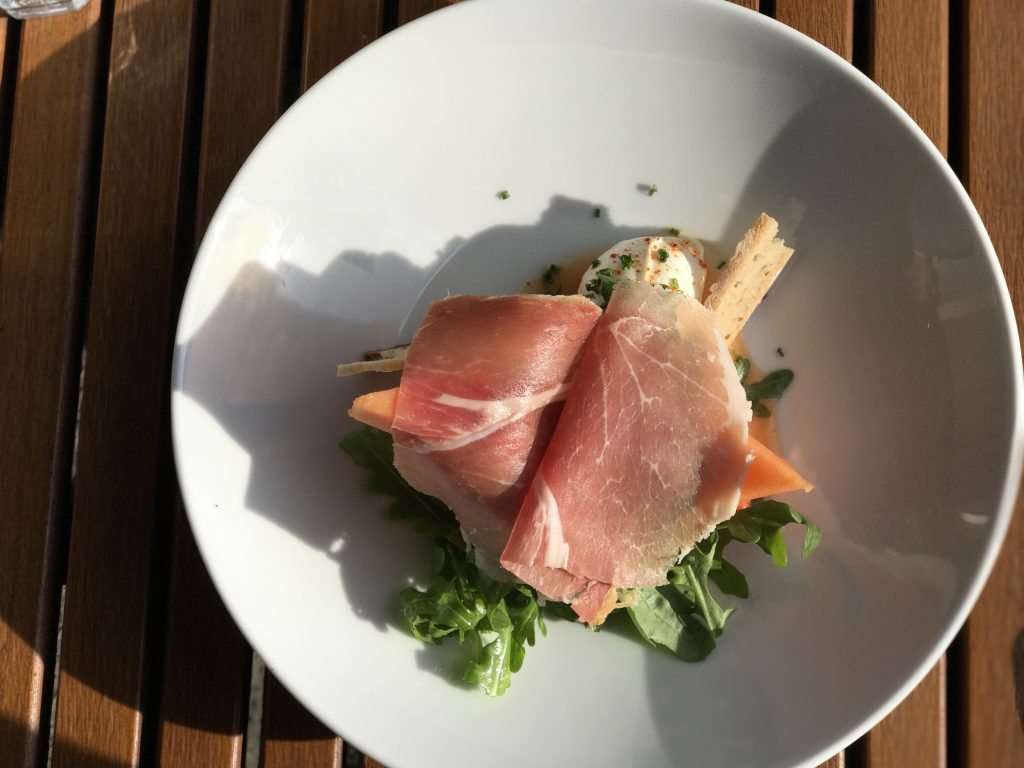 [/column] [/columns_row]
On the eve of attending the philharmonic, we dined across the way at Carl's Brasserie. Carl's an de Elbphilharmonie is an extension of the glorious Hotel Louis C. Jacob and has three dining options from the bar, brasserie to the bistro. Each has their own unique take and décor with an open layout, rich colors of reds and light woods, and the ambiance is one of elegance without pretension.
A dinner of light French cuisine, fresh ingredients, beautiful views and wonderful service ensued. With a steamboat departing the dock just as we sat down, the visuals were cinematic-worthy and made the dishes created by Chef de Cuisine, Michel Rinkert picturesque against the backdrop of the water and the Elbphilharmonie exterior. The table is set with fresh bottles of cold water, bread, butter, and a view that will endear you. Not only are you facing the true heart of the city on the waterfront but you're also facing some of the most breathtaking architecture around. There is something rejuevanting about sitting outside on the water while you dine and Carl's has that down pact.
The meal began with a prosciutto and melon starter, some freshly poured Riesling. My favorite however was the vegetarian ravioli with pine nuts, tomato and arugula made to order. With fresh strawberries accompanying the dessert, the finish was strong and the ideal introduction into an evening of music that won't soon be forgotten.
TIP: Check out Hotel Louis C. Jacob's 2 Michelin Star Restaurant.
[columns_row width="half"] [column]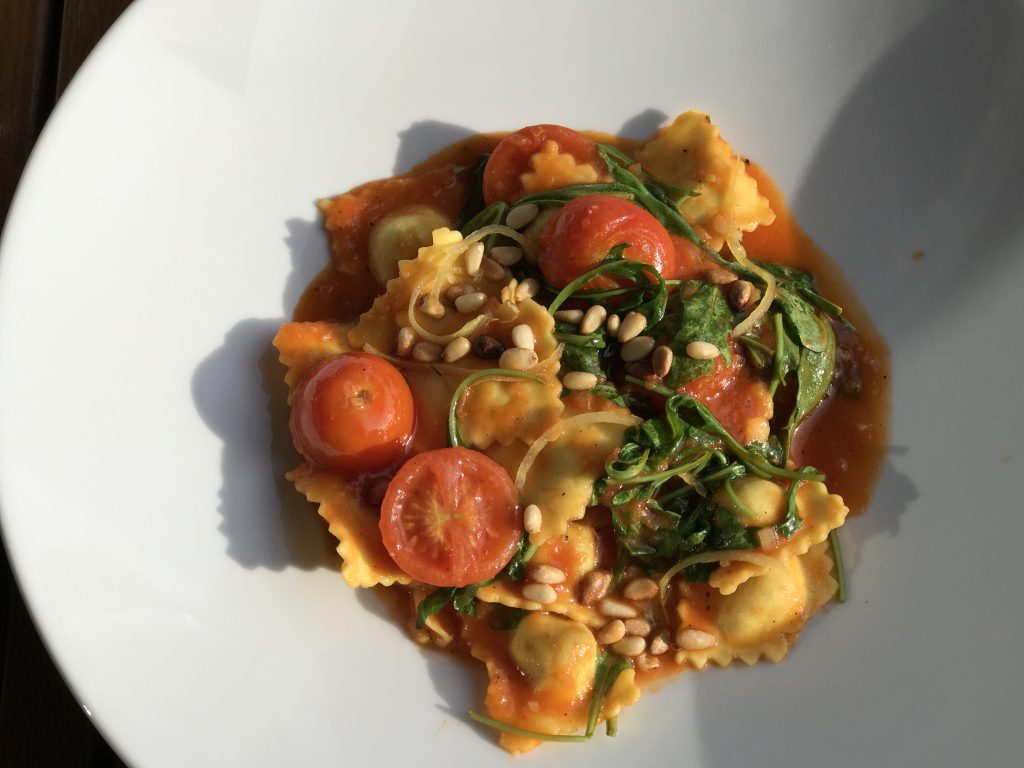 [/column] [column]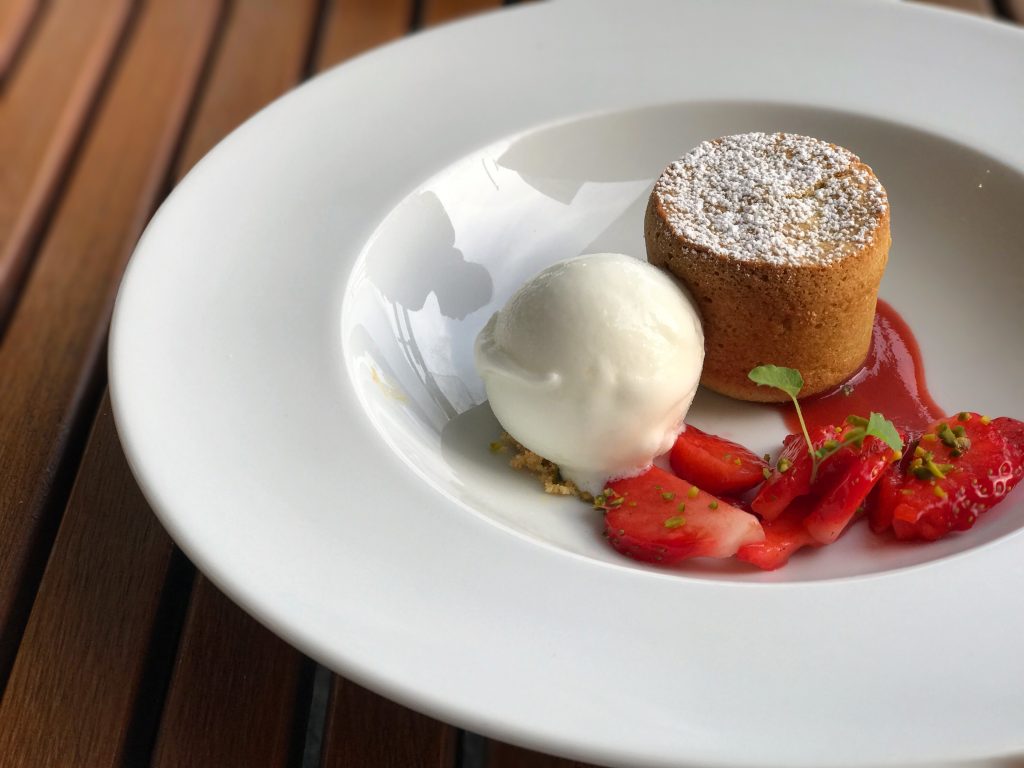 [/column] [/columns_row]
The following evening we were treated to an exceptional dining experience at the Michelin Star,Restaurant Trüffelschwein under the attentive and creative direction of Chef Kirill Kinfelt himself. First it must be said that Chef Kinfelt is a true embodiment of "love of craft" in the world of cuisine. With absolutely no ego, he brings the dishes out to each table, monitoring the presentation, making certain every guest is happy and is genuinely interested! Young and ambitious, each dish is crafted with an artistry that defines Michelin worthiness. Careful precision is given to each creation, whether it be a bowl of curry popcorn or beetroot.
[columns_row width="half"] [column]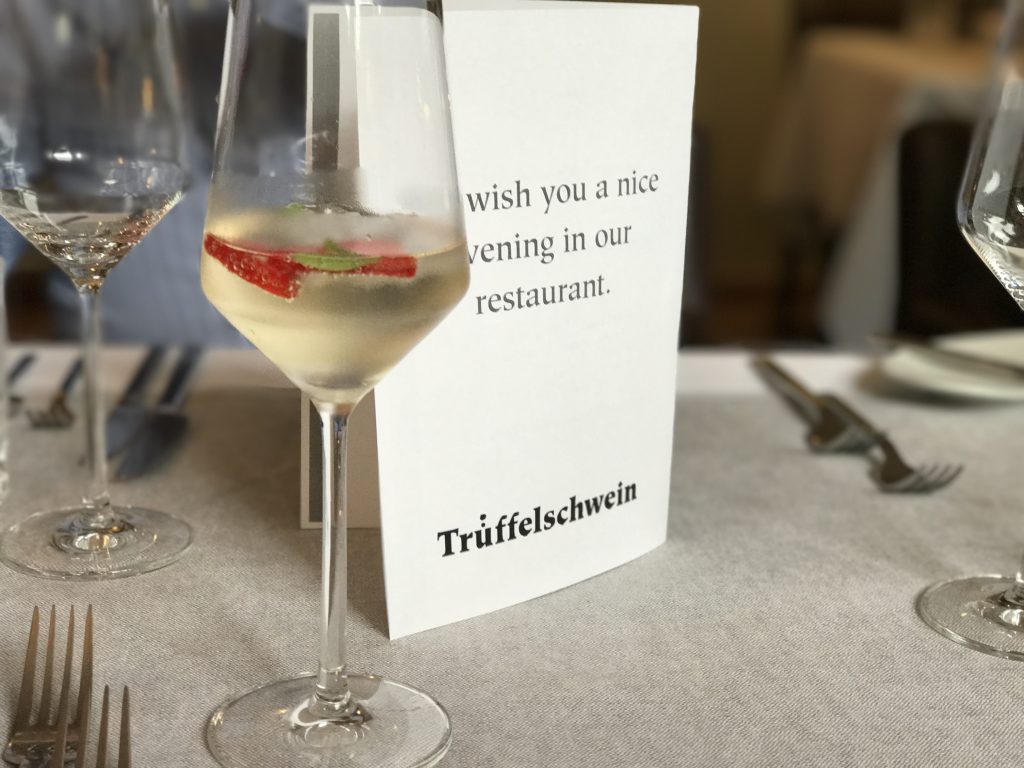 [/column] [column]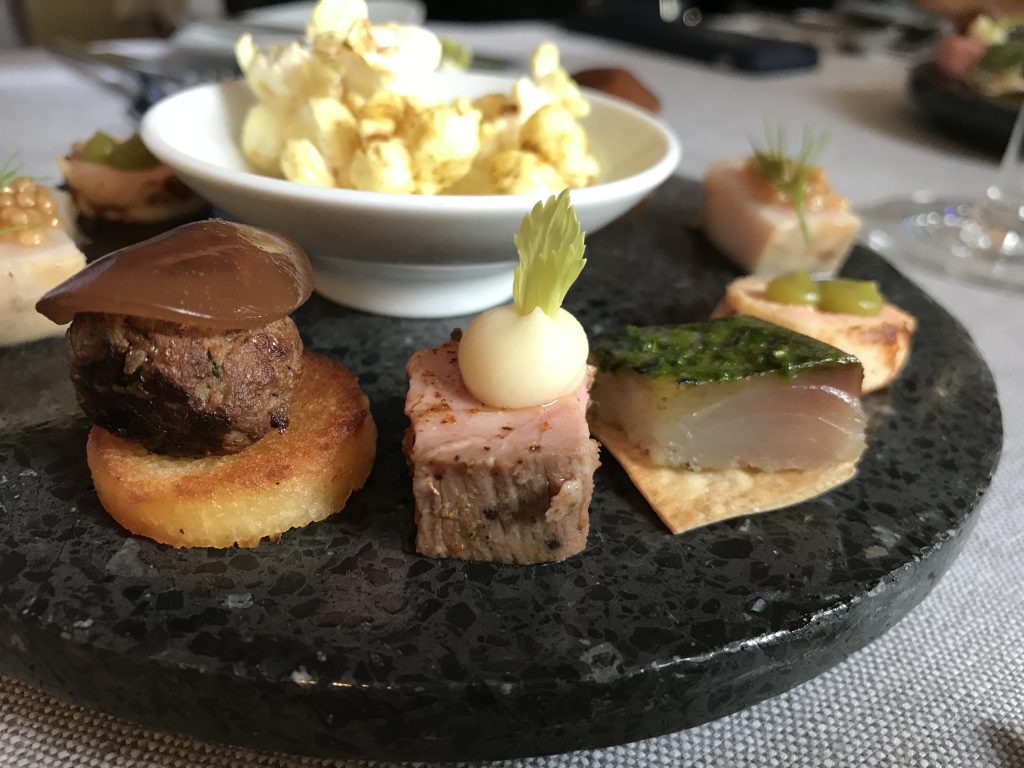 [/column] [/columns_row]
The evening began with a glass of the Terra Serena Prosecco cocktail with strawberry and woodruff and sampler of  palatable bites. From mackerel sous vied served on a seasoned crisp, carp with salmon roe, curry popcorn, mini meatball with gilet and potato. Every bite is distinctive and well-rounded. Soon, Chef came out to say hello while he and the hostess served asparagus with wasabi and turnips. Chef Kinfelt is a culinary master whose command of ingredients is more of a love story unraveling one bite at a time. With a passion for unique flavor combinations, textures that create a pool of vibrant surprise, it is the architecture of the dishes themselves that give it the edge worthy of a Michelin star.
[columns_row width="half"] [column]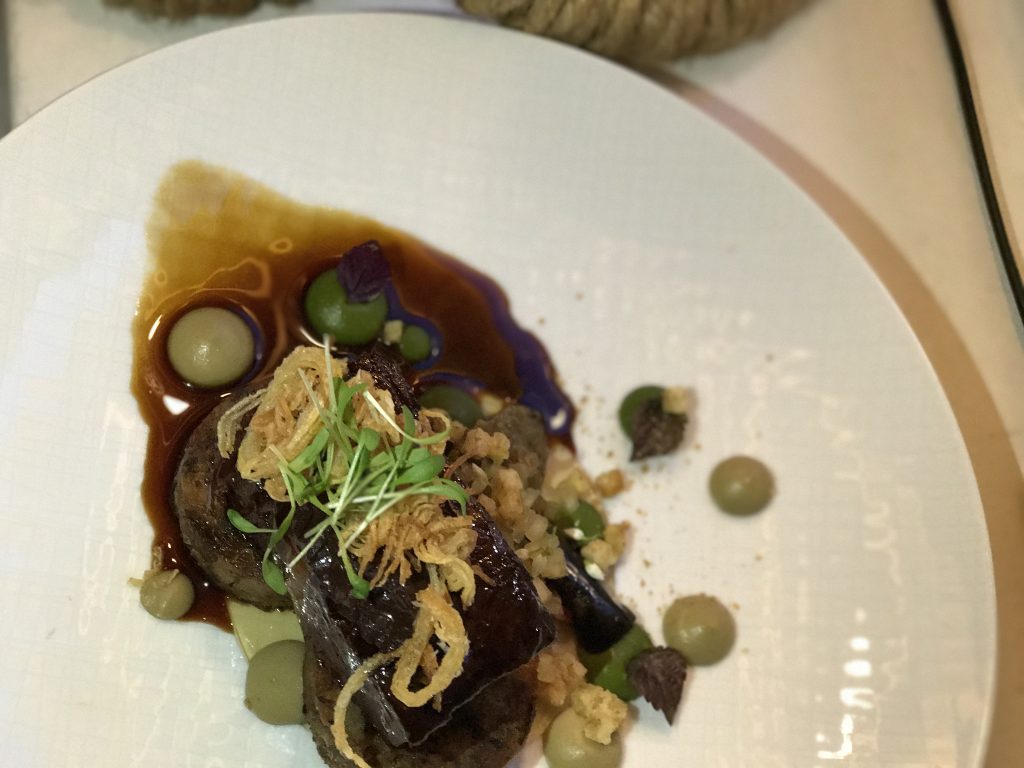 [/column] [column]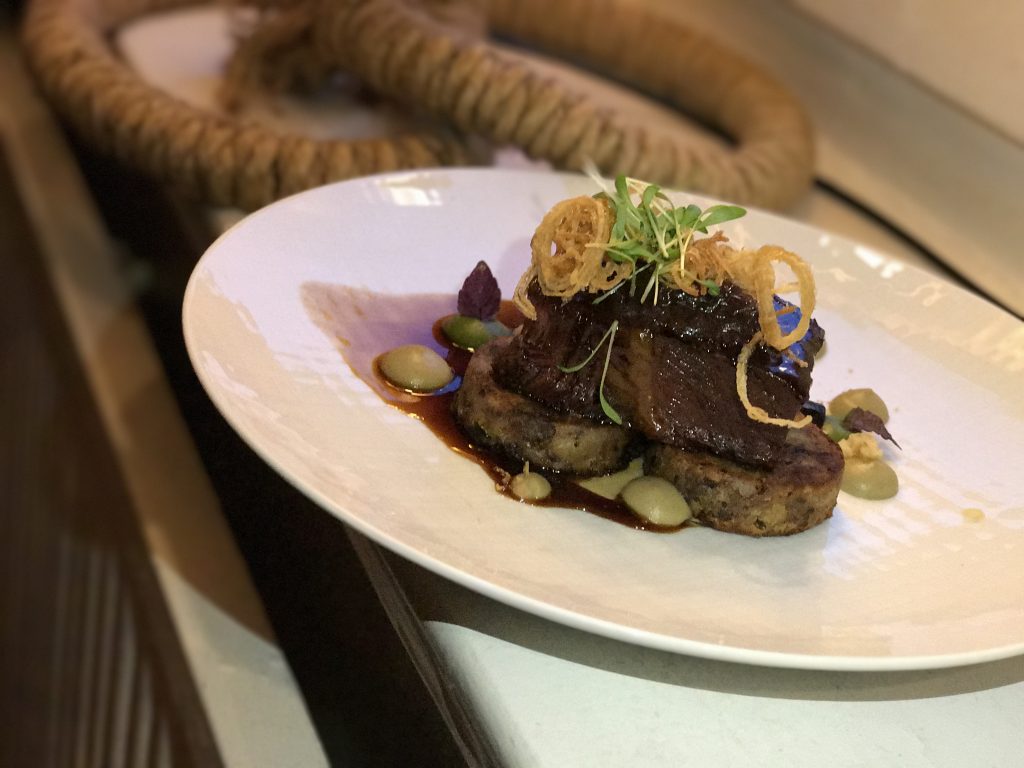 [/column] [/columns_row]
Ordering the braised shoulder of beef with eggplant and apple, the first bite into the beef shoulder is as smooth as a cut of foie. It's moist and buttery with the undertone of earthiness and sweet thanks to the eggplant and apple. With a color scheme intended to give your palate a pre-emptive visual taste, this was paired with New Zealand's Matua Sauvignon Blanc, a tropical and crisp wine accentuating the notes of apple in the beef shoulder. Before dessert arrives, I dig into the homemade bread and black truffle and olive truffle butters. To round out the cadence of cuisine, Chef brings out an iced shot of a passionfruit whiskey sour. This takes the concept of "slushy" to a new level! It's bursting with tartness and sweetness that wakes up the mouth by the spoonful and acts as a smart palate cleanser before enjoying a big, bold glass of 2012 Luna Spanish red blend and the creme de la creme: cheesecake with strawberries and woodruff. The herbal finish of this flowering perennial really does balance out the sweet and airy spoonful of cheesecake and rich, red strawberries tasting freshly picked from nature.
[columns_row width="half"] [column]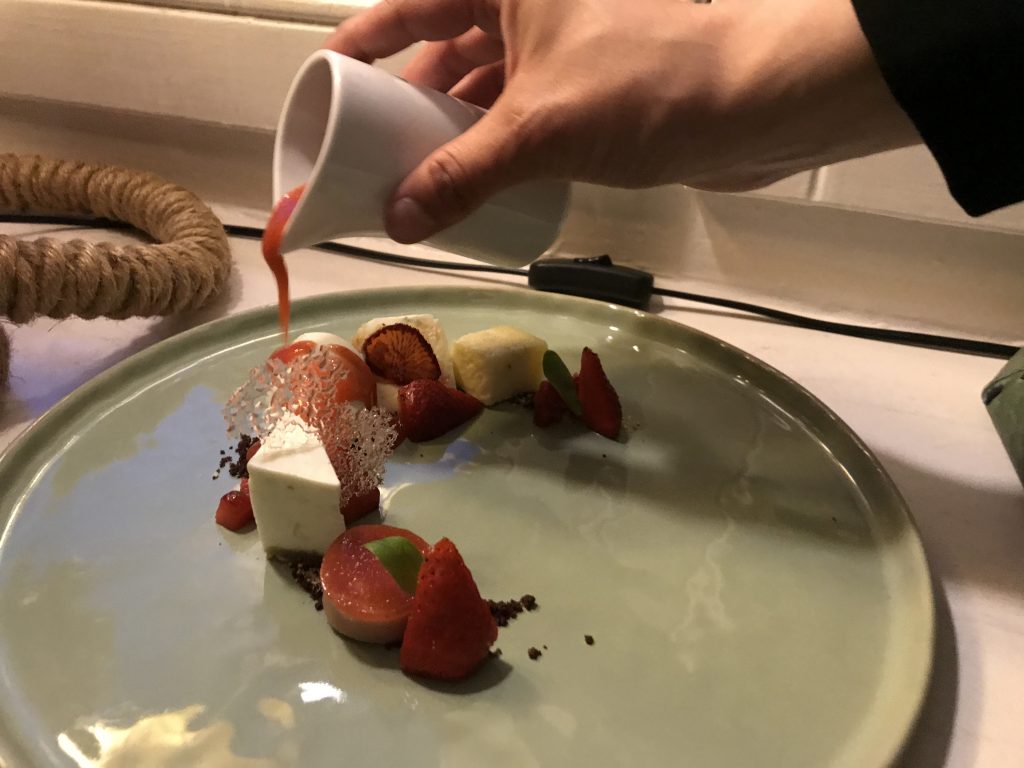 [/column] [column]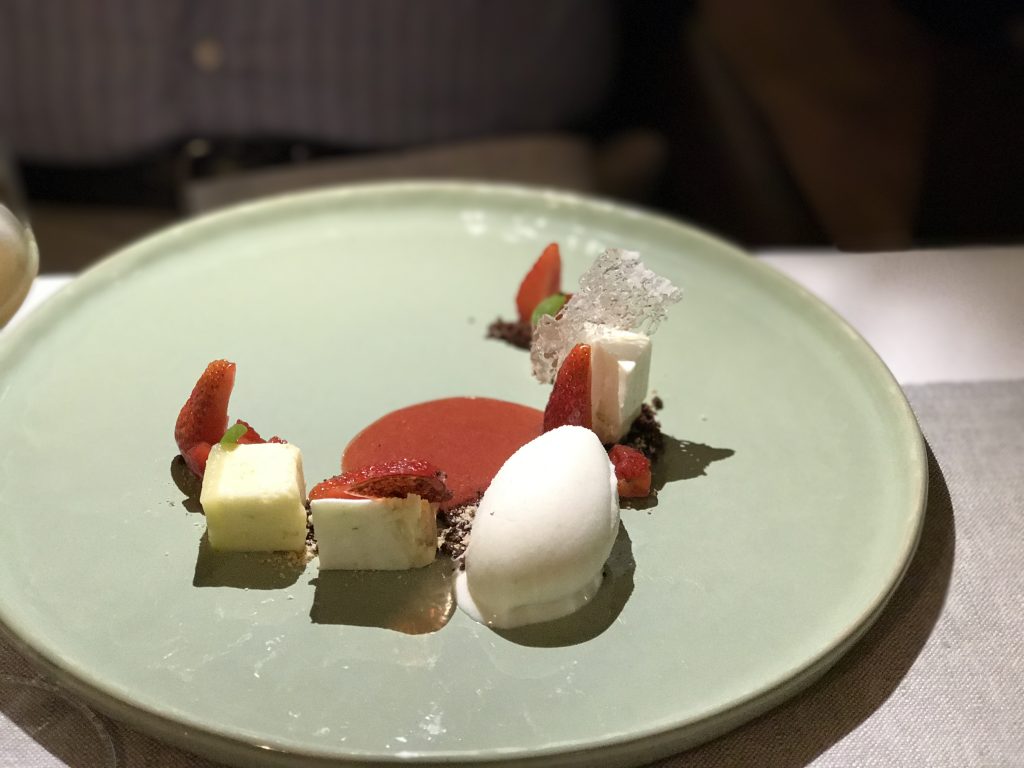 [/column] [/columns_row]
As the evening ended, it only emphasized my love of food. I think it's one of the greatest unifiers in the world and I still think a passion for culture, a desire to try anything at least once and a willingness to live with abandon often leads to the revelation that just anything in life is possible! Dining with Chef Kinfelt, sipping wines that revive ones sense of adventure, its the kind of experience that leaves an indelible mark – one you'll always look back on fondly.
To make reservations and learn more about Hamburg, visit:
www.carls-brasserie.de | www.trueffelschwein-restaurant.de | www.hamburg.com
Welcome to HAMBURG! Who's hungry?! from Dawn Garcia on Vimeo.
[separator type="thin"]
Read more travelogues about our time in Germany:
7 Reasons to Fall in Love with Berlin
Other restaurants to discover while in Hamburg: