Art and Liberation | Latin American in Southern California
Art and Culture Come Together to Broaden the Landscape of Innovation
[dropcap letter="A"]s one who firmly believes that art is the truest form of humanity in the world, Los Angeles has shown a deeper side of precisely that over the past few months. In the wake of so many variables, LA is a city swelling with fascination and progress primarily because of the vast array of cultures that live and work here. Those who immigrated here for a better life. With a significant Latin American population (making up 47.5%), their contributions to this city, state, and nation are something we all need to applaud, recognize, and learn from. In honor of my own heritage (Spanish and Mexican), it is thrilling to see the unifying thread of those who have come together – all walks of life, all ethnicities, and all regions that make up the grand populace of Latin America. With 33 countries making up Latin America on the whole,
Pacific Standard Time
(a compelling and essential art movement) is honoring the exquisite artistic contributions made from each of these countries over the course of our history.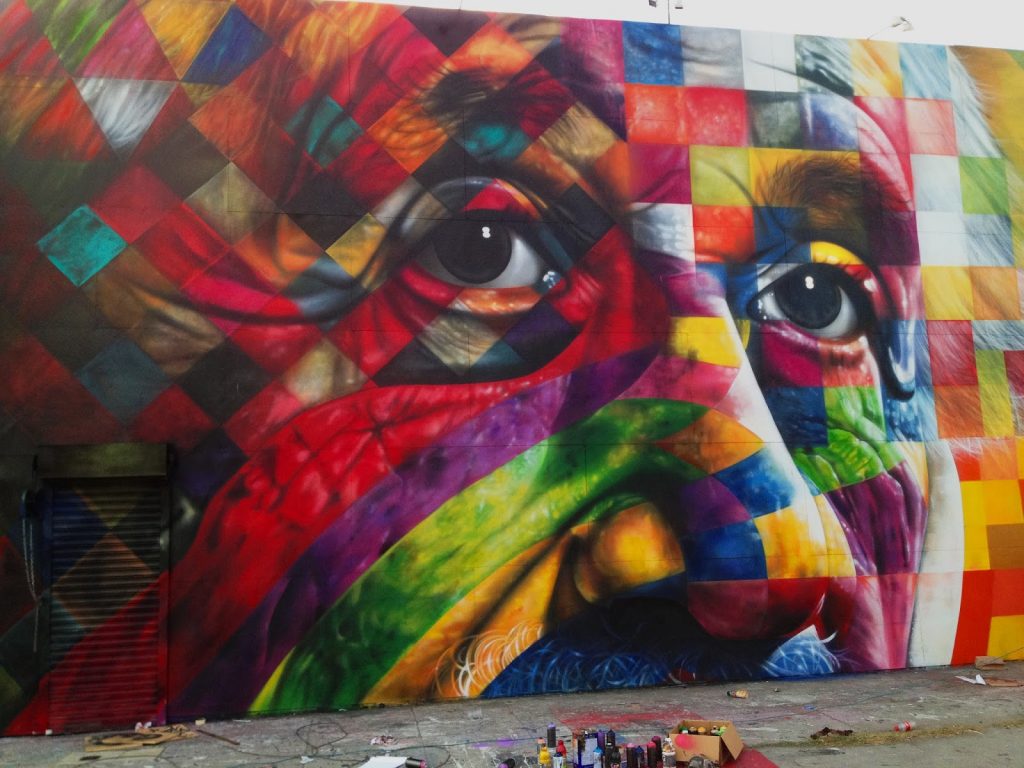 Pacific Standard Time: LA/LA is a far-reaching and ambitious exploration of Latin American and Latino art in dialogue with Los Angeles. Led by the Getty, Pacific Standard Time: LA/LA is the latest collaborative effort from arts institutions across Southern California.
Partnering with the Getty Museum and Bank of America, Southern Californians have the opportunity to glimpse into the many artists, innovators, architects, designers, and game changers that have formed our proud heritage. With 70 galleries and museums participating, we are now nearing the end of this profoundly important narrative exhibition. With the final shows closing on January 31st (with the exception of a few), we wanted to encourage you to submerse yourself in the beautifully curated and phenomenally orchestrated tales being told throughout the city before they are gone.
Having had the pleasure of traveling to Palm Springs (Palm Springs Art Museum + Sunnylands Center & Gardens)to feast on post-modernism at its best with works by Albert Frey and Lina Bo Bardi, visiting The Getty Center to unveil works of Argentina, LACMA (Los Angeles County Museum of Art) to delve into the imaginative mind of Alejandro Innaratu through Carne Y Arena, The Huntington Library, Art Collections, and Botanical Gardens to discover environmental shifts and cultural immersion, the Academy of Motion Picture Arts and Sciences to unveil cinematic brilliance that bellows an entire community of storytellers – now it is time to wander through the beautiful city to take in as much of this art as time allows while the ticking clock begins its final countdown.
Thus far what I have seen is a deeply insightful look at texture, environment, political uncertainty, societal dominance, lyrical liberation, infinite boundlessness, historical oppression, and the rising up of voices refusing to be silenced. This is the display of men and women who have endured more than most. It is a powerful display of a people worthy of recognition, those who dare push the boundaries and change the dialogue.

Below is a list of some of the exhibitions on our radar and a link to some of our experiences thus far:
Artists in these exhibitions put social engagement at the center of their work to raise provocative questions and create political change.

Artists in these exhibitions—Mexican-American, Afro-Brazilian, Chinese-Caribbean, and others—explore the political and personal effects of exile, migration, immigration, and borders.

These exhibitions highlight artists who create new visions, forms, and languages to challenge political and artistic norms, sometimes moving beyond the walls of the museum or gallery.

These exhibitions investigate the complex subject of identity, including issues of ethnicity, nationality, sexuality, gender, and more.

These exhibitions highlight the work of Latin American and Latino designers, craftspeople, and architects, and explore how artists continue to draw inspiration from their legacy.

Pacific Standard Time: LA/LA goes beyond the visual arts to include programs of film, theater, music, dance, and performance art.

Moving beyond traditional ways of representing the world, artists in these exhibitions use novel approaches such as abstraction, performance, and manipulation of the senses.

These exhibitions offer fresh takes on ancient Latin American cultures, from the Olmec and Maya to the Aztec and Incan empires, and stretch to the early 1800s.