Paso Roble's Newest Addition, Paso Market Place Is Sophisticated Cool
Getting the lay of the Market Walk land is ideal to laze your day away
[dropcap letter="B"]eing trapped at home with the exception of the grocery store and one Airstream adventure, life has been less about getting out and more about making the most of being in.
Until this month
when we ventured up north to
Paso Robles
on a
road trip
in the 2021 Buick Enclave Avenir (more on this in our Paso wine country article) and discovered a brand new—as of November 2020—spot called the
Paso Market Walk
. An open market concept, the space is eye catching from its exterior architecture and design, the layout with one massive tree adorned with lanterns, planter beds, an outdoor nursery housed with succulents and local friendly herbs, plants, and flowers, rustic bistro tables situated on the drought friendly seating area, and cathedral-like glass doors leading to what will be your new favorite hangout.
When you enter in through the massive glass doors you are hit with a wave of the most intoxicating smells from in-house Japanese ramen and California cuisine to vegan cheese, coffee, beer, wine, and the créme de la créme … sweet baked pastry goodness. The space itself is vast with painted murals and reminders generously dispersed throughout the layout giving it an airy, delightful, and creative vibe perfect for those days when you need a change of scenery and want to work somewhere cool. Paso Market Walk also happens to have secret lofts to rent on the top floor that are so beautifully and minimalistically designed, we're dying to book a floor and tell you all about the experience (don't worry, we're on it!)
Founded by Deborah Baldwin, an experienced entrepreneur that co-founded Justin Winery in 1981, Baldwin created Market Walk to offer Paso Robles locals and tourists alike a place to settle in, feel a bit of joy and goodness wrap itself around you through smells, stunning architecture with ample history, and that certain home away from home  je ne sais pas essence. With an extensive knowledge of the wine industry, it's her sophisticated taste and innovative eye for building community, that makes this project one more reason to fall head over heels for the region.
So what are the highlights? We're so glad you asked! We had the pleasure of touring the Paso Market Walk with Jill Alexender and that was an immediate plus. Her knoweldge and passion, professionalism and likability is truly the face of what hospitality should strive to be.
*PHOTOS by Dawn Garcia. Note that we wore our masks the entire stay with the exception of when we were seated and dining and tasting. #MaskUp
[columns_row width="half"] [column]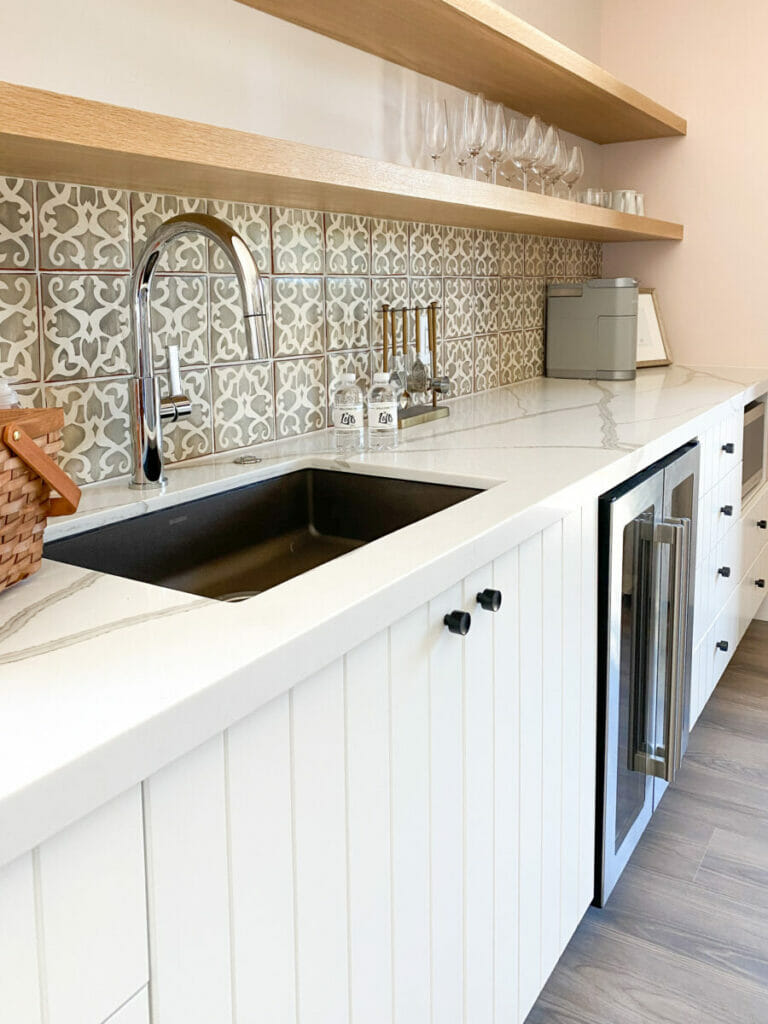 [/column] [column]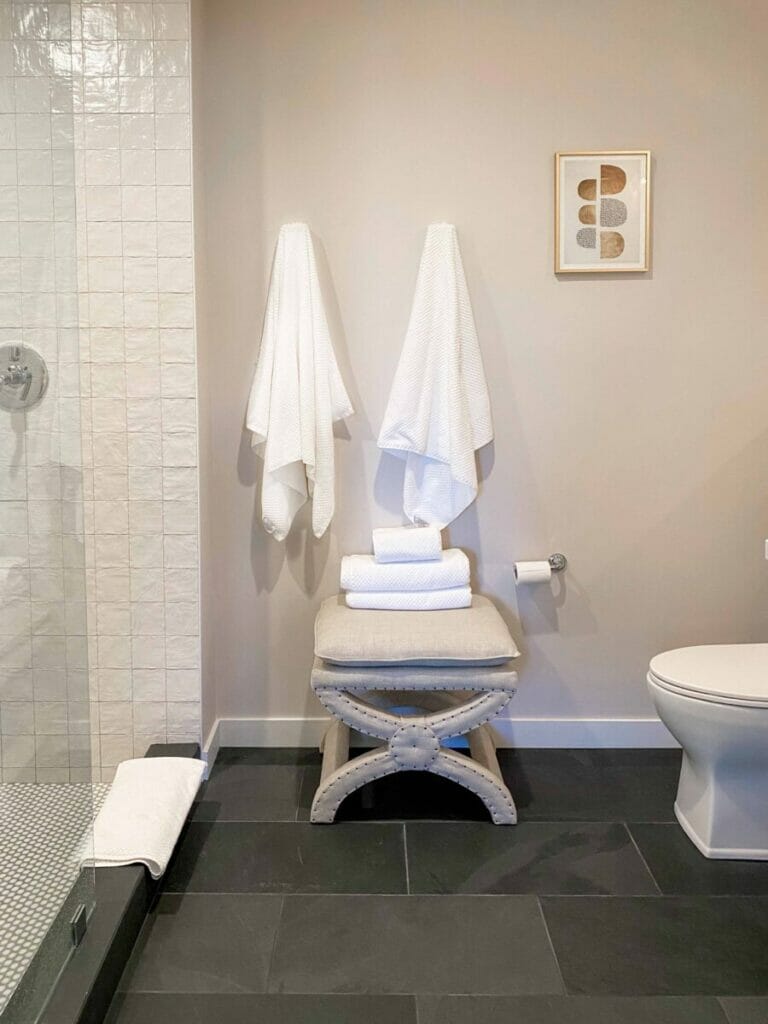 [/column] [/columns_row]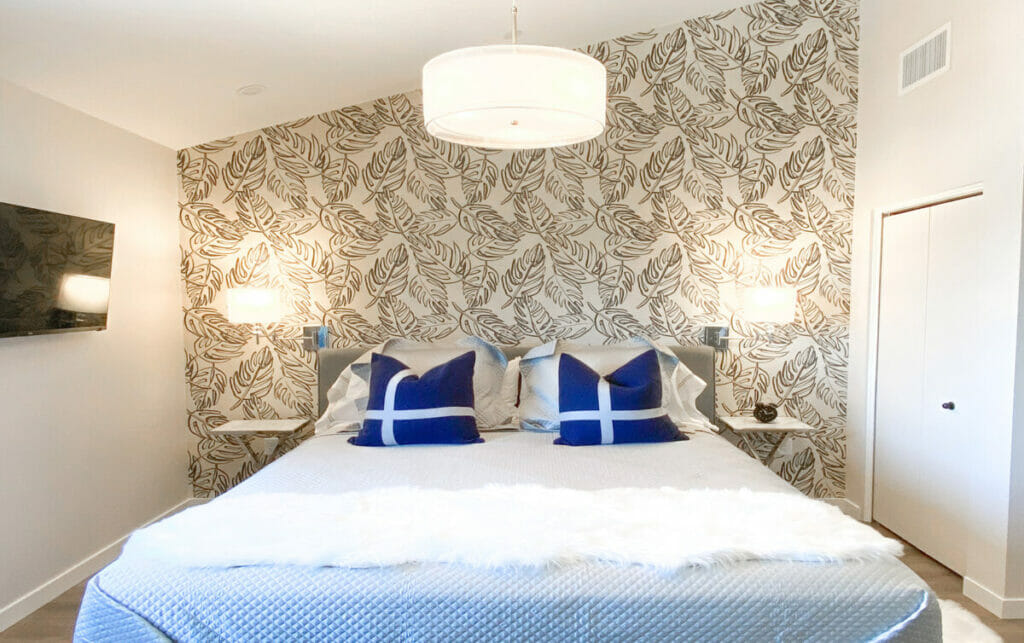 THE LOFTS
Paso Robles is a growing wine region on the Central Coast of California that is abundant in some of the best people you'll likely meet anywhere else. It's also at the forefront of sustainable practices, insatiable eateries, decadent wines, playful breweries and distilleries, charm, history, and a sense of community that exudes in every part of the area. So when you come here, where you rest your head matters. Paso Market Walk has really gone above and beyond to create a space that feels so warm and inviting, it's hard not to want to spend an entire trip taking it all in–and a great start to find that place of tranquility and intrigue exists in The Lofts located atop the marketplace.
Take a moment to peruse the rooms and amenities, and we'll be reporting back later this spring with a full run through of what it's like to stay there.
[button content="BOOK YOUR STAY" color="black" text="white" url="https://www.theloftsatthemarket.com" openin="_blank"]
DINING + MUST EATS
Paso Market Walk has multiple options when you're hungry, thirsty or looking for a sweet finish. With 13 options to choose from, including several restaurants and bars opening later this Spring, (see descriptions at the end of this article for more), the amount of choices you have in this beautiful space is impressive.
Before getting into the roundups, we have to mention a new local SLO female-founded brand called Slim Sadies beef jerky now available at the Market Walk. Founded by Heidi Negranti, a disabled veteran, mother and wife, Slim Sadie's is one of those snacks you'll want to keep around every day. Made with the highest quality ingredients, Negranti has made something pretty phenomenal.  Inspired by a childhood memory, Slim Sadie's Beef Jerky was founded on nostalgia, three generations of women, and a passion for sharing jerky.
I remembered how my mother literally used to make us call her Slim Trim Beautiful Sadie and that she always said that the way she lost the baby weight from us kids was by eating jerky. So, It just came to me and voila! Slim Sadie's was born. ​
[button content="ORDER" color="black" text="white" url="https://www.slimsadies.com/product-page/original-beef-jerky" openin="_blank"] [columns_row width="half"] [column]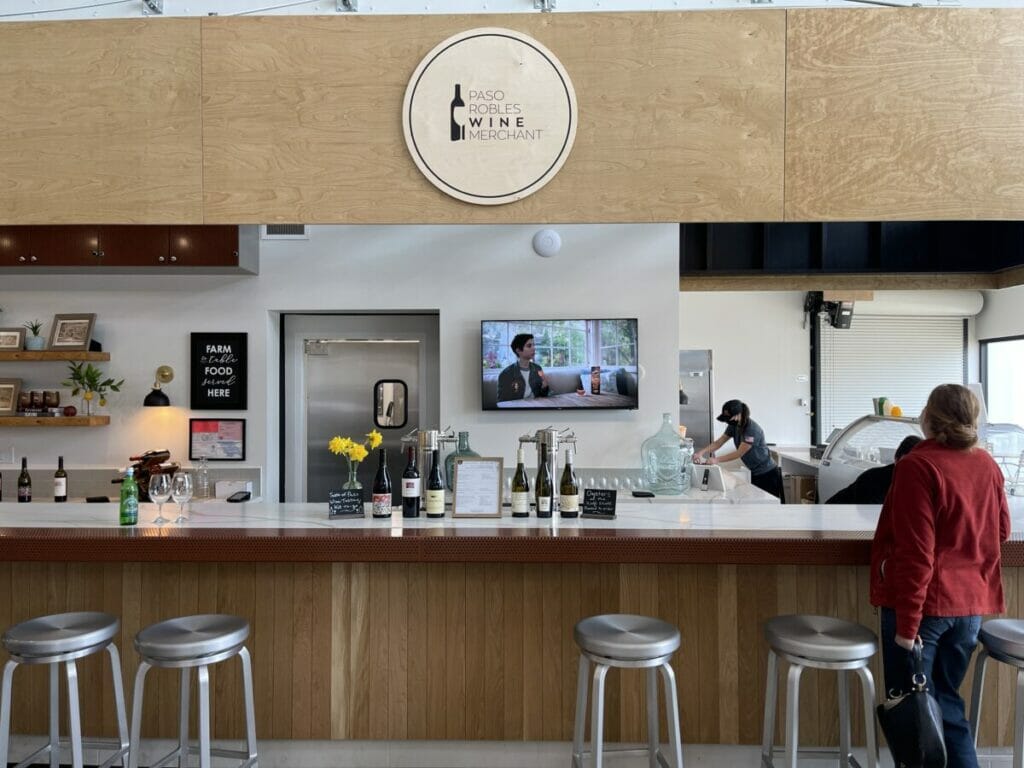 [/column] [column]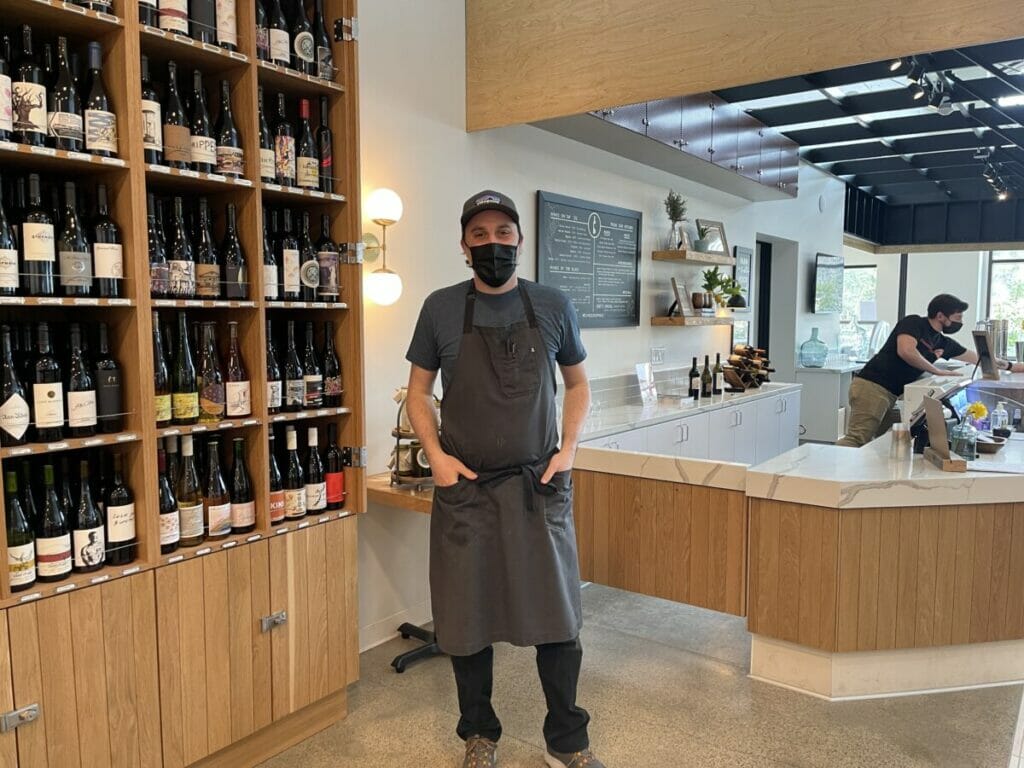 [/column] [/columns_row]
The story behind the eatery is the first part of why this is such an exquisite laid back dining experience with high end cuisine and a ton of love. Husband and wife team, Justin and Julie, moved from Los Angeles to Paso Robles in 2018 with the goal of investing in the community, setting down roots, and pursuing their passion for wine and food. Be sure to pull up a seat and come prepared to try some amazing local wines, but it's Justin's wealth of culinary knowledge and commitment to sustainability and locally sourced ingredients that makes the menu so damn good.
We were there as California began to open up to 25% capacity and it gave us an opportunity to sit down and chat a bit about how much feeding people really means to Justin and his wife, Julie. Coming from Los Angeles where it can often feel like feast or famine for those in the restaurant industry, they were in search of a place that would feel like home, with a community they felt they belonged to, and a great environment to raise their kids. Paso Robles was the perfect fit, and after having worked at Thomas Hill Organics, when the opportunity presented itself to open up a place of his own, Wine Merchant was born.
His cuisine is above par (rustic kale salad was refreshing and the grilled cheese hit it out of the park), the wine selection introduced us to several new wines including Nelle Winery's Bedlam, and the Morro Bay oysters were some of the best oysters I've had in years. But what made those oysters next level is his mignonette made with rice vinegar, cilantro, jalapeno, shallots and lime. You'll want a bottle to take home (if only they sold it!).
[button content="VISIT" color="black" text="white" url="https://www.pasorobleswinemerchant.com/menu-food-wine" openin="_blank"]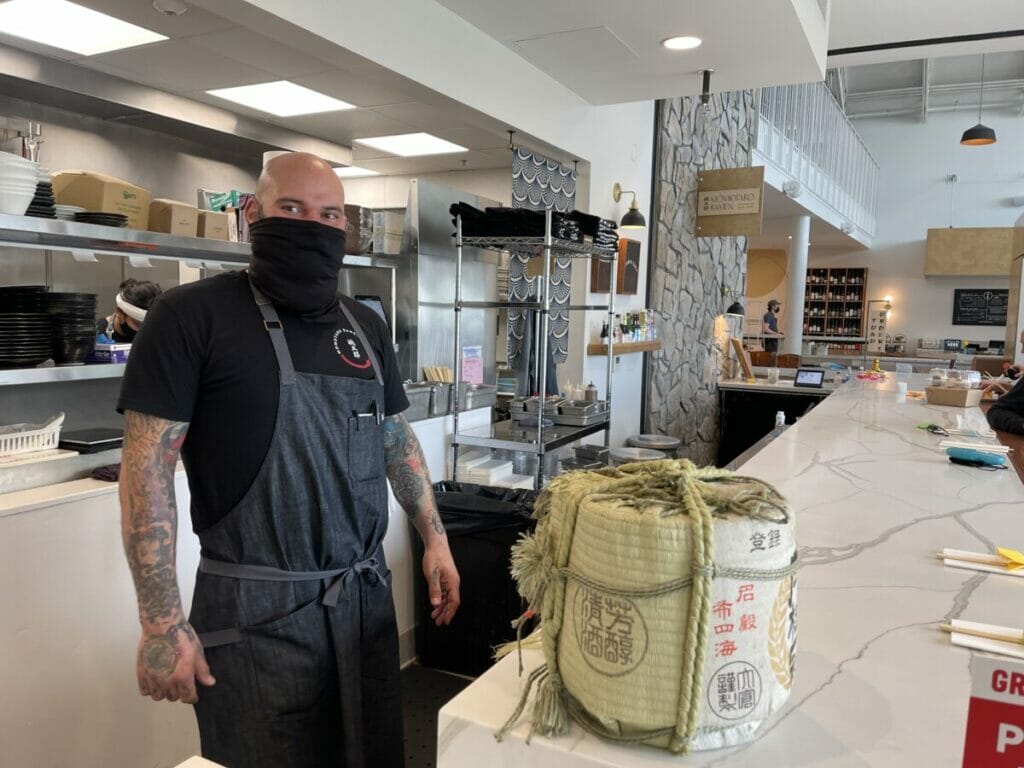 With a slogan that says, sip, slurp, repeat, you know you're working with true Japanese ramen. For those that haven't haven't been to Japan, ramen is a source of culinary pride and the louder you slurp? The better the compliments to the chef. Chef Mateo Rogers and Brittney Yracheta opened Momotaro Ramen Bar out of a pure passion for Japanese soul food, and the precision of the ramen is evidence of precisely that. Rogers and Yracheta have created a ramen bar that oozes comfort, respect, and love which exemplifies the true spirit of traditional Japanese ramen in villages such as Kamakura and big cities such as Tokyo.
The restaurant is inspired by the Japanese Fairy Tale, Momotaro by Yei Theodora Ozaki that tells the story of a magical peach and the boy who appeared, and the old man and woman who loved him. The ramen bar seems simple at first until you take one glimpse at the kitchen, and you get that air of tradition, a little dose of magic, the scent of noodles, ginger, and herbs and spices, and a whole lot of heart.
[button content="VISIT" color="black" text="white" url="https://www.eatmomotaroramen.com" openin="_blank"]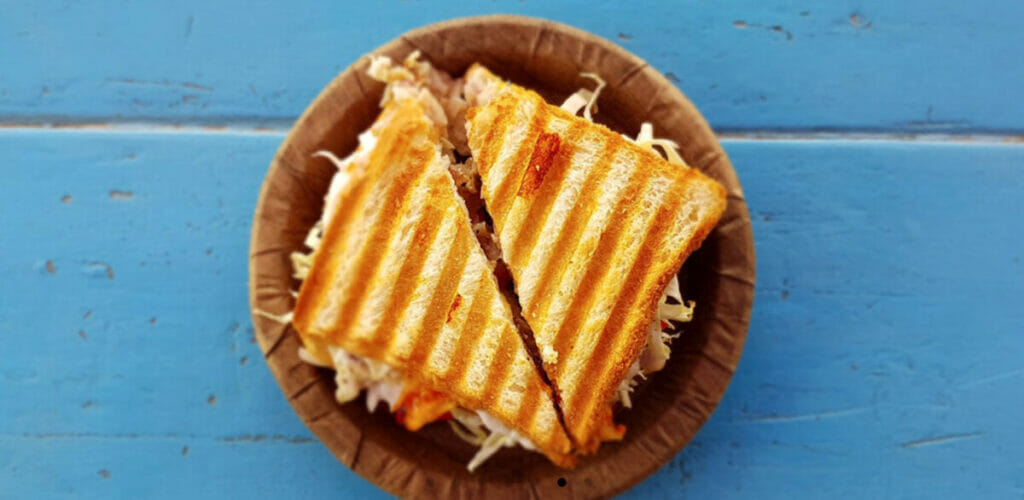 Vreamery
For every vegan out there who used to eat cheese, they'll admit that finding vegan cheese that tastes like cheese (yes it seems like an oxymoron, but stay with us here) is a bit of a Holy Grail search. Vreamery is the answer to the vegan quest for damn good "cheese" call. Utilizing mostly California brands including their in-house cheese, these plant based cheeses range from goat cheese, brie, to cheddars and spreads you can eat on its own, use in sauces, fondues, or in place of your favorite cheese inclusive recipes. Made utilizing a variety of nuts and oats, Vreamery's line of plant based cheese are the best I've had.
They also make in-house sandwiches with gluten-free breads, and they are piquant!
[button content="VISIT" color="black" text="white" url="https://www.pasomarketwalk.com/thevreamery" openin="_blank"]
[columns_row width="half"] [column]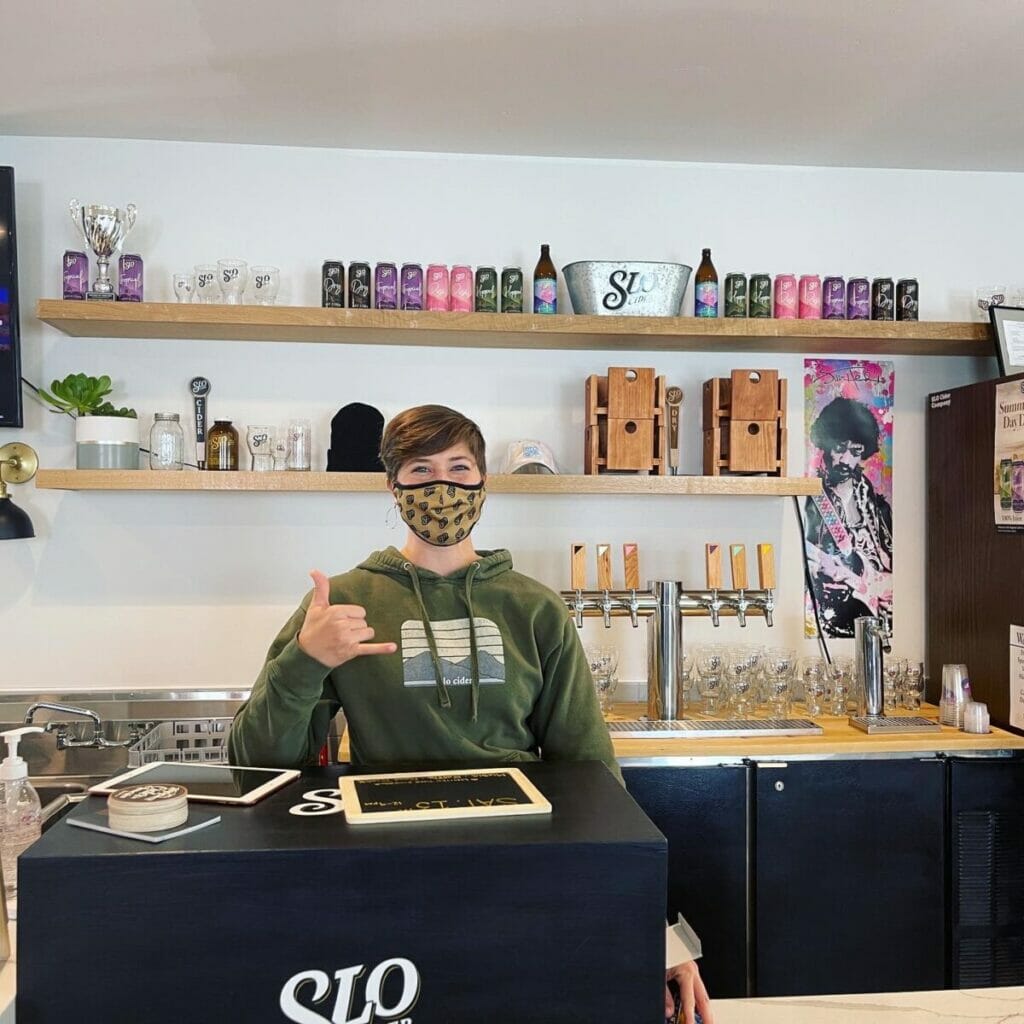 [/column] [column]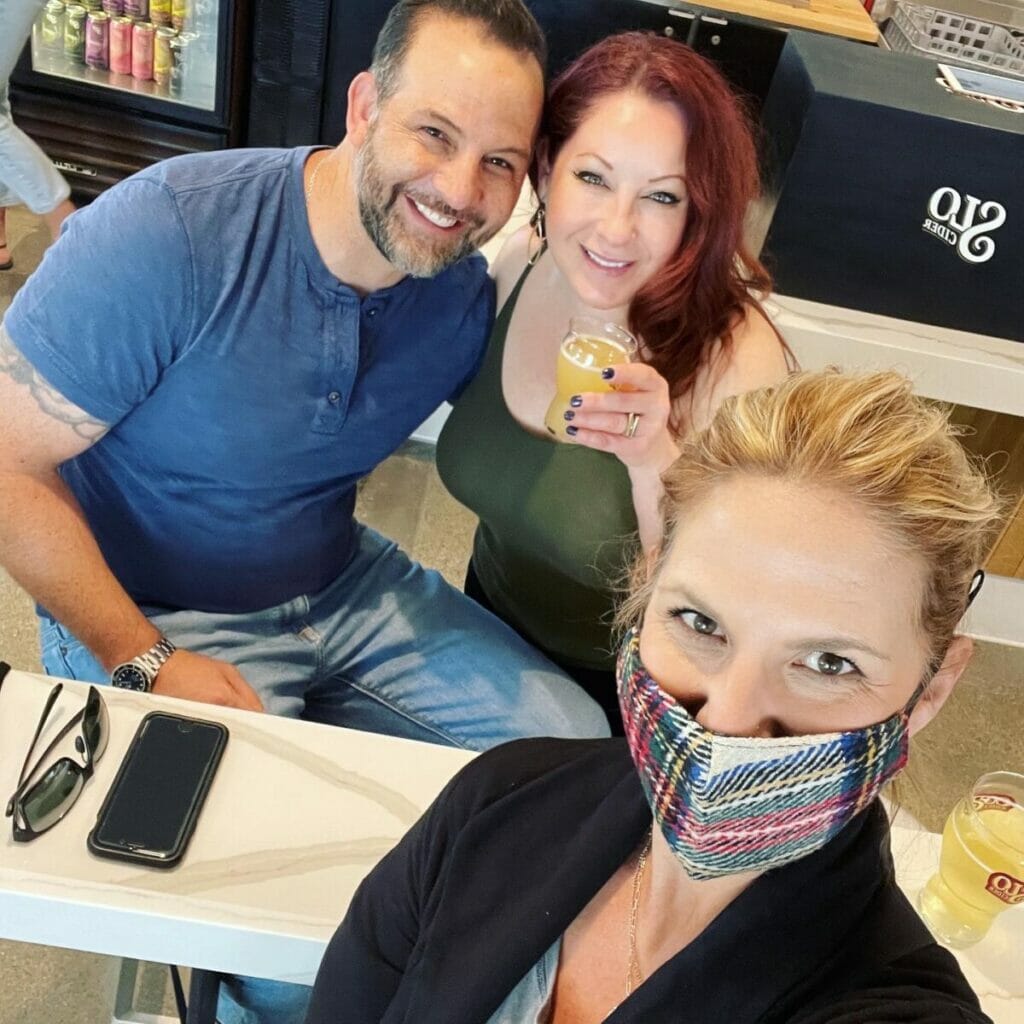 [/column] [/columns_row]
SLO Cider
As the sun starts to kick in its elevated heat, there are few things as refreshing as a cold brew, but finding one that's gluten-free isn't the easiest thing to do. SLO Cider may be the real surprise in terms of the tasting experiences we did. Crisp and bright, each cider we tried exudes a  connection to natural ingredients with hints of citrus, but none moreso than the Hopped Cider, made with Citra Hops that would pair perfectly with ramen, grilled cheese, a burger, or a vegan sandwich!
The staff is friendly, ready to answer questions (and we had plenty), and knowing it's all locally made and brewed makes it tastes that much better. We can't stress it enough, but supporting local businesses is so important to boosting the state's economy, especially after the year we've all been through!
[button content="VISIT" color="black" text="white" url="https://www.pasomarketwalk.com/slocider" openin="_blank"]

Just Baked
No day of eating and drinking is complete without a sweet finish and that's where Just Baked comes in. The scents of fresh baked cookies waft throughout the space, so you are salivating the entire time you're in the Market Walk and that is thanks to the bakery creations of friends Annie Farrell and Meghan Hoetker. Having an award Flagship Chocolate Chip™ Cookie cookie to tout, it led to a deeper desire to make cakes and sweet treats that would leave hungry sweet tooth fans in happy ecstasy, hence the birth of Just Baked.
The only circle of trust you need is a cookie.
The bakery offers cookies, cakes, keto/gluten-free/paleo friendly options (hello, healthy gluttony!), and the service is sweeter than the goods you'll sink your teeth into. We're huge fans of the entire gluten-free line of sweet treats (and we tasted them all). Be sure to stop at the coffee shop just kitty corner to pair your favorite indulgence with a custom brewed organic specialty coffee at Joebella Coffee Roasters.
[button content="VISIT" color="black" text="white" url="https://www.pasomarketwalk.com/justbaked" openin="_blank"]
Third Degree Grill
Third Degree is the product of Berry Hill Bistro that opened 17 years ago in downtown. The Cambria native, owner Jody Storsteen opened the quick-service Third Degree Grill and joined the Market Walk, and the menu is fueled with bistro-inspired comfort food. The menu consists of burgers and sandwiches—hot and cold—and rotisserie chicken.
[button content="VISIT" color="black" text="white" url="https://www.pasomarketwalk.com/thethirddegree" openin="_blank"]
Leo Leo Gelato
The first thing you'll see when you walk through the doors of Market Walk is Leo Leo Gelato. Drawn to the displays of Italian favorites, the freezer case houses multiple in-house gelatos. The story of how it came to be comes from owner and master gelatier, Niccoló Lekai and his childhood memories of eating gelato and sorbet with his Nonno and Nonna (grandparents) and Aunt and Uncle in Italy. Growing up in Italy surrounded by spectacular produce, olive oil, fresh farmed meats and views of terrain that are in every way cinematic, Leo Leo Gelato is a nod to his youth.
[button content="VISIT" color="black" text="white" url="https://www.pasomarketwalk.com/leoleogelato" openin="_blank"]
HOME + GARDEN
[columns_row width="half"] [column]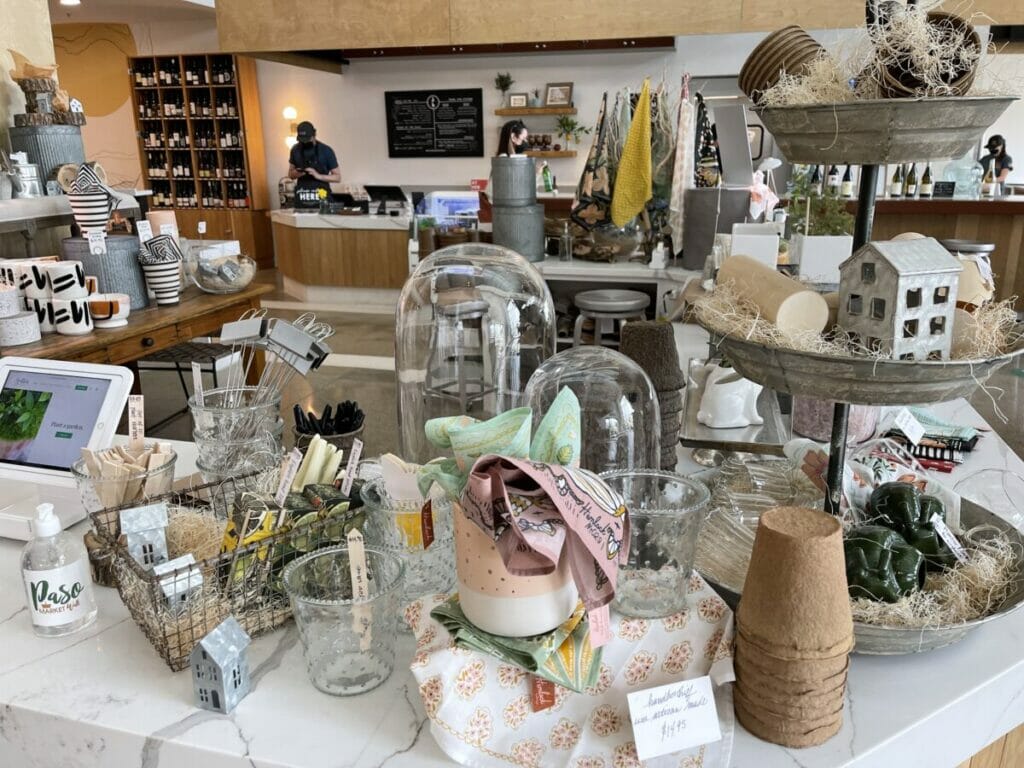 [/column] [column]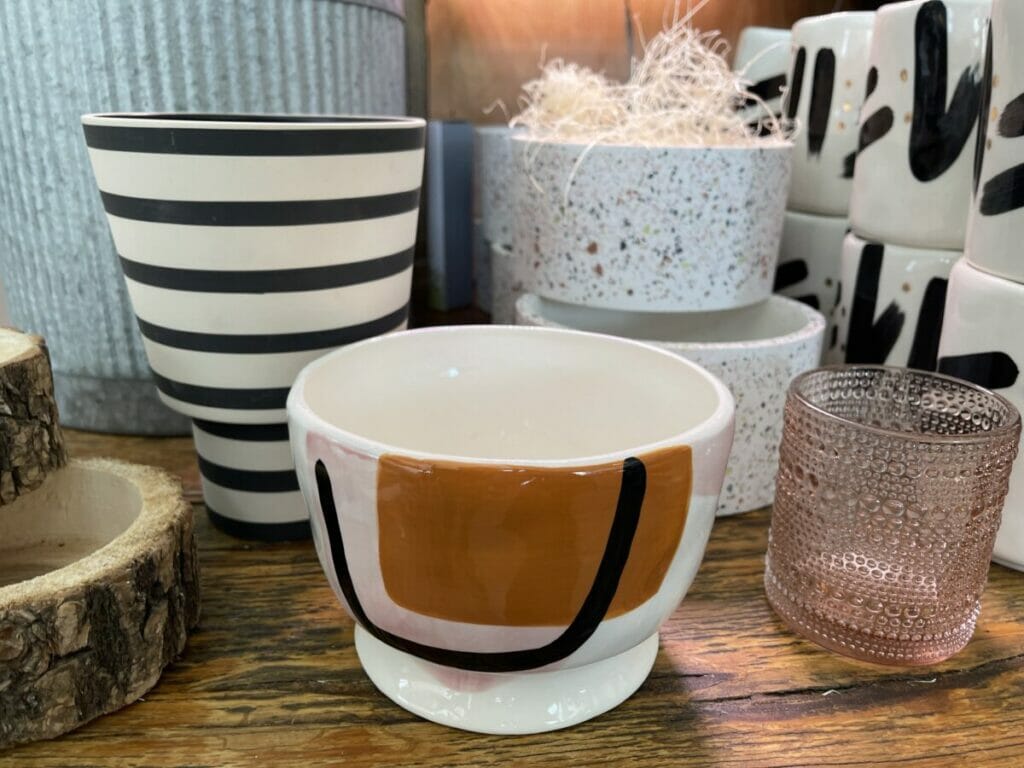 [/column] [/columns_row]
GATHER | Urban Agriculture
Californians are big fans of draught resistant plants, locally sourced artisan gifts, and products that support agricultural practices that are good for the planet. GATHER | Urban Agriculture is described as an experiential nursery bringing nature, wonder, playfulness, and beauty to Paso Market Walk (the historic property of the original Hometown Nursery). And that is exactly what it is.
​Founded by Laura (just Laura), she believes in sourcing California grown cut flowers, herbs, fruit trees, flowering perennials and shrubs, while using sustainable or reusable pots, packaging, and labels that can be composted in the home garden is the centrifuge of giving and caring for Mother Earth. With an extensive knowledge of production Horticulture and Agriculture, her experience with growers and plant breeders from all over the world, allows for a unique mix of edible and ornamental plants. And we just happen to be googly eyed over the selection of plants, succulents, gifts and accessories.
[button content="VISIT" color="black" text="white" url="https://www.pasomarketwalk.com/gather" openin="_blank"]
OPENING this SPRING
FINCA is a Mexican restaurant focused on bringing traditional and regionally inspired cuisine to California's Central Coast. Located in the historic farmhouse of the Old Hometown Nursery of Paso Robles comes the latest project from the owners of La Taquiza – a Napa based Mexican restaurant that has been in the Michelin Guide since 2009. With over 20 years experience in the service industry, co-owner Patrick Aguirre has worked under the likes of Thomas Keller of the French Laundry and Suzanne Goin of AOC. His business partner and wife Stephanie, has managed multiple businesses, from aiding in her family's seafood distribution company to running restaurants in both Napa and Los Angeles. Accompanying them in opening FINCA is son, Diego, and daughter-in-law, Cecilia, who both graduated from Cal Poly San Luis Obispo and have been in the area since 2013. With a combined 15 years experience in the wine and service industry between them, they are excited to bring their passion and love for their community to this home-grown venture.
​FINCA is founded on using fresh and local ingredients, providing welcoming service, and becoming a giving member of the Paso Robles community by serving their neighbors. Grab a few mesquite-grilled tacos, a cold beer or a glass of wine, and relax on the fire-lit patio or inside our newly designed, hacienda-styled farmhouse.
[separator type="thin"]
in bloom will have a laid-back vibe with an energetic feel offering warm hospitality, great food and drink presented in a shared plate style of dining, with rock-n-roll being played on the house turntable. The menu will be traditional California cuisine with an emphasis on supporting local farms & farmers and features a beverage program with a thoughtfully curated wine list, local beers, and CBD craft cocktails.
[separator type="thin"]
A brewing company and bubbles bar. Hog Canyon was started by Larry and a few of his friends who just made good home brew. The Hog Canyon name comes from Hog Canyon in Paso Robles which is owned and operated by Ben and Kelly Work. They grow the grain and hops. HC brewers include Larry , Scott Schlegel, Jules Gutierrez, and Daniel at South Bay Brewing supply. They are probably the smallest brewery in California but they pack a punch.
[separator type="thin"]
Mercantile By Haley & Co. is a modern day market complimenting the purveyors of Paso Market Walk.  Featuring fresh bread, olive oil, aged meats, chocolates, and candies, the displays will also be stocked with unique and quality home goods, from coffee mugs to leather aprons and everything in between. Mercantile Paso will quickly become your favorite gift boutique. Unique candles, diffusers, swanky greeting cards, party essentials and all things charcuterie. Featured brands include Hush Harbor artisan breads,  Alle-Pia Fine Cured Meats and Apoli Market Bags.