Taking a glorious bite out of cooking with cannabis in the latest beautiful cookbook by Tracey Medeiros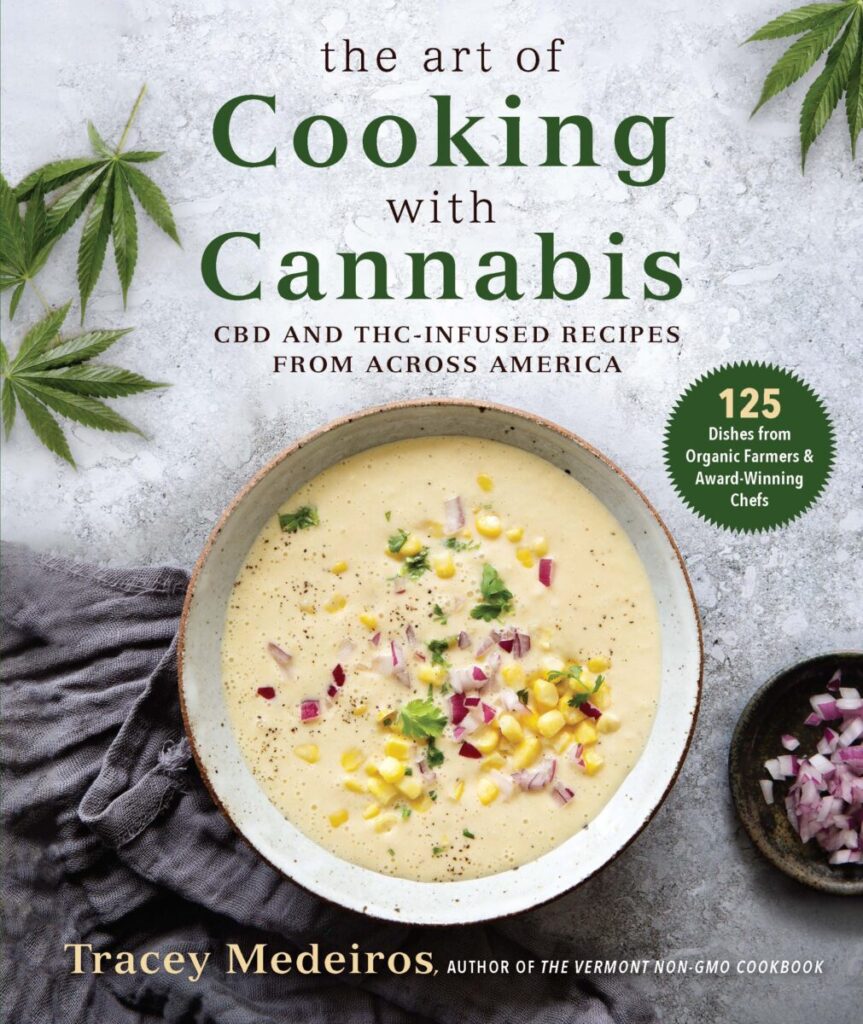 We're a sucker for a high end cookbook. Tracey Medeiros, author of The Vermont Non-GMO Cookbook, The Connecticut Farm Table Cookbook, The Vermont Farm Table Cookbook, and Dishing Up Vermont has just cooked up yet another exquisite cookbook, and this time she introduces home cooks to The Art of Cooking with Cannabis.
This cookbook is beautifully laid out with that East Coast, Hamptons feel that just wreaks of prestige—and we're fans! While we will officially publish our cookbook review soon, we wanted to share some of the exquisite recipes Medeiros offers in collaboration with Green Goddess Cafe, Spain House of Evoo, Blue Sparrow Coffee, Love's Oven, and Hudson Hemp in The Art of Cooking with Cannabis.
(PHOTO CREDIT: Clare Barboza, Sasha Pritchard, Valentina Maslova, Natalia Rüdisüli)
GREEN GODDESS CAFÉ JAMAICAN ME SHAKE
By Green Goddess Café   |  Makes one 15-ounce drink
This refreshing, creamy drinkable treat is best enjoyed right away.
INGREDIENTS
8 ounces organic apple juice
1/4 cup fresh pineapple chunks
1/4 cup mango chunks, fresh or frozen
1/4 cup organic coconut milk
1/2 Hass avocado, pitted and peeled
1/4 cup fresh local baby spinach, packed
20 milligrams of CBD oil, preferably Sunsoil
Whipped cream, optional
GARNISHES
1 cannabis leaf, optional
1 cantaloupe slice, optional
INSTRUCTION
Place all the ingredients in a blender and process until smooth. Pour into a chilled 15-ounce glass. Top with whipped cream and garnish with a cannabis leaf and a cantaloupe slice, if desired. Serve at once.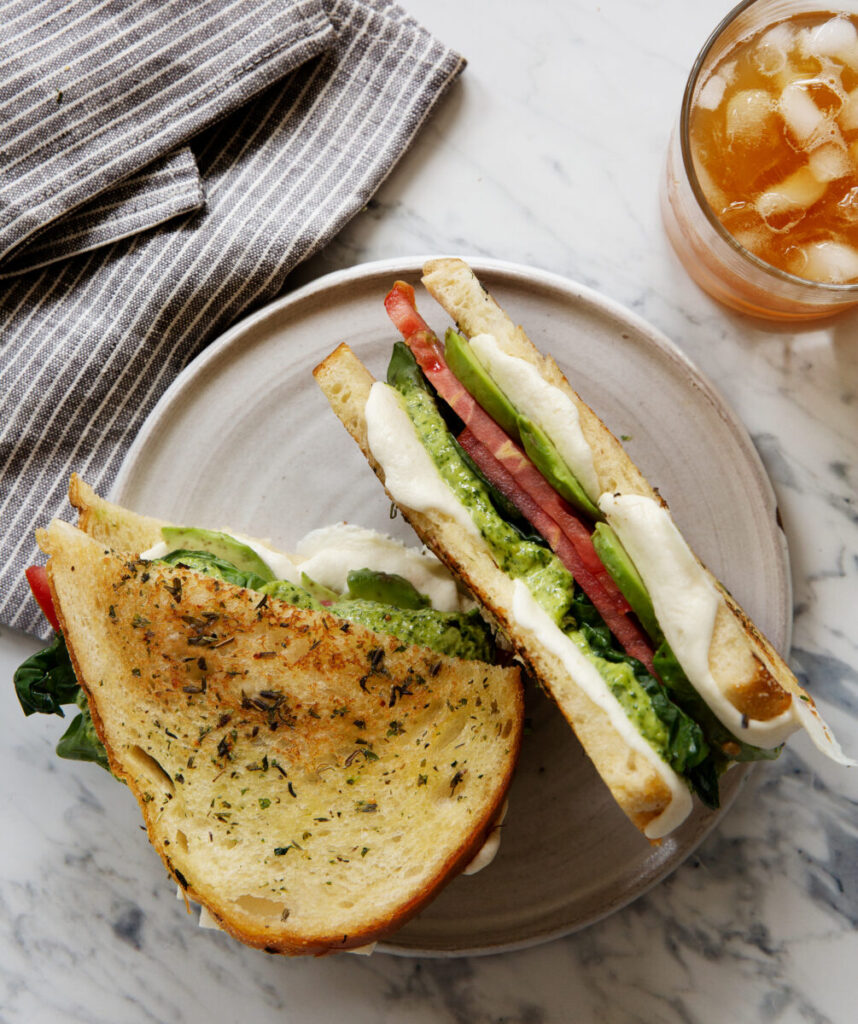 GODDESS GRILLED CHEESE
by Green Goddess Café | Makes 1 sandwich
This grilled cheese is a nice departure from the traditional sandwich. It is perfect when you want to change it up and opt for a delicious lunch or dinner. Serve alone or with a fresh green salad and a hearty soup. The CBD Herbes de Provence butter uses clarified butter (see page 29), which must be made at least 30 minutes before, so prepare accordingly.
CBD HERBES DE PROVENCE BUTTER
2 tablespoons clarified butter, homemade or store-bought
1 teaspoon Herbes de Provence
20 milligrams CBD oil, preferably Sunsoil
PESTO AIOLI
1 tablespoon pesto, homemade or store-bought
1 tablespoon organic mayonnaise
Salt and freshly ground black pepper
GODDESS GRILLED CHEESE
2 tablespoons Herbes de Provence butter, divided
2 slices 1/2-inch-thick Pullman or other white bread
4 thin slices fresh local mozzarella cheese
1/2 ripe Hass avocado, pitted, peeled, and sliced
2 slices tomato, such as Roma or heirloom
1/2 cup fresh local baby spinach
2 tablespoons pesto aioli (see recipe above)
INSTRUCTION
To make the CBD Herbes de Provence butter: In a small bowl, whisk together the clarified butter, Herbes de Provence, and CBD oil until well combined. Set aside.
To make the pesto aioli: In a small bowl, whisk together the pesto and mayonnaise until smooth. Adjust seasonings with salt and pepper to taste. Set aside.
To make the sandwich: Preheat a small skillet over medium heat. Add 1 tablespoon of the CBD Herbes de Provence butter to the preheated skillet. Spread the remaining 1 tablespoon of butter over the top side of each bread slice. When the butter melts, place 1 slice of bread, butter-side down, in skillet. Layer with 2 slices of cheese, avocado, tomato, spinach, and finally the remaining 2 slices of cheese. Spread the inside of the second slice of bread with pesto aioli and place on top, butter-side up.
When the cheese has melted and the underside is golden brown (about 4 minutes), use a spatula to carefully flip the sandwich over. Continue to cook, gently pressing down on the sandwich occasionally, until the second side is golden brown, about 3 minutes. Cut the sandwich in half and serve at once.
Note: You will need to clarify the butter at least 30 minutes before you intend to use it.
HOW TO MAKE CLARIFIED BUTTER, "THE LIQUID GOLD"
Makes about 1/2 cup
This recipe makes more clarified butter than you will need for the sandwich. The extra butter can be used for cooking eggs or whisked into a hollandaise sauce.
Melt 1 stick of unsalted butter in a small saucepan over low heat. Simmer, do not stir, until all of the whey proteins have risen to the surface and whitened into a foam.
Remove from the heat and allow to cool for about 20 minutes.
Using a spoon, gently skim off the top layer of foam (known as the whey proteins) and carefully strain through a fine sieve lined with a cheesecloth and into a heatproof jar.
Use at once or cover and refrigerate for several months.
Note: While making the clarified butter, be careful not to overcook or it will become bitter tasting.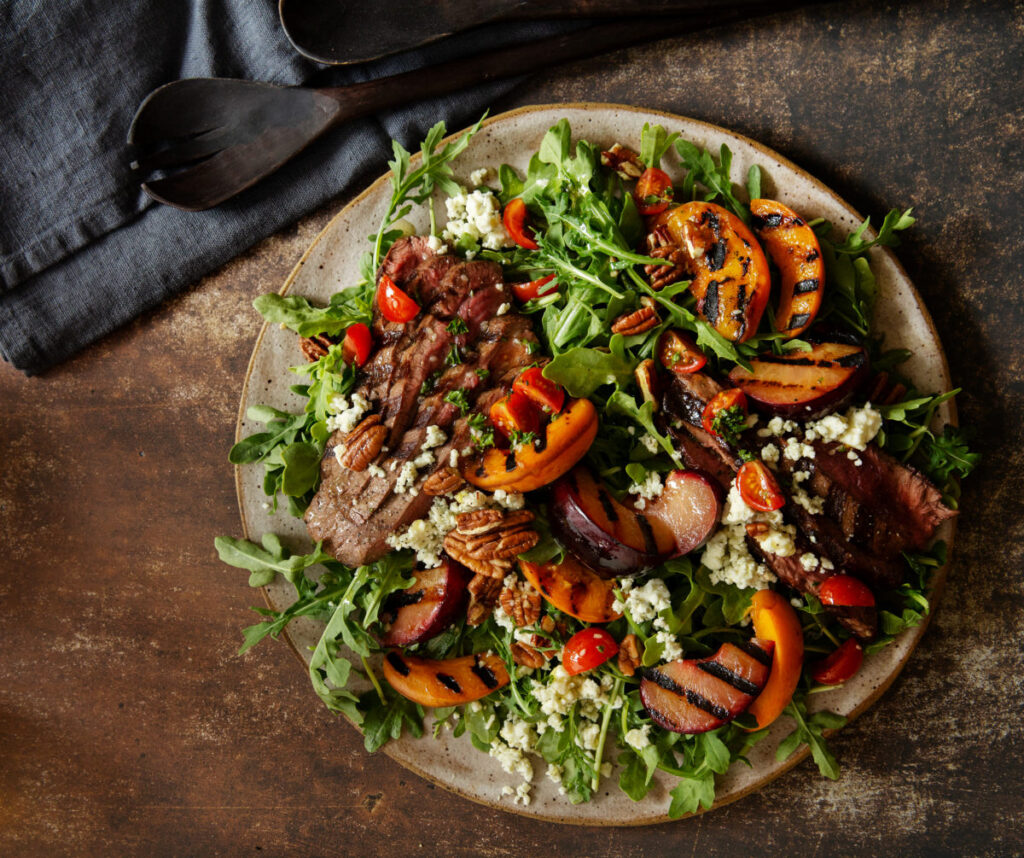 FLAT IRON STEAK & GRILLED STONE FRUIT SALAD
With CBD-Infused Honey Apple Cider Vinaigrette
By Tracey Medeiros | Makes 4 servings
Grilled plums are one of my secret obsessions.
"During the summer when the farm stands are brimming with these juicy jewel-toned gems, this becomes my go-to summer salad. The flat iron steak is a tender cut of beef that has a rich, beefy flavor that pairs beautifully with stone fruits. For the most tender results, the steak is best cooked to an internal temperature of 130–135°F."
VINAIGRETTE
Note: The CBD-Infused Honey Apple Cider Vinaigrette is found on page 109.
FLAT IRON STEAK
1 tablespoon olive oil for brushing grill grate, or as needed
1 pound grass-fed flat iron steak, 1 inch thick
Kosher salt and freshly ground black pepper
SALAD
3 large ripe stone fruits, pitted and cut into 6 wedges each, such as peaches, plums, or apricots
1 tablespoon extra-virgin olive oil
1 (5 ounce) package baby arugula
1/2 cup crumbled blue cheese, or to taste
1/2 cup coarsely chopped pecans
INSTRUCTION
Heat a grill to high heat and generously brush the cooking grate with oil.
To make the CBD-Infused Honey Apple Cider Vinaigrette:  See recipe found in cookbook.
To make the flat iron steak: Pat the meat dry with paper towels, then season both sides with salt and pepper. Place the steak on the grill and cook for 5 minutes. Turn once and continue to cook until an instant-read thermometer reads between 130–135°F. Reduce the grill temperature to medium-high heat for the stone fruits.
Transfer the steak to a cutting board and tent lightly with foil and let rest for 10 minutes. Thinly slice the steak across the grain on a slight diagonal.
To grill the stone fruits: While the steak is resting, grill the fruits. Place the fruits in a large bowl and toss with the oil until evenly coated.
Place the fruits, cut-side down, on the grill and cook until well charred, about 3 minutes per side, depending on the size and ripeness. Transfer to the plate with the steaks.
To assemble the salad: Place the greens, cheese, and pecans in a large bowl. Toss with 1/4 cup of vinaigrette, adding more to taste. Fan the meat and fruit slices on top of the salad and drizzle with any accumulated juices. Season with salt and pepper to taste. Serve at once.
CBD-INFUSED HONEY APPLE CIDER VINAIGRETTE
Collaboration with Spain House of Evoo | Makes 2⁄3 cup with East Fork Cultivators
Not just for salads—drizzle this vibrant vinaigrette over asparagus, roasted potatoes, green beans, or the Flat Iron Steak & Grilled Stone Fruit Salad (page 45).
VINAIGRETTE
1/2 teaspoon sesame seeds
3 tablespoons apple cider vinegar, preferably FIRE BREW apple cider vinegar citrus
2 tablespoons honey, preferably The Queen's Bounty Raw Blackberry Honey
1 tablespoon minced parsley
1/2 teaspoon chopped oregano
1/2 teaspoon fine-grain sea salt, or to taste
1/2 teaspoon freshly ground black pepper, or to taste
1/2 cup House of Spain CBD-infused EVOO Original Blend
 6 quartered cherry tomatoes
INSTRUCTION
To toast the sesame seeds: Place the sesame seeds in a small dry skillet, and toast, over medium heat, shaking and stirring continuously, until they start to get fragrant, about 3 minutes. Remove from heat and set aside.
In a small bowl, combine the sesame seeds, vinegar, honey, parsley, oregano, salt, and pepper. In a steady stream, whisk in the olive oil until the vinaigrette is emulsified. Adjust seasonings with salt and pepper to taste. Set aside.
Add the tomatoes to the vinaigrette 15 minutes before you intend to use.
Serve with the Flat Iron Steak & Grilled Stone Fruit Salad (page 45).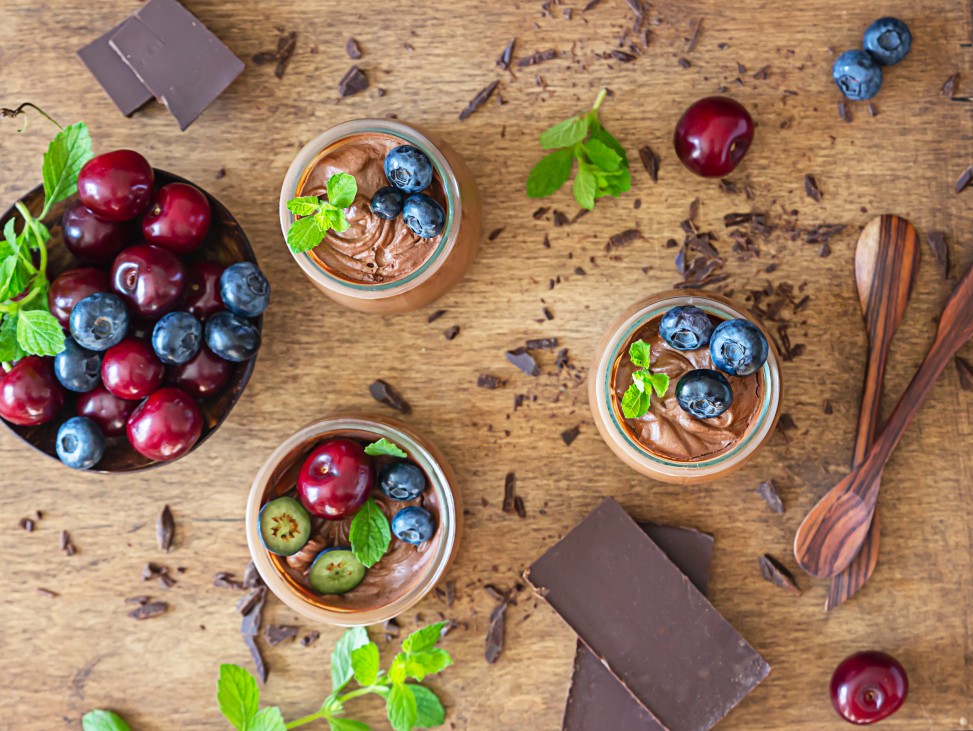 CBD-INFUSED OLIVE OIL BITTERSWEET CHOCOLATE MOUSSE
A collaboration with Spain House of Evoo | Makes 6 servings; East Fork Cultivars 1/2 cup each
This recipe is a great alternative for people who are lactose intolerant looking for dairy-free dessert options—just remember to omit the dollop of whipped cream. The olive oil adds a decadent richness to the mousse.
INGREDIENTS
6 ounces good-quality bittersweet chocolate (60–72% cacao), roughly chopped
1 vanilla bean
1/3 cup CBD-infused extra-virgin olive oil, preferably House of Spain Evoo
4 large organic eggs, separated, at room temperature
1/4 cup plus 1 tablespoon confectioners' sugar, divided
1/16 teaspoon (a pinch) plus 1/4 teaspoon kosher salt, divided
GARNISHES
Sweetened whipped cream
Orange zest
INSTRUCTION
Place the chopped chocolate into the top pan of a double boiler. Set aside.
Pour about 1 inch of water into the bottom pan and bring to a simmer. Place the top pan with the chocolate on top, making sure the bowl does not touch the simmering water. When half of the chocolate is melted, gently stir until the chocolate has fully melted, about 5 minutes. Remove from the heat and let sit, whisking occasionally, for 10 minutes.
Place the vanilla bean on a work surface and split it in half lengthwise using a paring knife. Scrape the seeds into the bowl with the chocolate. Whisk in the olive oil until well combined. Set aside, stirring occasionally.
While the chocolate mixture is cooling, start the egg white peaks. Using a stand mixer, beat the egg whites with 1 tablespoon of confectioners' sugar and 1/16 teaspoon of salt, on medium speed, until stiff peaks form, about 4 minutes.
In a separate large bowl, beat the egg yolks with the remaining 1/4 cup of sugar and the remaining 1/4 teaspoon of salt until pale yellow.
In a slow and steady stream, fold the chocolate-oil mixture into the yolk mixture, until completely combined and slightly thickened.
Fold the egg whites into the yolk mixture in 3 additions, until mousse is streak-free.
Divide the mousse between six 4-ounce ramekins or jelly jars. Cover with plastic wrap and refrigerate until the mousse is set, about 30 minutes. Remove the mousse from the refrigerator and let sit at room temperature for 15 minutes before serving.
Garnish with a dollop of whipped cream and orange zest.
RAW HEMP LEAF PESTO
By Hudson Hemp | Makes approximately 1 cup
Freya Dobson: For those wishing to add CBD oil to the pesto, I recommend adding 10 milligrams of Treaty Balance per serving. Treaty's parent company is Hudson Hemp. The Balance formula includes only the farm's proprietary organic hemp, grown and processed at our regenerative farm. It's the simplest formula for experiencing the benefits of broad-spectrum hemp extract in isolation.
INGREDIENTS
3 or 4 medium cloves garlic, peeled and coarsely chopped
3 tablespoons organic raw pine nuts, walnuts, or cashews
1 cup fresh organic hemp leaves, woody stems removed, lightly packed
1 cup fresh organic basil leaves, lightly packed
1/2 cup coarsely chopped organic kale leaves, stems and inner ribs removed and discarded, lightly packed
Juice of 1 lemon, or to taste
1/2 cup extra-virgin olive oil or hemp seed oil
3 tablespoons nutritional yeast, or to taste
Pink Himalayan sea salt, fine-grain
Freshly ground black pepper
INSTRUCTION
Process the garlic and pine nuts in a food processor until minced. Add the hemp, basil, kale, and 2 tablespoons of the lemon juice, and process until well combined. While the food processor is running, slowly add the oil in a steady stream until well blended, scraping down the sides of the bowl as needed.
Spoon the pesto into a decorative bowl and fold in the nutritional yeast. Adjust seasonings with additional lemon juice and nutritional yeast, if desired. Season with salt and pepper to taste. To serve, spread on toasted bread rounds topped with sliced cherry tomatoes or lightly drizzle pesto over and around your favorite eggs.
Raw hemp leaves are rich in cannabidiolic acid (CBDa). It is a nonintoxicating, inactive cannabinoid. When CBDa is heated (activated) through a process known as decarboxylation, it converts to CBD. Since this recipe uses raw hemp leaves that have not gone through a decarboxylation or extraction process, CBD is not present.
Note: See fried egg recipe (page 186). The pesto can be stored in the refrigerator, covered with a thin layer of olive oil, for up to 2 days.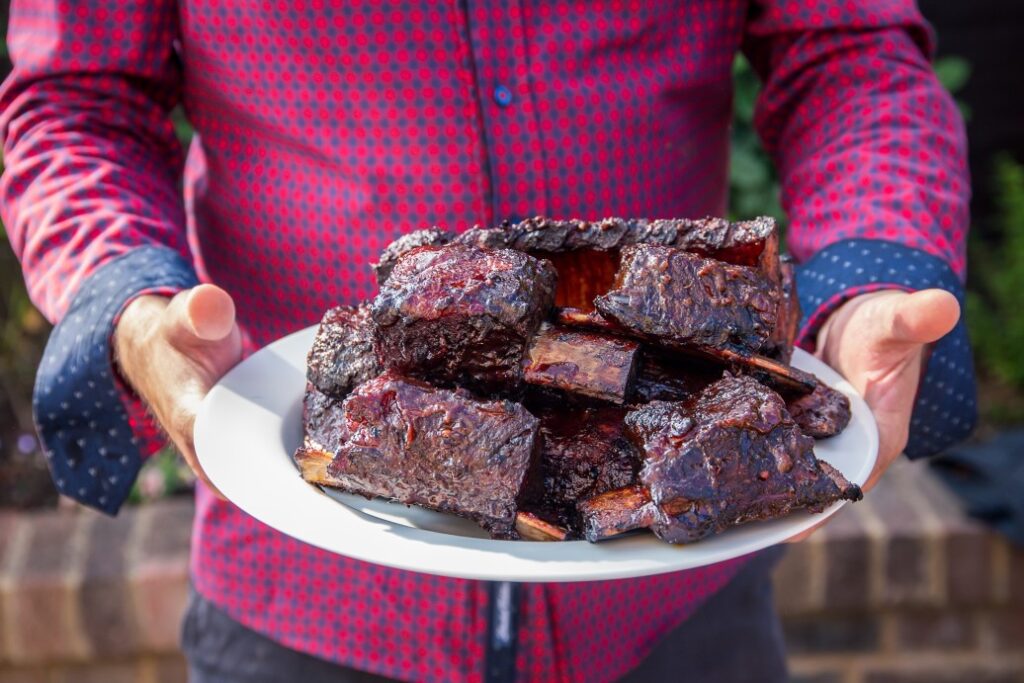 KOREAN-STYLE CBD-INFUSED SHORT RIBS
by Jeffrey Knot, Blue Sparrow Coffee | Makes 4 servings; 2 short ribs per person
Jeffrey Knott: I don't often eat meat, but when I do it's all about the meat-to-flavor ratio—the more flavor per ounce of meat the better. I'd take a pepperoni pizza over a ribeye steak any day. I think Korean-style short ribs just might be the flavor-to-meat champ! While everyone's paying premiums for Wagyu and Angus, skip the premium price, and go straight to premium flavor.
Take your time choosing your ribs carefully, look for the ones with very fine lines of fat, and lots of them! Think a delicate densely woven spider web. Your patience and diligence will be rewarded.
MARINADE
1 cup brown sugar, packed
1/2 cup hot CBD-infused coffee, dark roast, preferably Strava Craft Coffee
1/2 cup reduced-sodium soy sauce
1/4 cup mirin (Japanese rice wine)
4 medium cloves garlic, minced
SHORT RIBS
8 Korean-style beef short ribs (21/2 pounds)
Oil, as needed for grill grates
GARNISHES
3 to 4 scallions, trimmed, thinly sliced on the bias into rings, white and green parts
11/2 tablespoons organic sesame seeds, white
 Steamed rice, optional
INSTRUCTION
To make the marinade: In a medium bowl, combine the sugar, coffee, soy sauce, mirin, and garlic, whisking until the sugar dissolves.
Rinse the short ribs under cold running water to remove any bone fragments, then pat dry with paper towels. Transfer the short ribs to an extra-large ziplock plastic bag, then add the marinade. Refrigerate for 24 hours, occasionally turning the bag.
To make the sauce: Remove the ribs from the marinade and transfer them to a plate. Set aside. Pour all of the marinade into a small saucepan and bring to a simmer, whisking often, over medium-low heat, until the sauce becomes syrupy and coats the back of a spoon, about 40 minutes.
While the sauce is simmering, preheat the grill to medium-high heat and generously brush the cooking grates with oil.
To make the short ribs: Grill the short ribs on one side until nicely browned but still tender, about 3 minutes. Using grilling tongs, carefully flip the short ribs over and cook for another 3 minutes, or until desired doneness is achieved.
To serve: Arrange the short ribs on a platter and drizzle some of the sauce over and around the meat. Scatter the scallion rings and sesame seeds over the short ribs. Serve, passing the remaining sauce at the table along with steamed rice on the side, if desired.
Note: Korean-style short ribs (also referred to as "flanken-style") can be found at most Asian markets.
CHEWY GINGERSNAP COOKIES
by Hope Frahm, Love's Oven | Makes 20 cookies; 10 milligrams THC per Cookie
With a sugary exterior and slightly chewy center, these cannabis-infused cookies will become one of your must-have treats!
INGREDIENTS
11/2 cups all-purpose flour
1/2 teaspoon baking soda
3/4 teaspoon ground ginger
3/4 teaspoon ground cinnamon
1/2 teaspoon ground cloves
1/2 teaspoon kosher salt
5 tablespoons butter, divided
200 milligrams THC concentrate, or preferred dose
3 tablespoons molasses
2/3 cup sugar, plus 1/4 cup for rolling the cookies
1 egg
1/3 cup finely chopped crystallized ginger
INSTRUCTION
Preheat the oven to 325°F. Line two baking sheets with parchment paper or a silicone mat. Set aside.
In a bowl, whisk together the flour, baking soda, ground ginger, cinnamon, cloves, and salt. Set aside.
Melt 21/2 tablespoons butter, then add the concentrate and mix until completely incorporated.
Soften the remaining 21/2 tablespoons butter and cream together in a stand mixer with the melted infused butter, molasses, and 2/3 cup sugar on medium speed until smooth and fluffy, about 10 minutes.
Note: The mixture should double in volume. You may need to beat on high speed for the last 1 to 2 minutes to achieve that volume.
Add the egg and continue to cream on medium speed until combined well. Add the dry ingredients in batches and continue to mix on low speed until about 50 percent incorporated. While the mixer is running, slowly add the crystallized ginger and continue to mix until all the ingredients are fully incorporated. Do not overmix.
Place the remaining 1/4 cup of the sugar in a shallow dish. Divide the dough into 20 cookies; about 11/2 tablespoons of dough weighing 11/4 ounce each. Using your hands, roll the cookies into individual balls; then gently roll each cookie around in the dish with the sugar. Place on the prepared cookie sheets about 2 inches apart.
Bake until the tops of the cookies start to crack, about 12–14 minutes. Repeat with the remaining cookies. Transfer to wire racks to cool.
ABOUT TRACEY
In her words …
I decided to enroll in a Culinary Arts program at Johnson and Wales University.  I have always loved to cook, even as a child I enjoyed making something special for my family to "Ooh and Aah" about. In fact, it still gives me great joy to see folks enjoying a dish that I have prepared especially for them. For me, the kitchen is a warm, welcoming place where I feel right at home.
After graduation, I quickly took an interest in the Sustainability Movement and the changing face of American agriculture.  I loved shopping at Farmers' Markets and exploring roadside produce stands.  Talking to the hardworking farmers, food producers, and chefs who labor long and hard to grow, produce, and serve our food gave me a new awareness of the extraordinary happenings in Vermont's food community.
PHOTO CREDIT: Julie Bidwell