Getting a little taste of Tuscany at Luciana's
[dropcap letter="T"]here is so much to discover in
California
. It's a state that has multiple climates and micro-climates, terrain that stretches from the
ocean
to dry lake beds and deserts,
mountains
and rolling hills, to lush forests and secret waterfalls. It's also a state that is abundant in restaurants,
dining experiences
, and
global fare
. Dana Point, nestled in the heart of Orange County, is among the quaint beach cities that offers guests gorgeous seascapes and fun finds. Among those finds, you'll find Italian family-owned, 
Luciana's restaurant
.
The Story
Luciana's is a restaurant with roots that date back to 1976 when Lucia Luhan, "Lucy", became one of the first restaurateurs in Orange County to offer real, authentic, handmade pasta at a bistro in Newport Beach called, What's Cooking Bistro. She worked alongside her mother, Mary Vallera, creating traditional Italian family recipes and pasta that showcased an array of flavors exhibited in sauces, meats, cheese, and vegetables. While the Bistro was a casual carry-out cafe with some basic seating, Lucia oversaw the entire operation from the kitchen and beyond. After becoming a family affair with her sons helping out, Lucia decided to open a more formal restaurant in Costa Mesa in 1982 calling it Luciana's. She then opened a second location in Dana Point. The goal was to elevate the bistro concept and give guests a true Italian experience with a beautiful Tuscan feel, a grand menu, and a wine selection that spanned Italy and the globe.
---
[columns_row width="third"] [column]
[/column] [column]
[/column] [column]
[/column] [/columns_row]
---
A successful run, American-born Lucia returned to her roots, moving to Italy in 1992, and her son Jorge II Luhan took over Luciana's. Lucia took her passion and created Villa Lucia in Tuscany. The bed and breakfast sits on a grand 18-acres of beautiful land with olive groves as far as the eye can see. She created a line of namesake olive oil that is now served at many restaurants throughout California, and, in Italy at Villa Lucia, they offer olive oil tastings, truffle hunts and cooking courses. Lucia continues to cook in her Italian home, and here in Dana Point, Luciana's continues the Luhan family heritage, making dining with them a special treat.
The moment you walk in, the hostess greets you as you feel the warmth of tradition and a sense of homey-ness. Rich tones and textures adorn the many dining areas at Luciana's. Sat aptly beside a wall housed with bookcases filled with books, our table sits adjacent to the center of the middle dining room. Dimly lit, we begin the meal with a deep red wine from Paso Robles, California. The service is impeccable, as is the management and it makes the experience all the more enjoyable. The menu is truly expansive, but we chose a few dishes to share.
[columns_row width="half"] [column]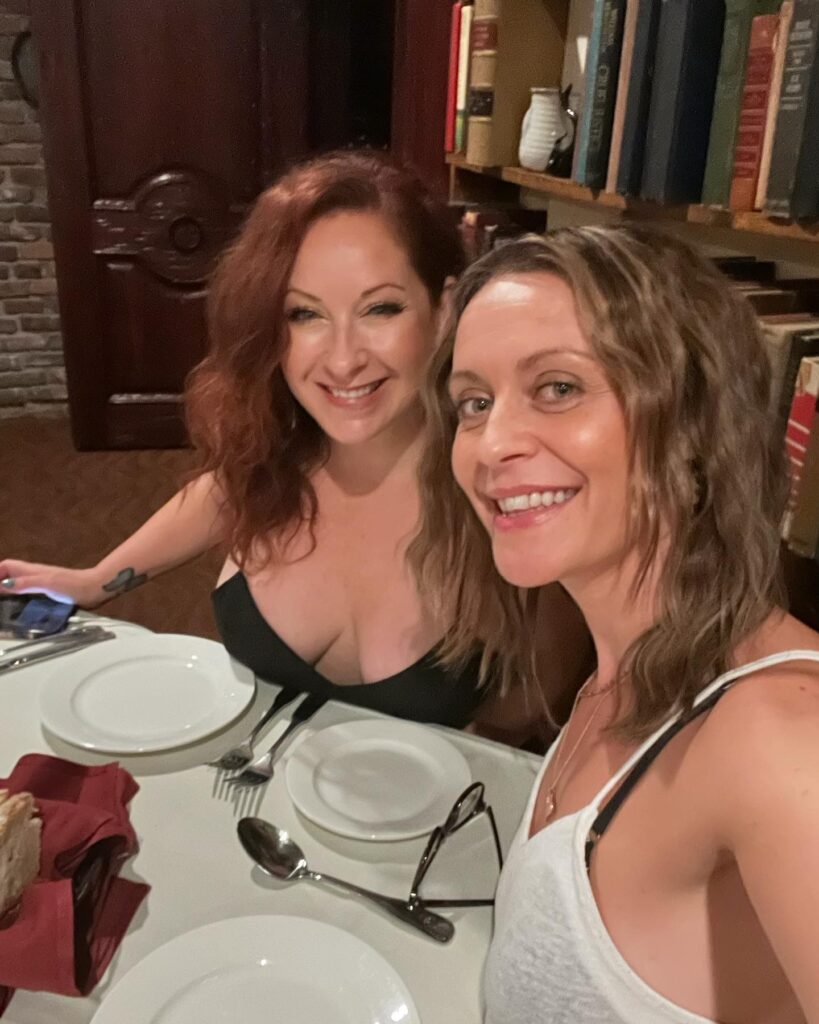 [/column] [column]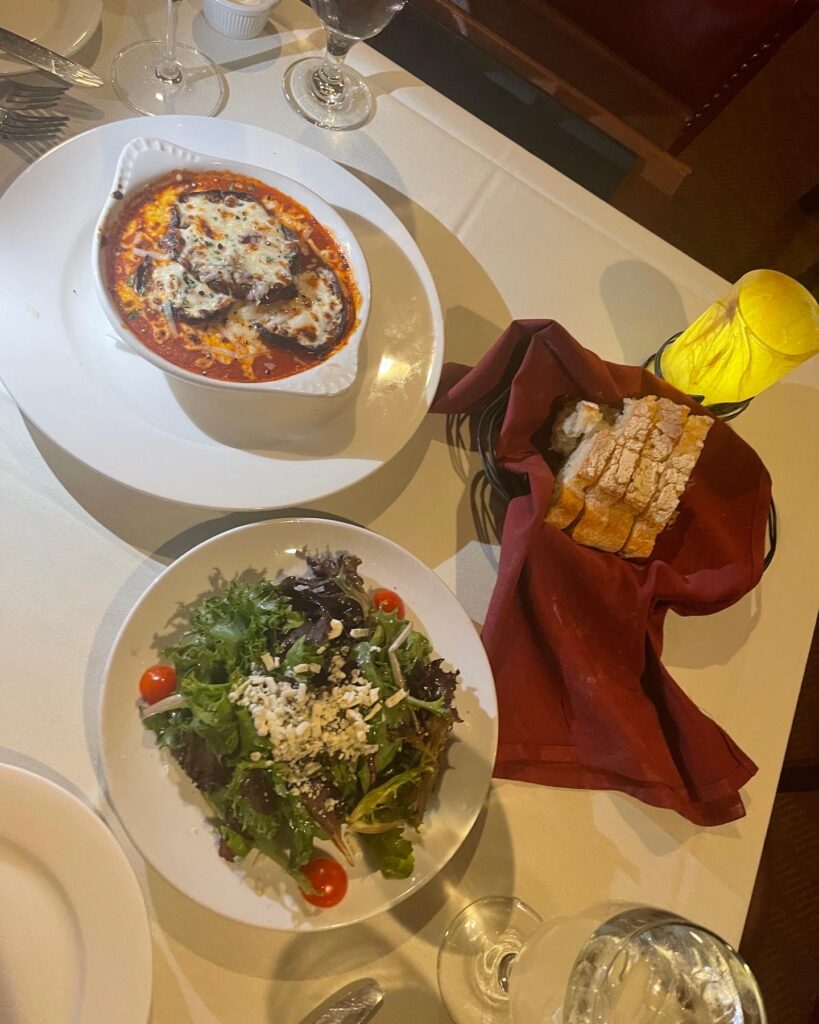 [/column] [/columns_row]
The Menu
Melenzane Arrosto
Roasted eggplant topped with ricotta, mozzarella, and parmesan cheese in a light tomato sauce
This was a wonderful dish that makes you feel as if you're sitting in someone's Tuscan home, eating in a kitchen full of love and the comforts of familiarity. It's rich, the eggplant was firm, the ricotta and mozzarella melted with just enough crisp on the very top, however it's the tomato sauce that is the favorite. It is so fresh and bright in color that it only lends to the feel of being transported to Italy.
Della Casa
Mixed baby greens tossed in our house vinaigrette, crumbled gorgonzola, and fresh tomatoes
A salad is always critical to the gradual progression of a dinner. It acts as a palate cleanser, stomach settler, and prepares you for the next course in a way that doesn't interfere with what's to come. This salad was light, the vinaigrette is well-made, and the crumbled gorgonzola seals the deal.
Rigatoni Pesto
Large tubes of pasta with grilled chicken in a pesto cream sauce topped with shaved parmesan cheese and roasted pine nuts
Homemade pasta should be on everyone's "favorites" list, and this rigatoni was cooked just right: al dente. The pesto sauce is vibrant and fresh, as is the abundance of parmesan (we asked for extra), but the texture and culmination of flavors when you add the roasted pine nuts make this a true dish of Italian assuage.
Pesce Del Giorno
Mahi Mahi with grilled vegetables
This was the pick of the night. The mahi mahi wad cooked perfectly, seasoned just so without overdoing the butter or herbs, and the vegetables were lightly steamed—a befitting way to round out the meal.
In addition to the delicious dinner, they also brought out a flourless chocolate cake (gluten free) to help us celebrate a birthday. The experience was wonderful and should you head to Orange County, Luciana's is where you have to go when you're craving Tuscan-inspired Italian cuisine. While we didn't get to see it, next trip we are absolutely going to discover the wine cellar (pictured at the top)!
As the restaurant prepares to celebrate its 40th anniversary, Lucia's son remains dedicated to his family's Italian customs, providing guests with the same unique culinary experience and unparalleled service that they have enjoyed for decades.
[columns_row width="half"] [column]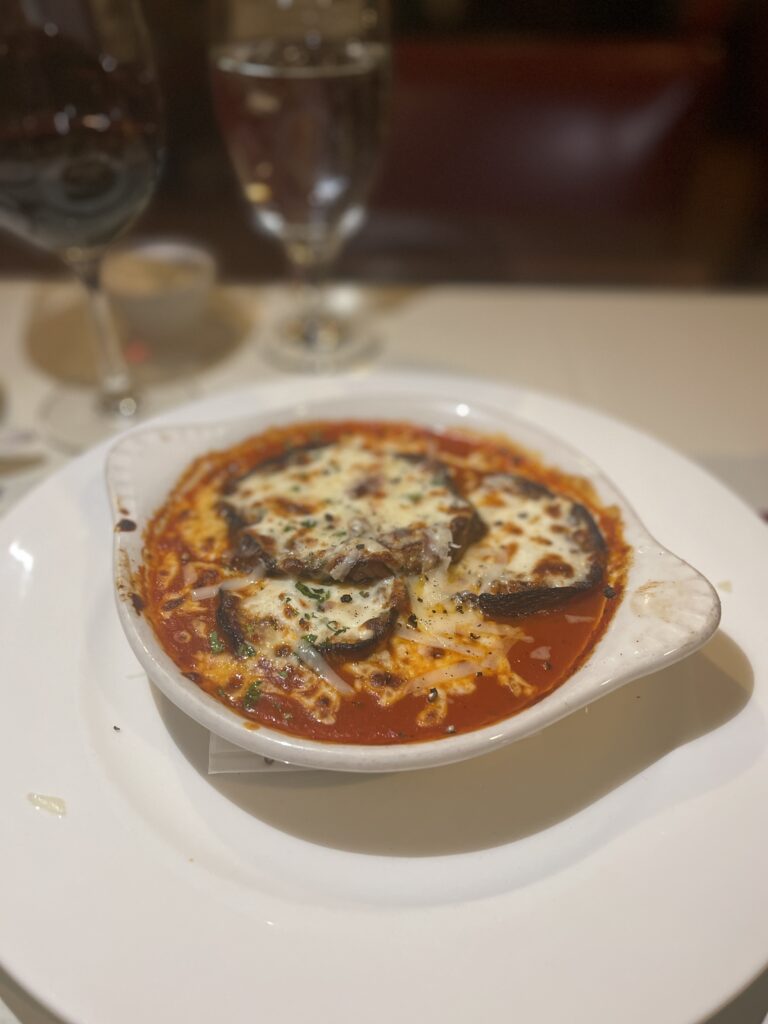 [/column] [column]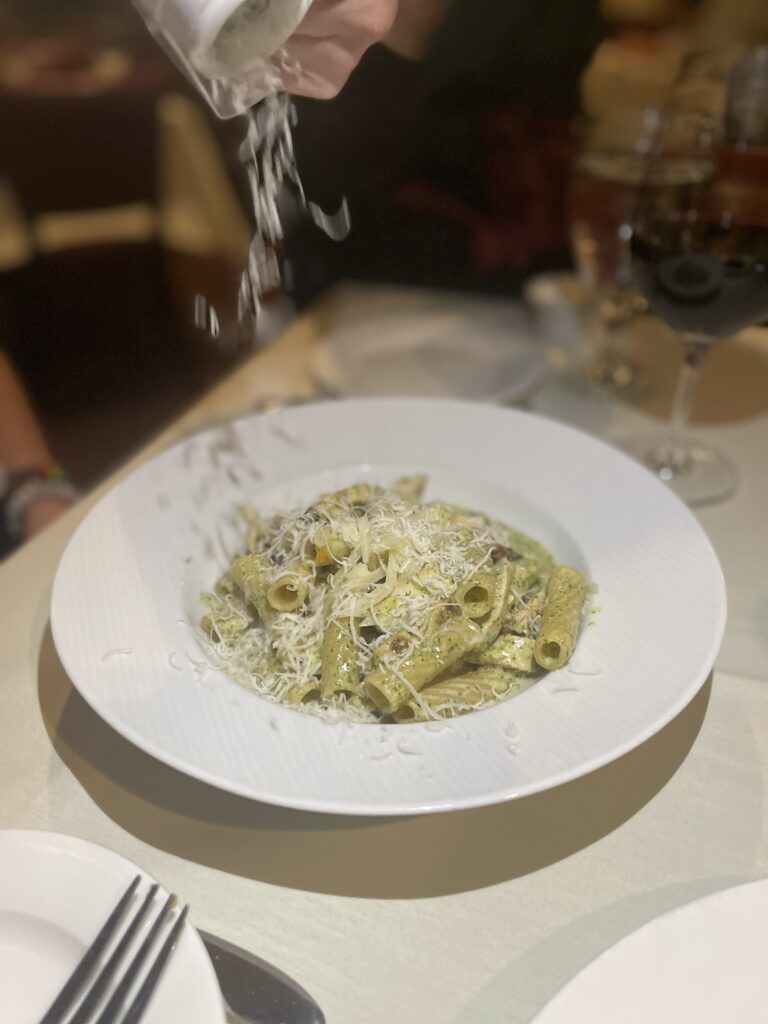 [/column] [/columns_row] [columns_row width="third"] [column]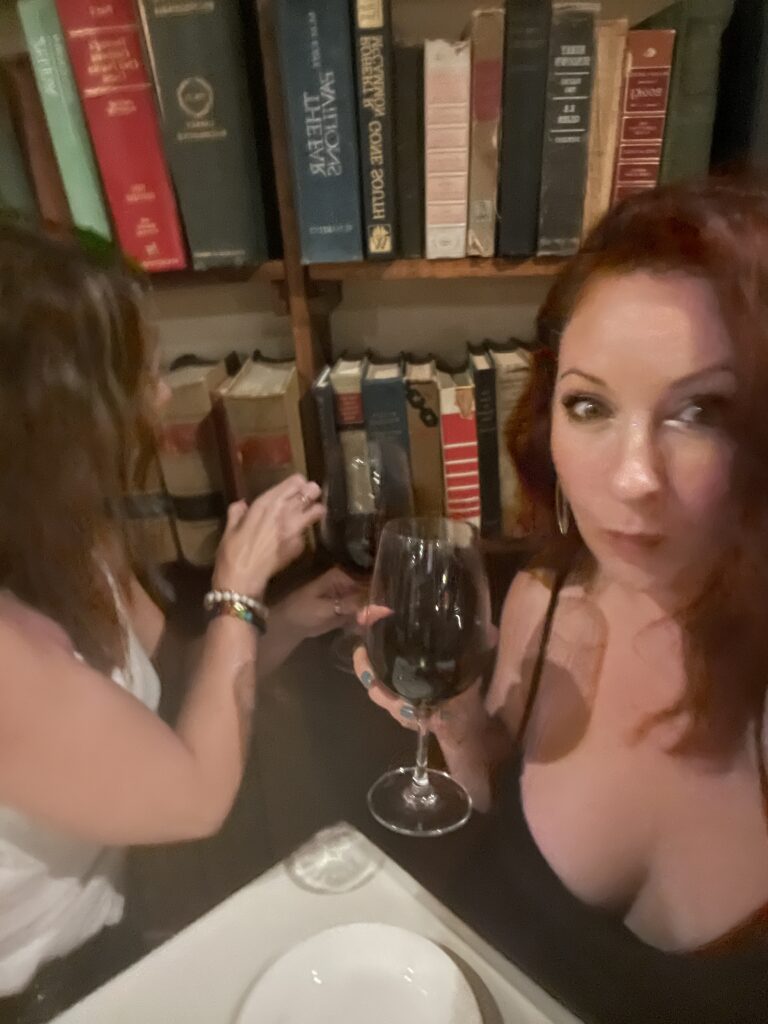 [/column] [column]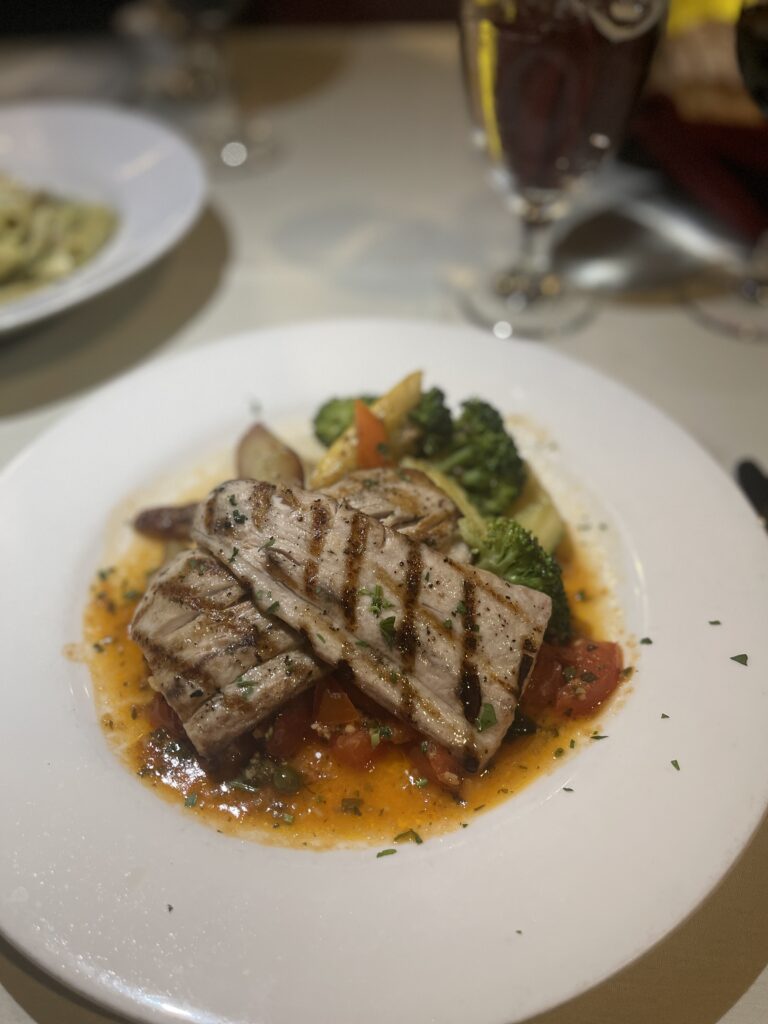 [/column] [column]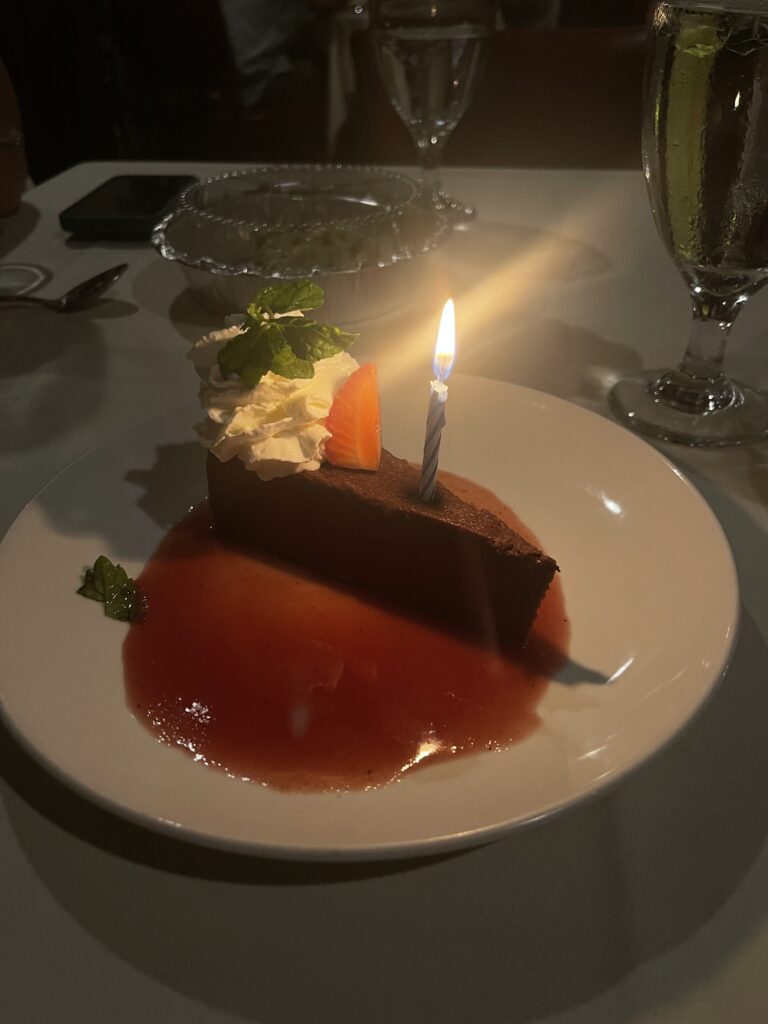 [/column] [/columns_row]
Location
Located in Southern California's picturesque Dana Point, Luciana's Ristorante has been a mainstay of the coastal Orange County dining scene for nearly 40 years. Second-generation restaurateur Jorge Luhan II ensures guests feel as though they've stepped into a Tuscan home, from welcoming and attentive service to the warm ambiance and authentic Italian cuisine. Luciana's also has an extensive wine list of 350 labels from 10 countries as well as an on-premises Sommelier. 
Luciana's, previously named one of the top 1,000 Italian restaurants in the country by Zagat, offers a menu reflecting the Luhan family's culinary heritage, updated for the evolving palates of today's diners. The menu focuses on light and flavorful dishes made with the freshest ingredients, handmade pasta, and olive oil that the family presses at Villa Lucia, their 500-year-old Tuscan farmhouse bed and breakfast that also serves as a cooking and olive oil school. 
[columns_row width="half"] [column]
Luciana's Restaurant
24312 Del Prado
Dana Point, CA
tel: (949) 661-6500
[/column] [column]
Lucia Villa
1443 Via Bronzoli
51015 Montevettolini
Italia
tel: (011) 39 0 572 617 790
[/column] [/columns_row]
---
[columns_row width="third"] [column]
[/column] [column]
[/column] [column]
[/column] [/columns_row]