Hotel Cerro SLO delivers the ultimate retreat to relax and reset
You know those commercials where someone has been in the ultimate space of tranquility and the commercial just makes you long to find that portal toot suite, and get there already?  That is what staying at Hotel Cerro in San Luis Obispo is like. Located in the heart of SLO, Hotel Cerro is a lovely retreat on so many levels. From their staff (valet, front desk, room service, housekeeping and beyond) to the design, to the gorgeous rooms and outdoor patios; to the fitness center, spa, restaurant, and edible garden, Hotel Cerro is truly a sublime California stay.
Primed for luxury, relaxation, and a feel of a home away from home, Hotel Cerro is the kind of hotel you book and thoroughly take in. It is situated in the midst of everything you'll need when you want to get away. Equipped with a lobby that oozes warmth and welcome, it is furnished with minimalistic design, monochromatic color schemes, and rich woods that elevate the feel of luxury without the pretension. Adjacent to the lobby is the hotel restaurant, Brasserie. The smells ruminating from the dining room lure you, as does the glass encased wine room with top-to-bottom bottles of exceptional wines from California and beyond.
Before delving into the exceptional cuisine at Brasserie, I want to take you on a journey through the hotel from check-in to settling into the Garden View Cerro Classic room. As you exit the lobby, you enter a corridor lined with brick that dates back to the original 1920's infrastructure. The walls are home to contemporary art created by locals; art with a personality that invites you to lean into some understated abandon. Just as it's time to approach the elevator, to the left is the Fig Veranda named after the veteran fig tree that grows in the middle of the courtyard. It is an outdoor lounge area with ample seating, sustainable design that can be seen should you just look up to notice the light fixtures fashioned out of soda pop plastic liter bottles. The beauty of the Fig Veranda is when the figs are in season, the kitchen uses them in their menu, so much like everything at this gorgeous hotel, nothing is wasted.
SLEEP | The Garden View Cerro Classic Room
The moment you arrive to your room, you are transported instantly into a state of total zen. The room had a hallway that led to an open room concept beginning with a gorgeous and minimalistic dual sink bathroom, which draws you to the room's focal point: a soaking tub that distributes water from the ceiling! The room also has a separate shower, but the soaking tub is an invitation to let stress go and indulge in some "you" time. Walking past the bathroom and tub, you'll enter the lounge area where a couch awaits, a fireplace, a flat screen TV with streaming options, a remarkably comfortable king size bed, a desk area, and a door leading to your private patio with seating and an outdoor fire pit.
The patio is ideal for morning pour-over coffee (complimentary with your stay) and is the most sensational way to round out a beautiful night with a glass of wine or hot tea while taking in the warmth of your private fire pit. The patio has its own private entrance to the edible garden where a larger table awaits and the sweet sighting of the occasional hummingbird fluttering about. Every morning, I would stroll through the garden, admire the natural beauty of fresh herbs and edible florals, and take in the calming effect of the water fixture. The room comes with a refrigerator, pour-over coffee, fresh linens, bath amenities, and room service from the truly tasty Brasserie SLO.
---
---
EAT + DRINK | Brasserie SLO | Night 1 of 2
Entering the Brasserie through the hotel lobby, first impression begins with an encased floor-to-ceiling wine room, an in-house distillery (they're in the process of making their own absinthe!), and the scent of exceptional cuisine filling the air. Greeted by the manager, Saul, the choices are to sit outside with heating lamps or inside for more ambiance. Seated at a quaint table inside, the wall behind me was lined with that original brick dating back to the 1920's. Just across from the table is the bar along the adjacent back wall. Shelves lined with an array of spirits entice, as does the bar program of specialty cocktails. However, when in SLO, wine beckoned so once Violet, my server arrives, I order the 2017 Grassini Cabernet Sauvignon from Santa Barbara. This is one of my new favorite Santa Barbara wines. It is complex and bold similar to a French Bordeaux, but with the aromatics of red currant and perhaps even a bit of fig that mirrors the Santa Barbara region, and it has a finish that dances on the palate, inviting you to take yet another sip. It's a lovely wine, paired beautifully with the meal to follow.
ROASTED CARROT & COCONUT SOUP
with shaved purple heirloom carrot and crystallized ginger 
First taste is perfectly decadent and balanced. The crystallized ginger in the center is like a an edible art piece. Second bite is even more sublime, adding the shaved carrot and ginger to get the full experience. This is like an explosion of nature in your mouth, and the best version of this soup I've ever had.
MARKET PORK CHOP, BONE-IN
with potato gratin, mushrooms, and an herb butter 
Pork chop is crisped on the outside sealing in the juiciness and it is beautifully done; not dry or overly cooked. There is dimension to the pork and while a little chewy, it's ample in flavor*. The gratin potatoes are light and fanned, so every bite seems delicate instead of overly rich and overshadowing of the star of the dish. (*Add just a small portion of the herb butter to experience the full flavor of the pork chop.) 
While dining, I was fortunate to engage with neighboring guests, locals who were more than happy to gush over the incredible list of things to do nearby. Overall, dining at Brasserie genuinely elevated the dining out experience. Considering the past three years where service has failed and hospitality has become lax, Brasserie raised the bar. Violet is a wonderful server, as is the entire staff (including Quinn). Every guest is treated like a VIP and it's so refreshing as service has lacked so much since COVID. This is genuinely a treat, welcoming and warm. Brasserie is where service thrives and cuisine is uncompromised by ego or boredom. It's where food is respected and appreciated, and curiosity is showcased on the menu. In other words, this is a local stop everyone needs to frequent.
---
SLO's Farmers Market | Novo Restaurant, Night 2 of 2
Thursday nights in Downtown SLO is the Farmer's Market where hometown eateries, artisans, homeopaths, and farmers set up and offer locals a bite of what's in season, what's new on the menu, and so much more, including several women-owned businesses to give your patronage to (including You Need TherHappy). Perusing the Farmer's Market with local PR queen, Linda Parker Sanpei, she introduces me to the incredible musings San Luis Obispo has to offer. The Farmer's Market draws quite the crowd as locals pick out produce, buy flowers, listen to live music, stock up on local honey, breads, desserts such as Monika's Macarons (some of the tastiest [and gluten free] macarons I've ever tasted), Udderly Awesome ice cream truck, health conscious brands such as Whalebird Kambucha, and a slew of various restaurants (including BBQ) that set up tents to feed hungry passerby's. The Market also does community outreach through their Food Access programs.
Stories Worth Noting
Rumor has it that Monika of Monika's Macarons is what we refer to as a badass of sorts. A strong woman who left one life behind to pay homage to her French heritage, Monika's Macarons specializes in crafting "One-of-a-Kind" Parisian French Macarons. "Monika (Founder & Head Artisan), has galvanized her French heritage and is passionate about perfecting the petite French delicacy. Her macarons are made with gluten free ingredients. Monika's Macarons avidly embraces French macarons as a form of her creative expression (attained from her former artistic back-ground) by emphasizing visual appeal and delightful flavor pairings, made with the highest quality ingredients." In other words, not only are they sinfully delicious, they're really fun to look at too!
Udderly Awesome is made in the Town of Harmony. According to the site, Harmony, "has never quite been on a first-name basis with 'normal.'" A one-block wonder along California Highway 1, their town of 18 (if you count the cows) is a double scoop of dairy farming sprinkled with just the right amount of weird. Take that, Austin!
---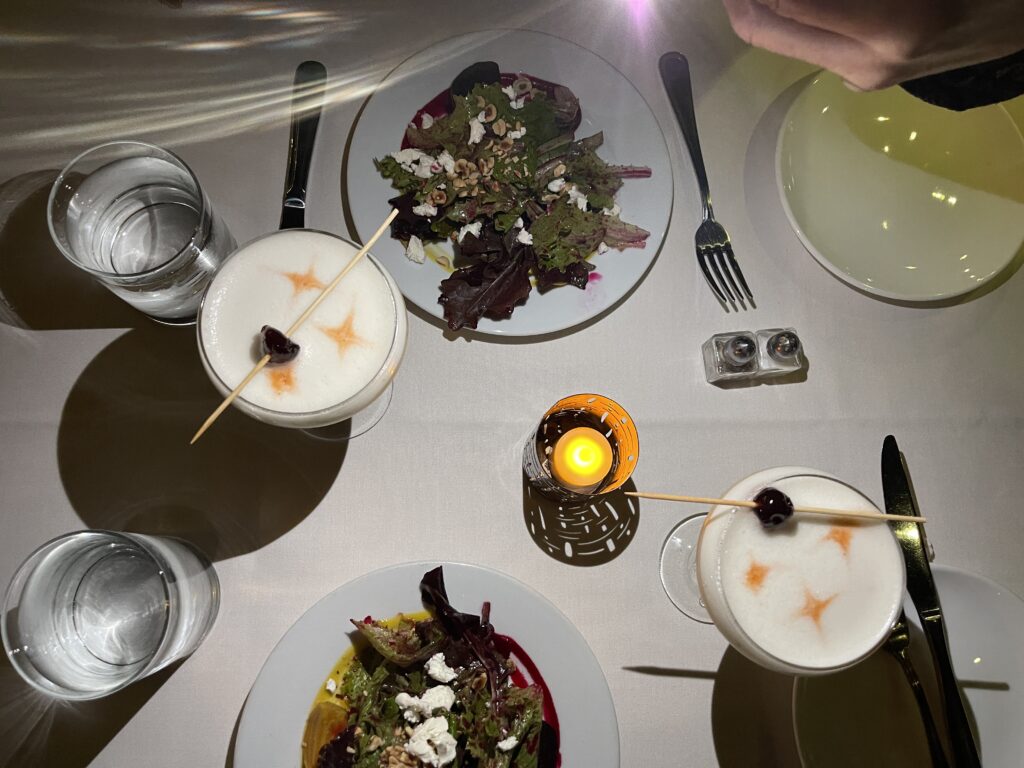 NOVO Restaurant and Bar is where we stopped for dinner. We were seated on the outdoor patio where the stream flows just beneath you, the night air crisp and refreshing. The meal is rich and global as we take a culinary trip around the world beginning with a bourbon cocktail that is stunning. Each dish from the salad to the curry is bold and big on flavor, the ingredients freshly sourced, and carefully made. Rounding it out with the crème brûlée and a fresh espresso is the fitting finish to the last evening at Hotel Cerro in San Luis Obispo.
APRICOT BOURBON SOUR
Buffalo Trace bourbon, ginger simple, lemon, Giffard apricot liqueur, egg white, bitters, cherry
CHEVRE
Warmed goat cheese, fresh thyme, marinated olives, toasted crostini (gfo)
ROASTED BEET
Mixed greens, roasted baby beets, beet purée, goat cheese, beet vinaigrette, toasted hazelnuts (vo, gf, nuts)
THAI GREEN CHICKEN CURRY
Delicate coconut milk curry with market greens, fresno chiles, cilantro, radish, basmati rice, chapati (gfo, s)
VANILLA BEAN CRÈME BRÛLÉE
Soft, rich custard topped with caramelized sugar and fresh berries (gf)
Two peaceful nights away in SLO at Hotel Cerro was a retreat of calm. From the elements of the room itself to the service, this is the hotel travelers—especially Californians—should take advantage of. They also have an on-site spa, a rooftop bar that looks over the city, the beach, and the lush rolling green hills, and there are plenty of spots nearby to catch live music.
It's just a few hours away from Los Angeles, an hour north of Santa Barbara, and an easy drive down from the Bay Area. In addition to the fun of meandering downtown SLO, make sure to read our upcoming article publishing this month that explores two incredible experiences you HAVE to see while in the area including Nature Nights at the SLO Botanical Gardens and Paso Robles' Field of Lights at Sensorio by artist Bruce Munro.
---