Cava Siglos: Wine Tasting in SPAIN

Calle de Caballeros, 12, Valencia
by Matthew Dyson, UK
If you want to recreate the scene in a Spaghetti western where the outlaw protagonist swings through the saloon doors and gets a sandstorm of coiled-loathing from the barman, you should try arriving for tapas two hours before the locals and ordering a house wine in a chic tavern with one of the best stocked cellars in Valencia.
It was 8.30pm. The hinterland when it is too late to drink horchata and too early to get lost in booze and tapas. Cava Siglos just looked too tempting, with its elegant glow radiating out into Calle de Caballeros. My eyes adjusted to the twinkling delights in front of me as I watched the bar man muttering to himself, uncorking a fancy looking bottle of rioja. The first row of spirits was a guided world tour of the history of gin and above that towered a walled labyrinth of sherry, whisky, everything – all prize fighters of distilled majesty.
Looking around at the sleek linear interior, the sheen of the bar and high-concept art lighting, I became acutely aware that I might have stumbled in the tavern equivalent of the Ritz. Fortunately, I spotted a reassuring sign:
"Tapas y vino 2 Euros 50″.
A huge glass of wine was shunted in front of me as the barman walked away to the other end of the bar. I shouted down, asking if the deal was still on.
"Well, yes. What do you want?"
"What have you got?"
And like a magician a whole counter of tapas appeared at the end of his open hand. It was like gazing at the core ingredients of this illustrious Spanish tradition – red meat, cheese, fish and egg- all filtered through the wider lens of European fine dining into what can only be described as scandalous tapas tarts on bread. I picked the brie in sweet tomato lipstick and he lifted my tiny friend to be heated in the open kitchen.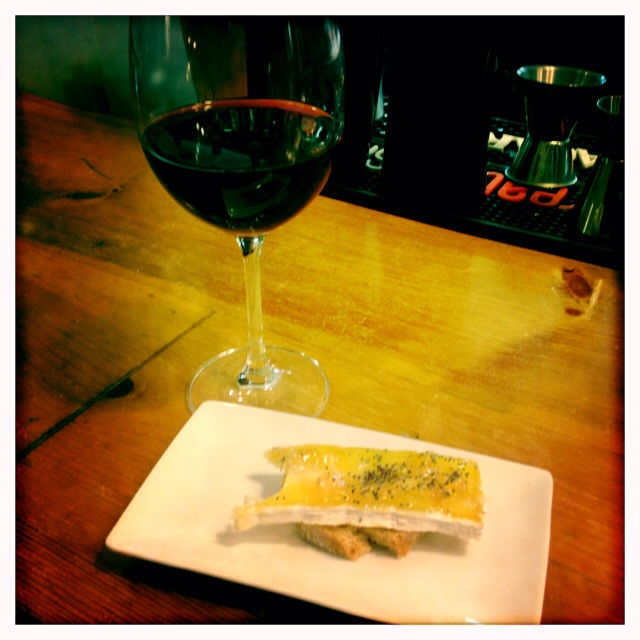 So there I was with warm, velvet wine sloshing around my mouth as melted cheese plummeted down into my belly, sat opposite a man who despised me.
The problem was, it was impossible to think of this man as an arsehole when, for the price of half an English pint, he had catapulted me into the upper echelons of gastronomic heaven. So I just kept talking to him.
And who was it who said your taste can change after ten bites? Well, maybe it is the same with annoying tourists asking questions as it is for food.
By my eleventh pointless question he caved in. It turned out we'd both lived in the same part of Mexico.
"I was there for 25 years. My two sons are still there. As is my heart."
He had worked for a wine company – so that explained it – but now he was back in his beloved Valencia. Divorced and laying low, it seemed. He got me another wine on the house and I picked more tapas for the little woman in the kitchen to heat. I wasn't sure if it was a girlfriend but even she warmed to me, bringing the dish to the bar and explaining what balanced the flavour so well.
I overheard him say in Spanish.
"This idiot who wanted house wine has actually got something to say".
Eric Clapton was playing now. He loved Eric Clapton. He listened to him when he drove his motorbike through the winding, gothic roads of the Barrio del Carmen.
"You seen people trying to get cars down here? Forget it. Did I have a bike in Mexico? No way, I would have been pulled into the road and shot in the face."
By now, a mix of tourists who could tell the time and the first wave of locals were filling up the place. And we carried on putting the world right as he carried on treating everyone else with disdain. What did it matter? It was still early. There was plenty of time for human decency. Just take your time and let the food do the talking. After all, we'd all be friends in the end.
*Matthew Dyson is our UK correspondent who continues to tell colorful tales of fare, wine, spirits, and always a run-in with the locals. Photos are by Matthew Dyson.
---
Follow ATOD Magazine™