Sip on Martini & Rossi Frosé to celebrate National Rosé Day
For when time is of the essence and you need a bar-quality premium cocktail to serve ASAP, Martini & Rossi has you covered.
Everyone's beloved summer tipple, rosé, is celebrating its honorary day this Saturday 12th June – all hail National Rosé Day!
The Frosé (Frozen Rosé) is an ultra-convenient, premium frozen cocktail offering from Martini & Rossi that's bar quality and made to grab and go in a chic, 100% recyclable pouch – ideal for outdoor adventures or at-home entertaining to pour straight into a glass. Providing icier refreshment as temperatures rise, the 'Frosé' features real Italian rosé wine, all-natural fruit flavors and no artificial sweeteners, colors or high fructose corn syrup. Once frozen for 4-8 hours, simply knead the pouch to a nice, slushy consistency—and enjoy straight from the pouch or in a glass garnished as you desire! And while Frosé is in the national day limelight, its Frosecco sidekick is another cool summer drink to note from Martini & Rossi Frozen's collection.
So … what exactly is rosé for the novices out there? McKenzie Hagan breaks it down in UsualWines.com so check out  her comprehensive breakdown at the end of these mouthwatering Rosé cocktail recipes.
Martini & Rossi Frosé pouches  are readymade containing premium rosé wine and natural strawberry, lemon, grapefruit and peach flavors.
Freeze pouches for 4-8 hours and squeeze into your best glasses, then adorn with fresh fruit and garnishes if desired. Below are come fun recipes to play with this weekend!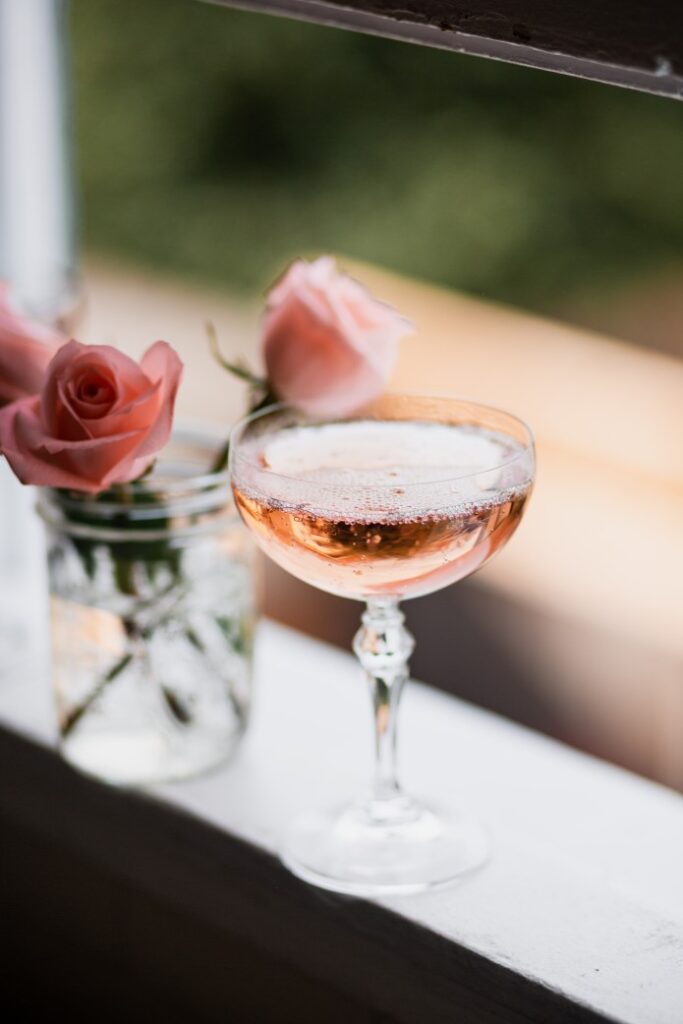 Elderflower Spritz
INGREDIENTS
2 oz St-Germain Elderflower Liqueur
3 oz Martini & Rossi Rosé
METHOD
Build over ice and gently stir.

Pink French 75
INGREDIENTS
1 oz Bombay Sapphire Gin
½ oz Lemon Juice
1 tsp Sugar
3 oz Martini & Rossi Rosé
METHOD
Add Bombay Sapphire Gin, lemon juice, and sugar into a cocktail shaker and shake vigorously. Then, pour into a flute or champagne glass over ice, top with Martini & Rossi Rosé, gently  stir, and serve.
[separator type="thin"]
[separator type="thin"]
What Is Rosé Wine? 
by McKenzie Hagan
Rosé is not a specific type of grape — it's simply a genre of wine, like reds and whites. While it's produced similarly to other red wines, the time it ferments with grape skins is cut shorter. This reduced skin contact is what gives rosé its signature pink color.
Rosé can be made from any red grape and cultivated in any wine region. Although it has become a recent favorite in the United States, it has been a mainstay in France for centuries, with the region of Provence pumping out more rosé than any other style of wine. It's also quite popular in Spain (where it's called rosado) and Italy (rosato).
This rosy wine is usually a blend, meaning it can be made from a variety of grapes. The most common types of red wine grapes used to make rosé are grenache, sangiovese, syrah, mourvèdre, carignan, cinsault, and pinot noir. In some cases, it can be a single varietal made with one type of grape. In California, rosés are known to be single varietal and made with 100% pinot noir grapes.
How Is Rosé Wine Made?
As we briefly touched on before, rosé gets its pink color by skin contact. When grapes are crushed, the juice that comes out of the fruit is clear, and it's the grape's skin that gives the wine its hue.
When the juice and grape skins marry, the color of the grape skins bleeds into the juice, creating the wine's color. In winemaking, this process is called maceration.
For rosé, winemakers only macerate for a few hours, up to a day. Once the juice has turned the desired color, the skins are removed and the juice is fermented.
You may notice that rosés come in different shades of pink, which is due to the varying maceration methods. Many people believe that all rosé is created by mixing red wine with white, but while this style of rosé exists, it's uncommon.
What Does Rosé Taste Like?
Rosé's flavor profile is fresh and fruity. Think a light red, like grenache, with some extra brightness and crispness.
Expect the following flavors when you take a sip:
Red fruits like strawberries, cherries, and raspberries
Flowers
Citrus
Melon
Celery
Each type of rosé will taste slightly different based on the type of grapes used to produce it, ranging from savory to dry to sweet.
How to Choose Between Sweet and Dry Rosé Wines
Rosés can be sweet or dry, but most lean towards dry. Old World (Europe) rosés are typically very dry. Rosés produced in the New World (not Europe) are usually sweeter and fruitier. Aside from grape type, climate and production methods contribute to these differences.
Some of the most common types of sweet rosé wines include:
White Zinfandel
White merlot
Pink Moscato
Dry rosés are often made from these grape varietals:
Grenache
Sangiovese
Syrah
Mourvèdre
Carignan
Cinsault
Pinot Noir