There is no better time to make yourself a cocktail and celebrate simply being alive, so let's drink to that!
There are countless reasons we gather during the holidays and after the things we've all endured, whether you have a mocktail or a cocktail, raising a glass to celebrate the simplest of things is a great time for pause. So below is a look at several recipes we've hand picked, and thanks to our friends at Nike Communications, Aberfeldy Single Malt Scotch Whisky, and Food Culture App by Chef Ryan Rondeno, we have plenty of options for you.
The purpose of life is maybe just to be. In order to be, you have to live life, which is not boring at all. In fact, there are a lot of exchanges taking place, and there is more of a sense of celebration than before. The qualities of celebration and groundlessness make for a delightful world. So you live that life.
[separator type="thin"]
For the Fall-Obsessed
Toast to your friend (aka the pumpkin spice fiend) who wishes autumn was an everyday event with the following cocktails that embody the season's best flavors and cozy feels.
Pumpkin Vermouth Sour
INGREDIENTS
50 ml Martini & Rossi Fiero
25 ml Aquafaba
25 ml Lemon Juice
15 ml Pumpkin-Spiced Syrup
INSTRUCTION
Pour all the ingredients into a shaker and shake well without ice. Then, add ice to shaker and repeat. Strain into a coupette glass and enjoy!
French Cobbler
INGREDIENTS
2 ½ oz Noilly Prat Original Dry
¾ oz blood orange juice
¼ oz lemon
¼ oz demerara syrup (2:1)
1 dash orange bitters
INSTRUCTION
Build in a Collins glass, swizzle with crushed ice, add crushed ice to top. Garnish with a fresh rosemary sprig.
Harvest Dram
INGREDIENTS
2 oz ABERFELDY 12 Years Old Single Malt Scotch Whisky
1/2 oz Mulled Wine Syrup
2 dashes Aromatic Bitters
2 dashes Orange Bitters
INSTRUCTION
Add Aberfeldy 12, mulled wine syrup and bitters to a mixing glass and stir. Pour into a rocks glass and add block ice. Garnish with an orange peel and cloves.
[separator type="thin"]
For the Fashionista
For your always on-trend friends, serving up Anna Sui's chic Pear Social drink, the runway-ready Ume & Bloom cocktail from Oscar de la Renta's Creative Director Laura Kim, the Aberfeldy Gold Fashioned, and Chef Rondeno's Pineapple Tarragon mocktail, these are guaranteed crowdpleasers at any fall, winter, and holiday celebration.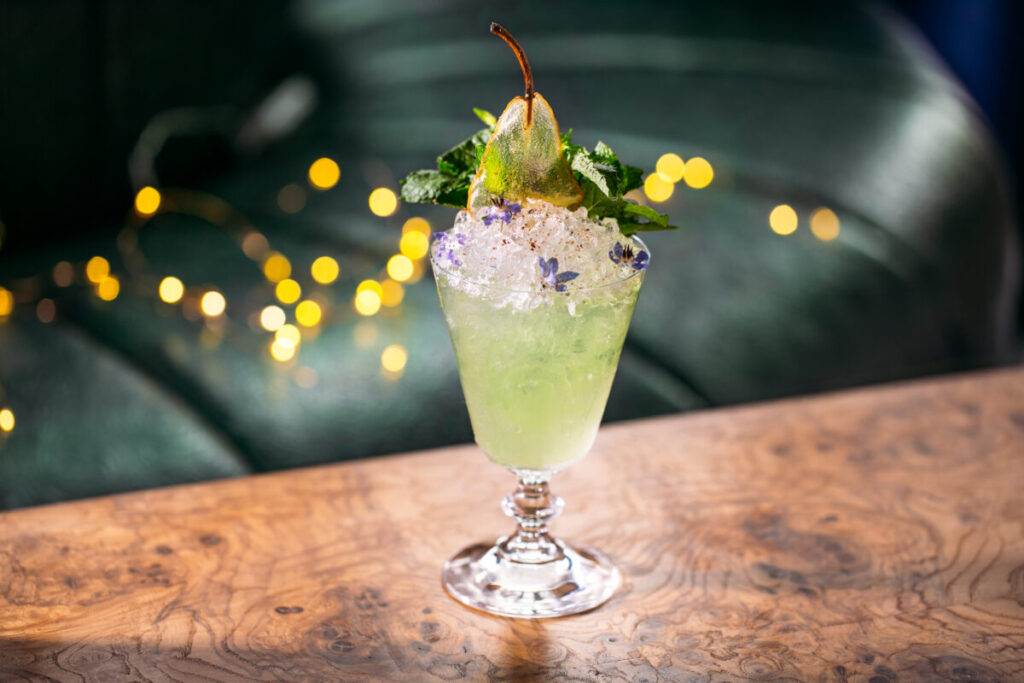 Anna Sui's Pear Social
INGREDIENTS
1 oz St-Germain Elderflower Liqueur
1 oz Grey Goose La Poire
¾ oz Cucumber-mint juice 
¼ oz Fresh Lemon Juice 
Bar Spoon Absinthe 
2 oz Sparkling Wine 
Garnish- dehydrated pear, mint crown, borage, grated nutmeg
INSTRUCTION
Combine all ingredients in a glass and top with Sparkling Wine. Garnish with mint, edible flowers, and nutmeg. To batch, multiply each ingredient by your number of guests and serve in a large vessel.
[columns_row width="half"] [column]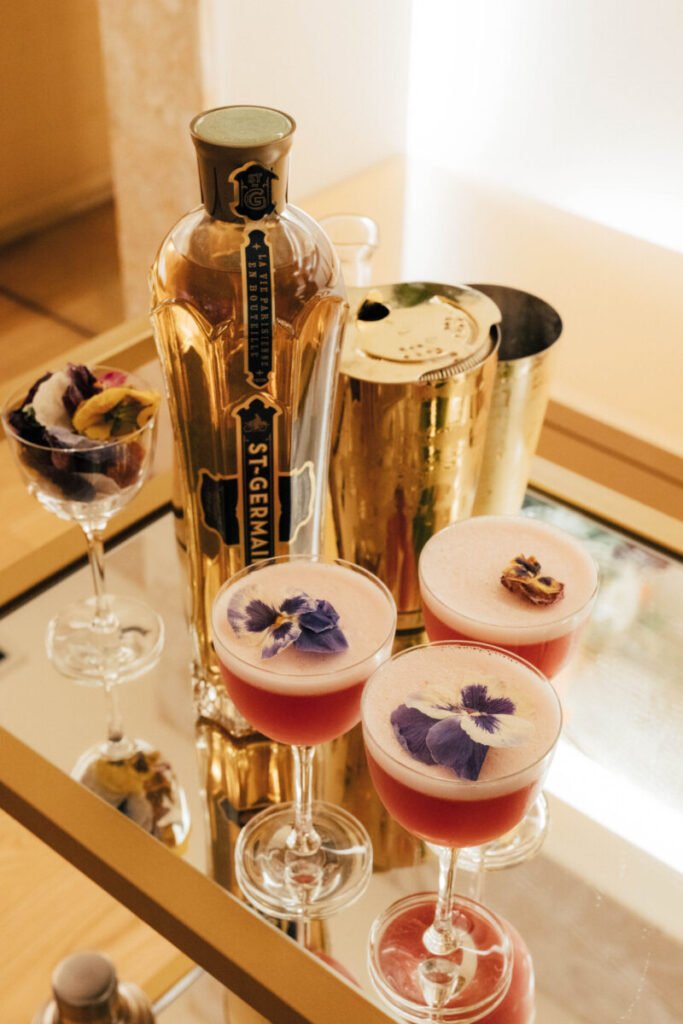 [/column] [column]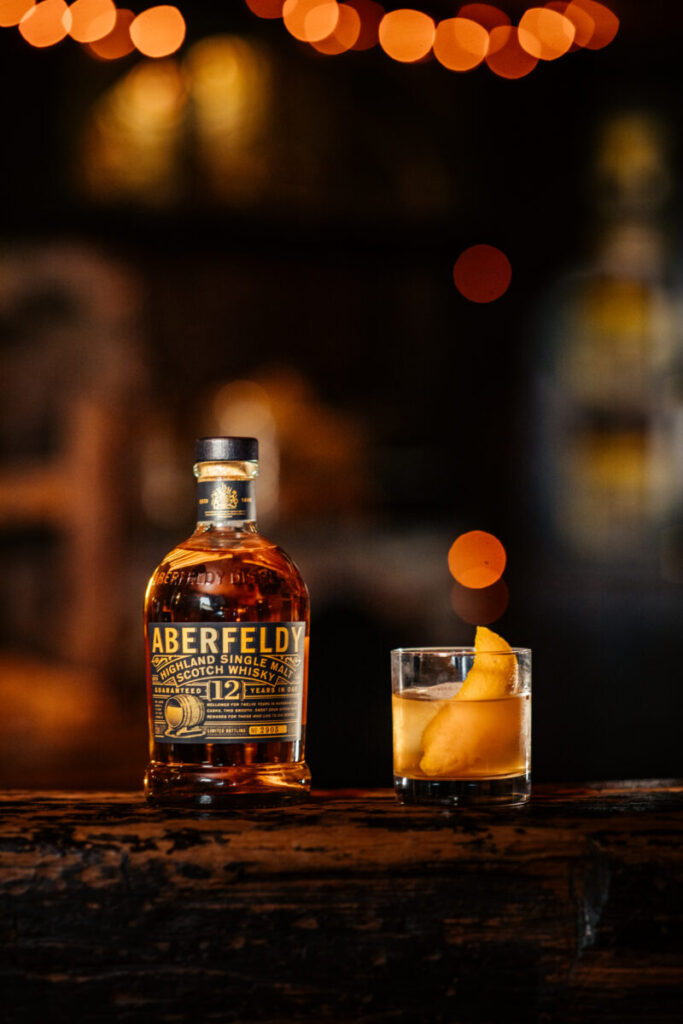 [/column] [/columns_row]
Laura Kim's Ume + Bloom
INGREDIENTS
1 ½ oz Bombay Bramble Gin
¾ oz St-Germain Elderflower Liqueur
½ oz Lemon Juice
½ oz Aquafaba or half of an egg white
5 drops ume plum vinegar
2 dash chocolate bitters
Garnish: pressed edible flowers and raspberry dust
INSTRUCTION
Pour all the ingredients into a shaker and shake well without ice until egg white foams. Then, add ice to shaker and repeat. Strain into your favorite vintage glass and enjoy!
---
Gold Fashioned
INGREDIENTS
2 oz Aberfeldy 12
1/2 oz Local Honey Syrup (honey syrup = 1 part honey, 1 part water)
2 dashes Angostura Bitters
2 dashes Orange Bitters
INSTRUCTION 
Add the local honey syrup, bitters and Aberfeldy12 to a mixing glass, then add ice and stir to dilute (~30 seconds). Pour into a rocks glass and add block ice, then garnish with an orange twist expressing the oils over the drink. 
---
Pineapple Tarragon
INGREDIENTS
2 oz pineapple juice
2 oz orange juice
1 oz lime juice
1/2 oz agave or simple syrup
1/2 cup arugula, packed
3 sprigs tarragon
1 egg white
INSTRUCTION
In a cocktail shakes, add arugula and one sprig of tarragon. Muddle to allow juices to extract. Fill halfway with ice. Add pineapple juice, orange juice, lime juice, agave, and egg white.
Shake vigorously allowing the egg white to foam in the shaker. Pour into cocktail glass. Make sure to retrieve all of egg white.
[separator type="thin"]
For the Friend Who Invited Everyone (literally)
Whether you are hosting for 12 friends or even more this year, or simply want an easy go-to batched cocktail for friends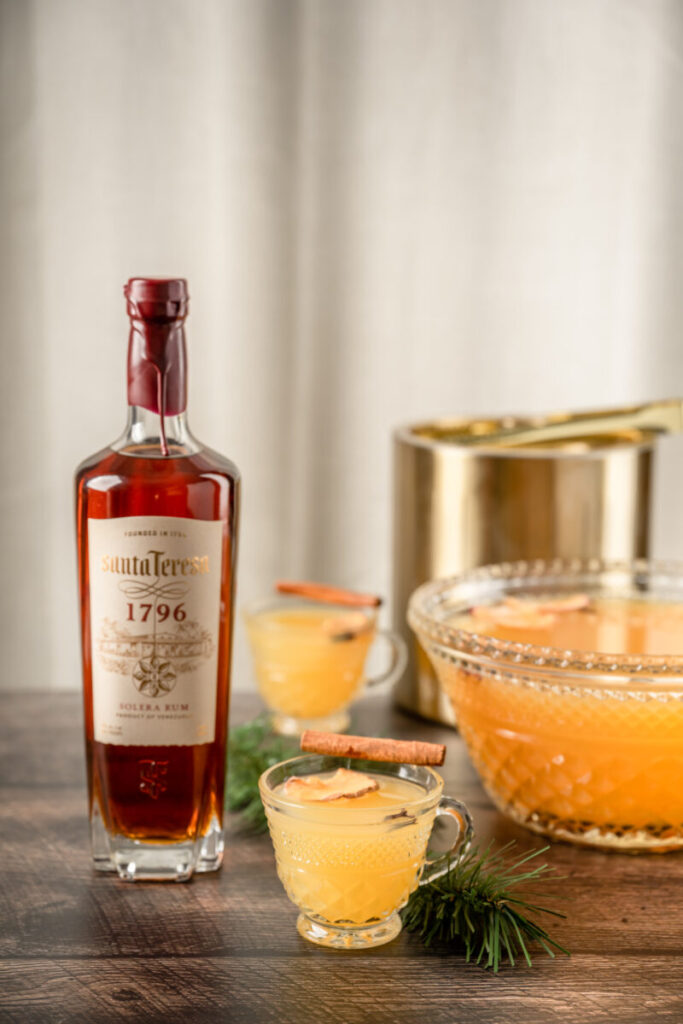 (and their friends of friends), there will be plenty to go round on the delicious holiday cocktail front with these large format (and adjustable) recipe ideas.
Holiday Rum Cider
INGREDIENTS
1 gallon Apple Cider, filtered/cold pressed is best
16 oz Santa Teresa 1796 ¼-½ cup of brown sugar (amount depending on how sweet the apple cider is) 1 tsp. ground Allspice 2-3 tsp. whole Cloves 2 small oranges (organic pref. /washed), cut in half  6″ Ceylon Cinnamon
INSTRUCTION
Stir to combine all ingredients in a punch bowl and serve in a punch bowl and garnish with cinnamon.
Dewar's Holiday Punch
INGREDIENTS
1 x 750ml Dewar's 12
8 x Toasted Cinnamon Sticks
8 oz granulated sugar
4 oz Ginger Juice
6 oz Lemon Juice
4 oz Unsweetened Cranberry Juice
6 oz Madeira
1 x Bottle Martini & Rossi Asti
Soda Water to taste
INSTRUCTION
Toast cinnamon sticks and infuse in Dewar's 12 overnight. Strain. Mix sugar and juices until completely dissolved and incorporated. Blend with Madeira and infused Dewar's 12. Add Martini and Rossi Asti and soda water to taste. Serve in punch bowl over large format ice and dust with grated nutmeg. Serve in punch cups over ice and garnish with fresh cranberries.
---
No matter you're at in life, or the season, or your career or relationship(s), take a moment to raise a glass, toast to being above ground and say without hesitation:
Let's Drink To That!
---
[columns_row width="third"] [column]
[/column] [column]
[/column] [column]
[/column] [/columns_row]