Austin Edition 2012
"A city I shall not forget …" – ATOD
This year I had the great pleasure of exploring the city of Austin. First Quarter is devoted to ATOD's 1st Ever, "SPECIAL EDITION". This Edition is called the "Austin Edition 2012".
Thanks to every Chef, Restaurant, Staff Member, Musician, Artist, Entrepreneur, Shop Owner, and Visionary I had the honor or talking to and meeting.
Austin a city that appeals to just about everyone. A city incredibly diverse and unique, it is a place creative people flock to. With a focus on Food, Music & the Arts, it is a city that has certainly set itself apart. Known once as a University town, Austin has since become knows as one of the most alive, beautiful, and inspiring cities in the United States.
With Events such as South x Southwest (SXSW), the Austin Film Festival, Art House, City Limits Music Festival, extraordinary Exhibits, a plethora of restaurants, remarkable Chefs, and Hotels/Resorts that are both lavish and boutique, Austin is a city you cannot afford to miss.
Austin: Part 1 | Fare, Art, Wine
My arrival in Austin has been absolutely incredible. The moment I stepped off of the plane and into the Airport, I was happy. Inside the terminal, I was welcomed with a band singing "Georgia" by Ray Charles with heart and beauty. The baggage claim even has music filtering throughout. Next we arrive at a fab flat where we settle in, change, and head to South Congress Cafe for a bite. Following South Congress, a stop at Aviary (my new favorite hub for creating) …
While I'm becoming an Austin lover, the true beauty of this city is that nothing looks pretentious. Every restaurant, every "truck", every person has their own style, their own voice, this fantastic mystique of just being. So onto my Day 1:
South Congress Cafe | 1600 South Congress Avenue  Austin, TX 78704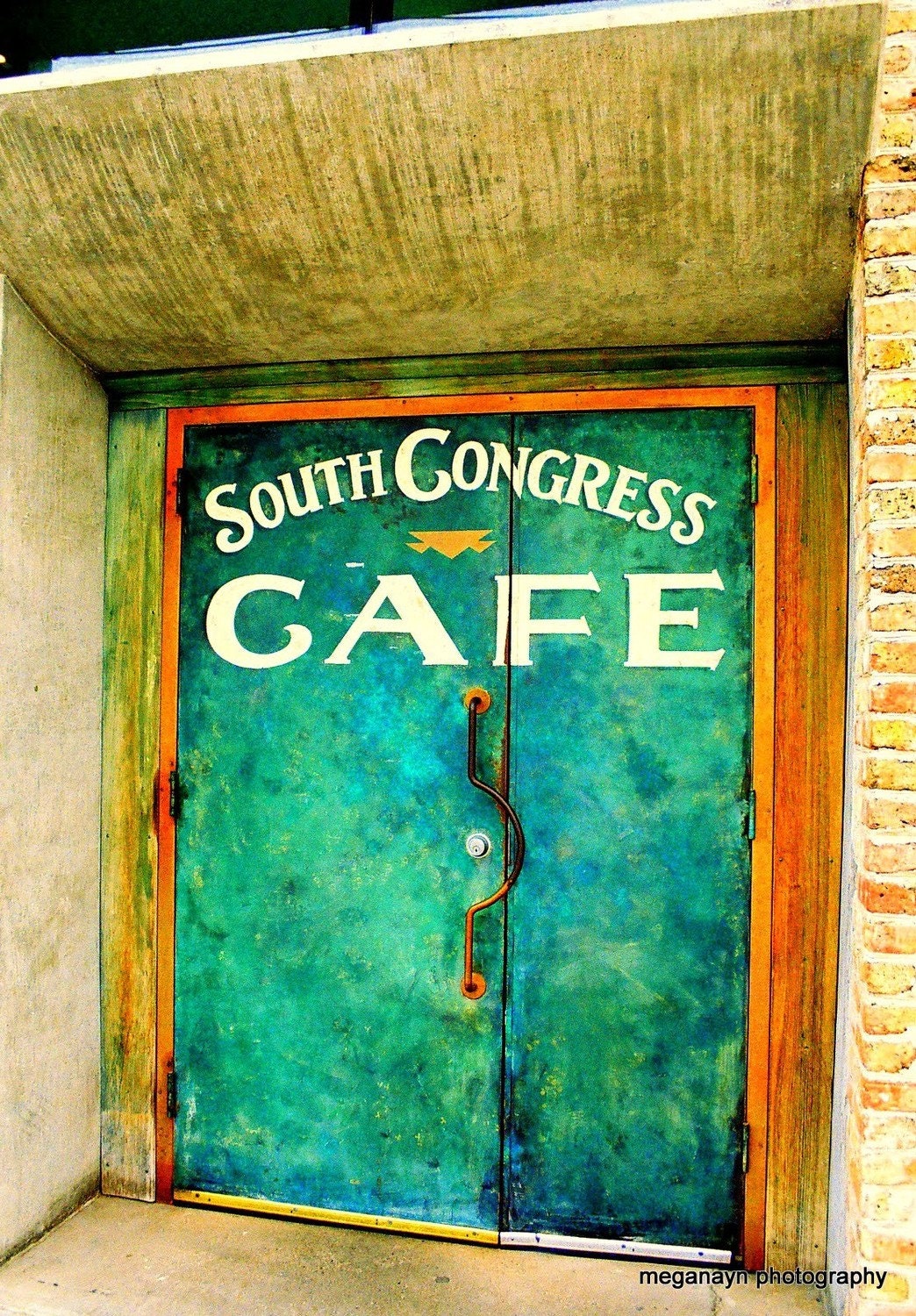 Rustic decor, steel front door, intrigue with the packed restaurant on a Wednesday night. While we eagerly awaited our table, we stopped at the bar – just to left of the entrance inside. The bartender, a sweet Southern gal more than pleased to take our order. I go for something that is a specialty of the house: The Habanberry Rita made with cazadores silver tequila infused with habanero chili peppers and blueberries, pomegranate juice, lime juice, Cointreau, and sweet n sour. I ask for a little extra heat and my drink arrives shortly after. So good (still not quite as spicy as I like but good and fresh.) We get seated and are greeted by a sweet server who just moved to Austin from Santa Cruz – go figure! We order a bottle of the Laetitia Pinot Noir and patiently sip on our water while we peruse the menu. Everything sounds good but I make my choice and wait for the wine to arrive, give it a swirl and a sip, and then we order. The wine – good, dependable, and easy. (Had it many times but it does the trick.)
Onto feasting on my first real Austin dinner:
Endive & Spinach Salad | bartlett pears, dried bing cherries, gorgonzola, toasted pecans, pomegranate vinaigrette
– This was what I was craving for the start but they ran out of endive AND spinach … was incredibly busy that night but coming from LA, I think I'm used to farm fresh available in plenty. Next time.
Coffee Braised Short Ribs | boneless short ribs braised in our kona coffee and red chiles, horseradish cream, potato gratin, chef's vegetables
This was a Foodgasm. The short ribs were cooked to utter perfection just gliding along the fork with buttery-like stealth. I asked the Chef to turn up the heat and my plate arrived soon after with extra chile infusions and ground cayenne surrounding the white plate. The short ribs nestled atop beautiful au gratin potatoes oozing with cheese and horseradish cream sauce in absolute unison. One bite and I'm in culinary ecstasy. No overkill in flavor, the chile wasn't enough to take away the true taste of the meat and every time my fork dug in I knew my tongue was about to dance. This is a wonderful dish – at least tonight.
Gumbo with Duck & Oysters | lobster stock simmered with duck, jalapeño sausage, gulf oysters and okra thickened with traditional chocolate roux
First taste was mediocre but as each spoonful scooped the gumbo and the flavors began to surge, the next mouthfuls were miraculous. This is certainly one that matures as it sits …
Dessert
Peanut Butter Chocolate Mousse Pie | sweet and decadent as all good chocolate should be…
Aviary Decor | 2110 South Lamar Boulevard  Austin, TX 78704
Aviary | I arrived Day 1, Night 1,  Met owner Marco Fiorilo
The appeal is the incredible furniture, the ease of the fun Urban/Bohemian feel of the decor, the original art, the black walls, the massive screen for watching old movies WHILE drinking a clever selection of rare wines, bubbles, and the indulgence of meats and cheese with a few sweets. On a Wednesday night, this place was packed wall to wall with people. Everyone sitting on the couches, the padded benches lining the walls, the brightly covered pillows, the dishes hanging on the wall, the raw wood staircase, sipping wine, eating meat and cheese, a beautiful vibe in good ole "weird" Austin. Half-priced bottle Wednesday is just one of the many clever lures Marco and Shanna have created.
I have the pleasure of meeting Marco who is a part of every aspect of this place. The selections of IPA's, the careful selection of wine, the art and decor he owns (and sells), the customers that know him well, and the ease he has just makes the experience so much better. Granted I'm with people who know him well but that aside, he has an air of cool and calm that makes anyone that comes in feel welcome.
Day 2 | Afternoon 2: Met Wife and Owner, Shanna Eldridge
Came to Aviary to write this article, bask in the amazing pieces of furniture, the fantastic pieces of art spread throughout the place, sip on Cava Bubbles, and eat chorizo, smoked salmon pate, coppa, fig wrapped brie, and smoked gouda. A perfect way to spend the afternoon. Today, Shanna is there. We spoke for a while and shared our stories of travel and motherhood and well, my appreciation for this place deepens. She is beautiful and easy-going and talking to her is like talking to an old friend. She and Marco certainly have created a wine bar and home decor store that trumps just about every experience I've had – certainly is on par with some of my favorites. It reminds me of Bohemian New York with the twist of originality of Austin, Marco, Shanna, and even has a subtle undertone of the boutique stores and wine shops in Northern California.
Shanna Eldridge – Wife, Mother, and Owner| Marco Fiorilo – Husband, Father, and Owner
Inspired from spending time at Robin Dubois in Brooklyn and Paisley in Manhattan (both have closed). Shanna loved the store and after visiting the stores in New York, she and Marco decided to start Aviary. While they sold furniture and home decor solely in the beginning, the goal was always to develop it into a Wine Bar where people could lay on the furniture, relax on the chairs, admire the Art on the walls, the random and amazing pieces available for purchase all the while sipping on truly authentic wines and indulging in the Cheese and Meats selection of the day. This has proven my little creative haven so far…
The journey continues.